2022 National Speech & Debate Tournament
Louisville, KY – June 12-17, 2022
Join us for the high school final rounds and awards ceremony livestream on Thursday, June 16 and Friday, June 17. Host a watch party with your fellow alumni and celebrate this year's talent!
Did you ever attend Nationals? Find your name in the archives! Look through past editions of the Tournament Book for event information, annual award recipients, attendee rosters, and more!
Volunteer (or get paid!) to judge an NSDA-affiliated tournament. As a judge, you will provide culturally-competent and constructive feedback to meet students where they are and encourage their growth in speech and debate!
Interviews. Careers. Advocating for Change. These are the areas where speech and debate make a difference. Now it's your turn to make a difference by investing in the lives of those coming up after you – it's time to Pay It Forward!
Suggested Donations:
$25 gifts a student access to online competition.

$175 provides a judge for online tournaments.

$450 starts a new speech and debate team with training, online competitions, and membership.
Have you claimed your NSDA alumni membership yet? When you claim your alumni membership you receive exclusive opportunities to use your speech and debate skills to change the world, like investing in students.  
Already an NSDA alumni member? 
Watch these amazing Final Round Performances from the National Tournament.
Past Champions and Award Recipients
Alumni membership is distinct from your student membership in that there are new, exclusive benefits specifically for alumni members. By signing up as alumni, you maintain your contact with the NSDA and opt-in to receive alumni-specific membership benefits and communications.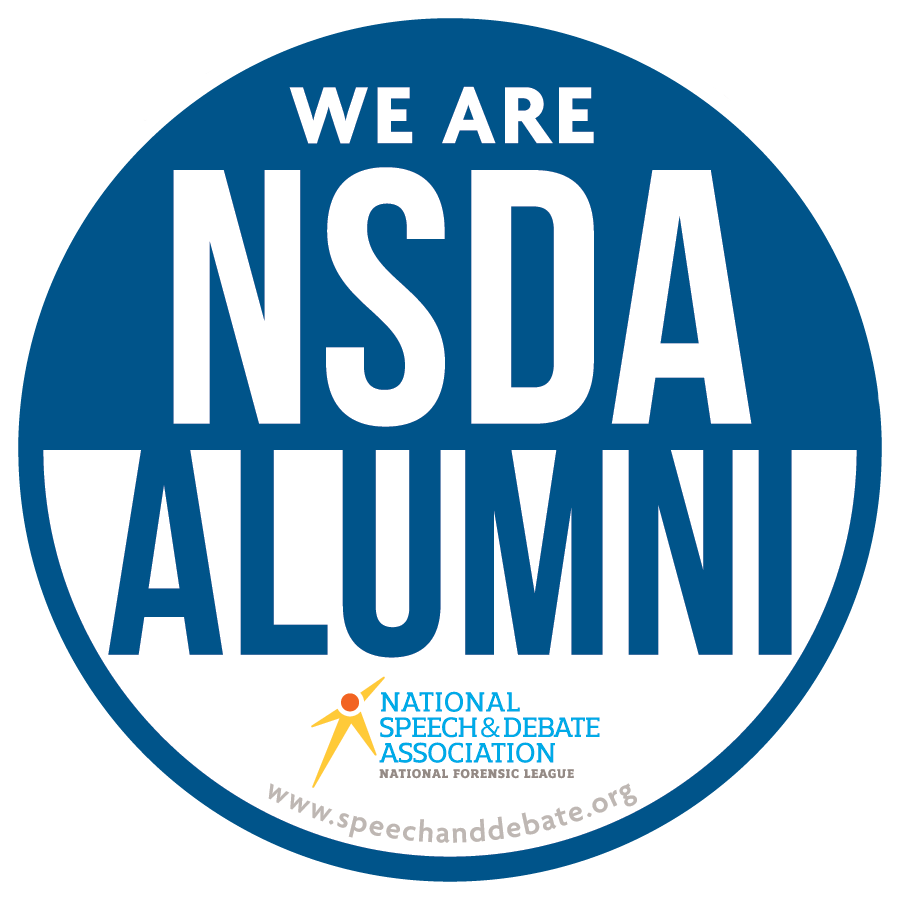 Dust off your binders, flip your pens, and get ready to flow with the finalists! Tune in to our livestream, on Thursday, June 16 and Friday, June 17, and relish in the nostalgia of the final rounds with your friends, family, and fellow alumni at your very own watch party!
How to Host a Watch Party:
Find a venue where you and your attendees can gather in-person or virtually.

Send out your

2022 Nationals Watch Party invitations

 either digitally or in the mail!

Bookmark our Livestream so it is easy to find:

live.speechanddebate.org

.

Don't forget about food and snacks! Check out this recipe for Benedictine, a Kentucky-classic, from NSDA alum and six-time James Beard Award nominee, Ouita Michel.
Create your own judge panel with our downloadable debate ballot and speech ballot.

Plan for thoughtful discussion about the topics and performances in-between rounds.

Share your pictures and videos on social and tag #Nats22 so we can be part of your party!

Have fun, enjoy, and cheer on our finalists!
Donate to the Pay It Forward Fund Now