Schools Supporting Schools
A core value of the National Speech & Debate Association is service.
As a community dedicated to empowering students through speech and debate, we want to connect supporters to programs impacted by Hurricane Harvey and Hurricane Irma. Our Schools Supporting Schools program is an opportunity for teams or individuals to identify ways they can provide material needs and resources in response to these and other future hardships.
Please note, the NSDA will help make the initial connections to programs in need, but does not serve as a pass through for funds or items. If you have any other questions, do not hesitate to reach out to Steve Schappaugh, Director of Community Engagement.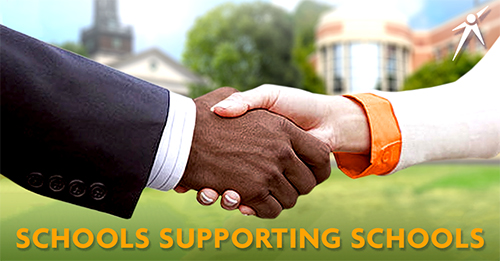 For Supporters
If you see a team you'd like to support in the table below, please fill out our Supporter Match Form, and the NSDA will connect you with the appropriate contact for that school.
If you are unable to provide certain materials or supplies at this time, but would like to give money instead, be sure to check the list below. Certain teams may have Edco fundraising pages or other campaigns started where you can donate online!
With Edco, our fundraising partner, you can easily set up an online fundraising page for your team and receive support in the fundraising process. Edco empowers students and teachers to raise money from family, friends, and other members of their community. NSDA members get a reduced rate when fundraising with Edco! Be sure to visit Edco's website or email hello@ed.co for more information.
Reserved Big Questions Tournaments
In order to ensure that programs affected by the hurricanes have access to as many fundraising opportunities as possible, we have reserved 100 Big Questions tournament slots for impacted schools. These spots will be held until January 8, 2018. If you have questions, or would like to claim a tournament, please email Katie Hines.
Schools Requesting Needs
Click the plus sign (+) next to the name of each school to view more details. You can also sort the list by school, state, or other fields by clicking the arrows in the top row, or use the search bar to filter the results by keyword.
You are not allowed to view this content.