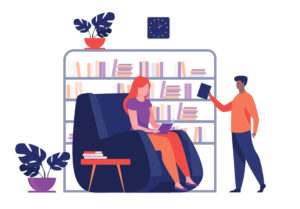 One of the major components on most speech and debate teams is competition. As with many aspects of this course, what is best practice and most appropriate regarding how a student accesses competitive spaces will be individualized for the situation. In team spaces, the goal is often to give students tools to self advocate. In the broader competitive community, self-advocacy is still supported and encouraged where appropriate but coaches may need to have a more active role in communicating with tournament officials and advocating for their students throughout the registration process and during the tournament. This section will outline resources and considerations that coaches and educators can evaluate when navigating how to ensure an inclusive tournament experience. 
Setting the Goal to Compete 
While students can gain a lot from practice and informal performances, most students in this activity will have a goal to compete at some point in their experience. For some students, getting to a competition may be a longer term goal. Here are a few strategies coaches can use to set students up for success:
Create a checklist of the skill sets that a student will need to enter into a competition. These can cover skills needed for the prep process as well as for attending competitions.
Overarching Goal: Compete at a local tournament in Original Oratory by the end of the year.
Skills Needed to Prepare
Skills Needed to Compete

Choose an appropriate topic

Gather research on the chosen topic

Outline 2 to 3 main points

Write an introduction, conclusion and transitions

Memorize the speech 

Practice appropriate gestures, movement and vocal intonation during delivery

Review how to sign into a tournament room

Use a schematic to find the round information (time and room)

Follow the specified protocol for performing (waiting to be called up, asking for time signals) 

Advocate with an appropriate contact if you have a question or need help
Model competitive settings prior to having students compete. Having a practice round that closely mirrors the experience students will have at a competition will help them to better prepare and to have a smoother first tournament experience
Give students the opportunity to shadow a tournament before competing. Allowing students to experience the logistics of a tournament without needing to balance all of the components of competing can help students to familiarize themselves with what to expect. This may make their first full tournament experience less overwhelming.
Build in time to check in after each competition. Because most of what happens during a tournament happens without direct oversight from coaches, it can be important to build in time for students to debrief and share their experiences.
Advocating for Accommodations
Previous modules outlined the difference between an appropriate accommodation and one that fundamentally alters the expectations of the event. For many students, appropriate accommodations are critical to accessing the competitive space. Coaches play a vital role in communicating with tournament officials in order to advocate for and secure accommodations. Here are some strategies coaches can use to make the process as smooth as possible: 
Know your options
To be an effective advocate, it is important to know what resources are available. Taking the time to familiarize yourself with common accommodations that are available, as well as how they can be implemented, can help to create a more positive experience. This information can help coaches become better tournament hosts or resources for their local leagues. Some potential accommodations to familiarize yourself with include the following: 
How to enable screen-reading capabilities on a computer website or browser.
Designating a "decompression room" when appropriate at a tournament.
How to include equity statements or reminders on online ballots.
Find the appropriate tournament contact and start early
Coaches should reach out to the tournament director to explain the accommodations needed as early as possible in the registration process. Some tournaments may have an equity officer, who can serve as a point person to coordinate the logistics of providing the requested accommodations. By starting the conversation early, coaches give time for tournament directors to make the appropriate arrangements with the hosting site. Coaches may also find it helpful to follow up during the week of the tournament to confirm any specific accommodations have been arranged and to establish who the point of communication will be at the tournament.
Create a game plan
While any communication with adults running the tournament should come from a coach, it is also important that students are aware of the accommodations they will be able to access. Coaches and students can both benefit from touching base prior to a tournament to discuss any accommodations that have been requested and what the student can expect. In addition, it can be helpful to establish the steps that a student should take if they encounter any unforeseen obstacles while at the tournament.