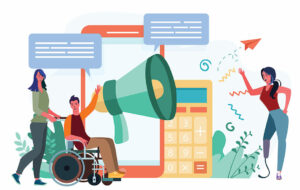 Setting Up For Success
As the speech and debate community has added a virtual format, there are new resources and tools that may help your students have a more positive and educational experience. When necessary, make sure students have some direct instruction about how to utilize the resources that are available to help them. This can be done directly by a coach or can be coordinated between a coach, special education teacher, or technology department. The important takeaway is not to assume that students are aware of how to access the accessibility features. Also, it can be helpful to gather student input consistently and adjust where needed. Creating opportunities for students to explain what is working well with the technology and where, if anywhere, they are having trouble can help coaches to know what additional resources may be needed.
Know What Is Out There
Students may be familiar with many of the resources outlined in this section through their work in the classroom; however, it is beneficial for coaches to be aware of the accessibility resources that exist for the technology that students are using and have a basic familiarity with how to use these tools. Some common tools that students may benefit from utilizing are:
Screen readers (for navigating website)

Magnifying programs (to enlarge website)

Text to speech (when writing speeches)
Speech to text (when researching)

Color contrast modifications (can help students with certain visual impairments) 
WCAG 2 Checklist is one of the go-to checklists for website accessibility. It has a variety of resources to determine the accessibility. 
Web Accessibility Evaluation Tools List is another helpful accessibility checklist that coaches can use when looking at their websites, LMS pages, or other online resources that are being used to share content with students. 
Webcaptioner is a captioning software. While it might not be able to be used for competitive environments, it can help to make any videos that you are using during practice to be more accessible.
Iorad is a tool that can help teachers make step-by-step tutorials by taking and editing a series of screenshots. This can be especially helpful when walking students through specific steps that they will need to take for actions such as signing up for a tournament, accessing Tabroom.com, or any other multi-step task that students may need to do independently.
Wave is an evaluation tool for websites. By typing in a URL, coaches can see what errors a student using an accessibility tool may run into based on the website design. If you are in a position to fix the website, this tool will give you specific suggestions to maximize accessibility. If you are not, it can still provide feedback that may help you to proactively support your students. 
Pave is an evaluation tool that will check various aspects of PDFs for compatibility with common accessibility softwares. This tool will give you suggestions for how to ensure that the handouts or worksheets that you are using meet accessibility standards.
CheckMyColours is a tool for checking the color combinations on websites and uses an algorithm to determine whether the combinations would be accessible to individuals who have certain types of visual impairments.