Engaged Citizens. Brought to you by speech and debate educators.
About
Voices of the Future is designed to encourage student involvement in democratic society using speech and debate skills inside and outside the classroom. Voices of the Future teaching tools and activities engage students in the four zones of literacy: reading, writing, speaking, and listening. Students are enabled to think critically, collaborate, and communicate creatively.
In Spring 2017, we invite educators to recognize Martin Luther King, Jr. Day through a series of classroom activities. We've included helpful rubrics to assist in evaluating the student discussions, essays, and presentations.
In Fall 2016, we focused on the debates in the 2016 Presidential Election. The resources below are available to any teacher or coach and cover how to host a watch party with built-in activities, pre and post debate teaching tools, and more.
We also partnered with our friends at
NAMLE
(National Association for Media Literacy Education) to design resources to help teachers explore standards in media literacy and speaking and listening. The
three-part poster series
provides valuable insights on standards that could be tied into lessons, as well as activities to do with students. Take a deeper look into the possibilities for your classroom!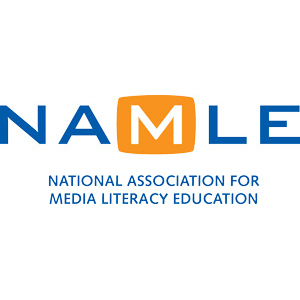 Black History Month Classroom Activities
Below are several ideas for engaging students in recognition of Black History Month.

American Dream Speech
Students will give a four-minute speech about their dream for America. Speeches should address things that are needed today to improve America and how students would convince others to work towards making that dream a reality.
(Grades 6-12)
Civil Disobedience Classroom Debate
Hold a classroom debate on the topic, Resolved: Civil disobedience in a democracy is morally justified. End the period with a class discussion of the arguments and a vote on the topic. You can also download additional resources.
(Grades 6-12)
"I Have a Dream" Critical Analysis Activity
Students will read or watch Dr. Martin Luther King, Jr.'s famous "I Have a Dream" speech and discuss it in class. Following the discussion, each student will compare Dr. King's dream to life in America today and examine the extent to which Dr. King's dream has come to fruition through a video, short essay, speech, or presentation.
(Grades 6-12)
"Letter from Birmingham Jail" Persuasive Speech Activity
Students will read "Letter from Birmingham Jail" and create a persuasive argument in the same style. Participants will imagine that they are in Dr. King's position and write a short essay or give a short speech arguing for the desegregation of public places.
(Grades 6-8)
"The Other Wes Moore" and "Not a Genuine Black Man" Classroom Discussion
Mock Presidential Debate
Middle school students from Bill Thompson's debate classes recently held a mock presidential debate at NSU University School in Florida. As they considered some of the major topics faced in the 2016 election, students set out to prove that debates are about exploring the facts behind issues and not merely about defeating an opponent. Check out the full video below!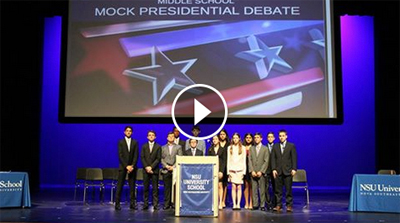 Debate Classroom Activities
Host a Watch Party
Hosting a debate watch party is a great way to get involved in the election cycle and raise awareness about your speech and debate team. A community event like this is a great opportunity to showcase the talents of your speech and debate team, fundraise, and possibly gain local media coverage! Check out some tips for hosting a watch party in your district.
Reserve an auditorium or large space with appropriate sound and video display capabilities during the next presidential debate.
Get a keynote speaker to welcome everyone and speak about the importance of debate in a democracy (for example, a debate coach or alumni).
Invite the community! Share and post our flyers around your school or town.
Ask local politicians to attend and participate in a Q&A with the audience.
Charge admission or set up a concession stand to turn the event into a team fundraiser!
Create and print candidate fact sheets to make available to audience members.
Use our press release template to invite the media!
Things to Do During the Watch Party:
Set up a booth or table with information about the speech and debate team. (Don't forget to include a donation jar for contributions.)
Hold a pledge of allegiance prior to the debate starting.
Play Presidential Debate Bingo using our printer-friendly cards! Download the PDF here.
Have your team or various teams do a debate analysis after the event.
Use the online polling system on Facebook to vote for the candidate you think won the debate.
Have your team or various teams do an overview on specific issues that are brought up in the debate and explain why they agreed or disagreed with the candidates.
Host a Demo Debate
Hosting a Demo Debate is a great way to showcase the talent of your speech and debate team to the community. Additionally, you could turn a demo debate into a team fundraiser and an opportunity to raise awareness about speech and debate by earning some local press coverage. There are several ways to host a Demo Debate:
Pre-Debate Event:
Assign each student a candidate.
Have the student do research on their candidate's views regarding a set of issues such as immigration, education, foreign policy, etc.
Have a moderator ask the candidates specific questions on those issues.
Have the students answer questions from the audience.
Instruct the audience to vote for a winner at the end of the Demo Debate.
Post-Debate Event:
Assign each student a candidate.
Have the students do research on their candidate's views regarding a set of issues such as immigration, education, foreign policy, etc.
Have the students analyze their candidate's answers to questions from the debate, including the quality of the answer and whether it is consistent with their other positions, etc.
Have the students share their analysis (including better responses to questions) with the audience.
Have the audience vote on the winner of the debate.
Debate Analysis
After the debate, capture the moment by having several debaters and/or coaches discuss who did the best in the debates and what they could have done better. Consider following the format of the USA Debate Team: National High School Debaters Review Democratic Debate, The Guardian
Publicize this analysis on social and traditional media.
As with most things, a combination of these activities will be even better than a single idea. Taking advantage of the debates to help communities consider the value of speech and debate teams is worthy of considerable attention by schools throughout the presidential debate series.
Create a Survey
Pre-Debate Survey
Gauging perceptions before and after debates can be an engaging way of discussing the presidential debates.  Prior to the debate, students will need to take a pre-survey.  The survey can be set up on a Google Form, Survey Monkey, or a number of other tools.
Pre-Debate Sample Survey Prompts
Watching this debate will impact my opinion of the candidates.
Candidates do a good job of supporting their claims in debates.
The debates are a necessary part of the nomination process.
What issue do you think is the most important for this upcoming election?
Which Republican Candidate do you think will win the presidential nomination?
Post-Debate Survey
After the conclusion of the debate, have the students take a post survey.  Like the pre-survey, there are a number of free tools you can use to build the survey for your students. The questions will mirror those of the pre-survey so that you can compare before-and-after responses.
Follow-Up Discussion
After the post-survey has been completed by your students, examine the results.  What perceptions changed from before the debate to after the debate?  What perceptions stayed the same?  Identify interesting statistics and share them with your students.
Sample Discusion Questions
Why do you think the group thought X candidate would win the debate prior to the debate starting?
Why do you think the group thought X candidate won the debate?
What during the debate was the most important issue to help candidate X win in the eyes of the group?
What was the biggest mistake candidate X made in the debate and why do you think that wasn't significant enough to change the outcome of this group's perception?
Why do you think the group thought X candidate did so poorly?
What issues do you think got more attention than you had predicted?  How did this impact the perception of the debate?
What was the turning point in the debate for X candidate?
What changes would you suggest to candidate X for future debates?
Which candidate would fair the best in a debate against Y candidate (from opposing party)?  Why?
What impact do you feel the moderator(s) had on the outcome of the debate?
Our students hear about all of the candidates and what their parents, sibling, and peers think about them. Voices of the Future gave our 7th graders the opportunity to speak about the candidates for once, rather than just listen. Jeffrey Miller
Break the Election
Break the Election is an opportunity for young people to become active in the 2016 presidential campaign. By critically remixing political ads, youth can demand transparency from leaders by calling out persuasive techniques, misleading information, and bias in political media. It's not about partisanship or promoting any particular candidate—it's about challenging the one-way media flow.
Throughout the year, The LAMP's Break the Election will utilize tools, programs, and events for remixing, creating, and following fair use guidelines. Young people will be empowered to get involved in the political process and make their voices heard. In addition, students will:
• Practice information literacy and research skills
• Understand how media narratives shape issues and candidates
• Learn to spot bias and misleading information
• Identify the issues important to them in choosing the next president
• Explore campaign advertising, past and present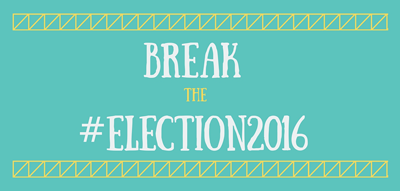 Watch Party as Fundraiser
Presidential debates offer an exciting opportunity for speech & debate teams to engage their communities around the activity of debate. The natural interest and attentiveness to debate can be captured by after-school programs to build support for the student activity in a variety of ways. As such, teams should do as much as possible to engage as many members of the community in debate activities while they are available in the media.
Consider combining a watch party with other debate related activities (suggestions below) and encourage audience participation. Any form of audience participation inclines them towards support and advocacy of your team. As much as possible, solicit engagement activities such as liking your team Facebook page, signing up to get emails of team results, or following your team on Twitter.
Judges
Provide the attendants with a schedule (akin to sports teams schedules) that highlight opportunities to come and cheer on your team or to support the team as a volunteer judge. If your team is hosting a tournament, suggest that they come and watch or support the tournament by volunteering.
Donations
If it's appropriate, you might consider asking for support through a presentation by the coach or a student at the beginning of the debate (or during an intermission). Be prepared to talk about what your team needs and how they can best support you. Having a goal for the evening that is communicated to the audience would help motivate folks to give.
Concessions
During the presidential debates, your team can also provide inexpensive snacks and drinks for sale to support the team. Bags of popcorn, cookies, or other items can be easily resold and raise a small amount of money for your team.
Tickets/Childcare
Instead of donations, you might opt to collect a ticket fee at the door for each adult that attends. A nominal fee such as $5 that supports the team as either a suggested or required amount may be an option. If student volunteers are available and capable to watch children and there is appropriate space, providing childcare for youngsters may be a draw to parents of young children.
USA Debate Team Responds to the First Presidential Debate
We asked current and former members of the USA Debate Team to send us their reactions to the first presidential debate held Monday, September 26. Here are a few of their thoughts!
Read the Responses
Anastasios Nikolas Angelopoulos:
High school and college debaters are subject to a high professional standard of argumentation, persuasiveness, and ethics when engaging one another. Unfortunately, neither Secretary Clinton nor Mr. Trump hold themselves to the same standard as millions of young adults. Thus, out of respect for my country and also the art of argument, I am judging this presidential debate as I would a high school debate, commenting on argumentative quality, rhetoric, and ethics.
In terms of argumentative quality, Secretary Clinton managed to build some complete arguments despite little time to develop them. She catalogued specific plans to create jobs in alternative energy, indicted Mr. Trump's economic plan based on expert projections, and supported equality through reform of home refinancing, childcare, student loans, and more. In debate terms, she had evidence based warrants and solvency—n other words, she used facts to support her ideas and had a way to implement them. The impacts of her detailed policy proposals were clear. Secretary Clinton argued that she would cause a net increase of 13.5 million jobs over Mr. Trump, that her temperament would make her a more responsible and stable Commander in Chief, and that Mr. Trump is a crony capitalist. However, much of Secretary Clinton's time was spent on argumentatively useless material, such as ad hominem sound bites toward Mr. Trump about his "Trump loophole," or jumping between loosely-related issues like Trump's support of the Libyan intervention and Bush's agreement to leave Iraq, to get more material out. Secretary Clinton gets a B+ for her argumentative quality. She is a substantive debater who was sometimes unable to—or chose not to—articulate complete arguments in favor of sound bites.
In comparison, Mr. Trump based his argumentation on counter-attacking Secretary Clinton rather than on a substantive and well-documented plan. Though many of Secretary Clinton's arguments went unsupported, they were generally consistent. Mr. Trump's were not. Unlike her, he had no cohesive approach himself, and therefore his arguments were volatile. He consistently exaggerated his claims. For example, "NAFTA is the worst trade deal maybe ever signed anywhere." His warrants were specious and purposefully equivocating, especially regarding the DNC hacking. When pushed for evidence, Mr. Trump spoke about his "buddies in China," his "good friend Sean Hannity," or simply fabricated facts about Michigan and Ohio's unemployment rates and "disastrous" U.S. energy policies. Any reasonable thinker knows that personal experience and fake evidence cannot be substituted for facts. Even by high school standards, Trump gets an F.
Rhetorically, neither candidate was especially strong. However, Secretary Clinton seemed poised and fluid. Though she only had a couple power-lines, like "Trumped up trickle-down economics," her main strength was her gaffe-less, precise rhetoric despite an antagonizing opponent. When Mr. Trump baited her by denying past statements, attacking President Obama, or interrupting her, Secretary Clinton stayed on message. She generally used academic vocabulary, like "broad-based, inclusive growth" and seemed genuinely passionate in her use of devices, such as her anaphora, "zero for troops, zero for vets, zero for schools, zero for health." Though Secretary Clinton can be dry and academic, she is an above average rhetorician with some flair. She gets a B.
Mr. Trump's populist rhetoric works for a certain crowd, but in an academic space makes him sound immature and predatory. In contrast to Secretary Clinton's stilted but scholarly tone, Mr. Trump substituted hyperbole for logic. Using phrases like "a big, fat, ugly bubble," Trump appealed to the visceral emotions of a mob, not the logic of a judge. His most memorable stylistic moments were his one-liners about how rooting for 2008's economic collapse is just good "business" and how tax evasion "makes [him] smart." During Mr. Trump's section on NATO, he seemed unprepared, admitting he "hadn't given lots of thought to NATO." When he complained about how Secretary Clinton's ads were not "nice," he sounded petulant. The function of rhetoric is to increase one's ethos, making their arguments more persuasive or memorable. Unfortunately, Mr. Trump's rhetoric emphasized his worst personal qualities, not his best ideas. Thus, he gets a D-.
Ethically, in the context of this debate, Secretary Clinton was upstanding. According to fact checkers, though she was not totally forthcoming about free trade or Iraq, she was generally honest and respectful of her opponent's time. Meanwhile, Mr. Trump was rude, using significantly more airtime than Secretary Clinton, and disrespectful of the African American moderator. He was misogynistic, interrupting her three times more often than she did him. Most importantly, Trump lied consistently about his past statements (e.g., "presidential look" vs. "presidential stamina," or global warming being a "hoax") and made up evidence. Perhaps one of the most revealing statements was when Mr. Trump accused Secretary Clinton of lacking stamina. Stamina is a word that has to do with physical and mental capacity to continue and maintain an activity for a long duration; it also has masculinized connotations. Rudeness, mistreating women, and knowingly lying are cardinal sins in debate. Mr. Trump deserves an F on ethics.
Any experienced judge would see this debate as a "bigly" solid victory for Secretary Clinton. Good luck to both debaters in their upcoming rounds.
Colette Faulkner:
Hillary Clinton spoke with eloquence and thoughtfulness. On the other hand, Donald Trump resorted to shouting and circular reasoning, showing just how woefully unprepared he was. I think we can all learn from Monday's debate just how important it is to come prepared.
Ellie Grossman:
As expected, the evening was largely framed by rational debate from Secretary Clinton and empty rhetoric from Mr. Trump. I found myself disappointed, but not surprised, by the lack of substance from Mr. Trump as well as the lack of truth in what he chose to spout. On the other hand, I thought that Secretary Clinton found an appropriate balance among facts, emotional appeal, and humor. While both candidates baited one another, their reactions were like night and day. While Mr. Trump took pot shots and asked "why not" blame Secretary Clinton for everything, Secretary Clinton remained level-headed and used both humor and reason to respond to Mr. Trump's attacks. Because she actually discussed the issues and performed not only appropriately, but also persuasively, I think Secretary Clinton cleanly prevailed in the first debate.
Nikhil Ramaswamy:
Of the many words that can be used to describe the first presidential debate, none jump out to me more than "contentious." As an audience member focusing solely on decorum, I'd applaud Ms. Clinton for her grace and poise when handling the bombastic claims made by her opponent. But as a debater accustomed to building arguments around claims, warrants, and impacts, the debate was underwhelming—especially on the Republican side of the aisle. Secretary Clinton and Mr. Trump clashed repeatedly over a variety of issues, ranging from tax policies to race relations, yet few questions were fully answered—both from the moderator, and from me as a listener. For example, when Mr. Trump was asked about how he would tackle the issue of race relations in communities plagued by police brutality (Charlotte, Ferguson, etc.), he launched into a two-minute self-promotion campaign that had nothing to do with his plan of action so much as a personal advertisement—and Ms. Clinton called him out on it. Conversely, although Ms. Clinton was undoubtedly the better-spoken and better-mannered of the two, when she was asked how she would tackle gun violence, she argued for increased regulation to ensure that people who shouldn't have their hands on a gun don't get access to them…but it stopped there. Neither she nor Mr. Trump fully answered the questions we as audience members have been learning since elementary school: who, what where, when, and most importantly, how? There are those who would endorse Donald Trump out of a logic that he'd "get less done in the oval fffice" and would therefore be "less damning" to our country's future compared to Secretary Clinton. But I disagree. Based objectively on what I saw in the presidential debate alone, Donald Trump has proven he has neither the temperament nor the judgment to hold himself to the standards of being president, and therefore, is far less suited than Hillary Clinton for the White House.
Liz Yount:
I have two major takeaways from Monday night's debate: Secretary Clinton now serves as the epitome of composure, and Mr. Trump is excellent at celebrating mediocrity. To the surprise of no one, Trump opted to bloviate and hide behind ad hominem remarks instead of engaging Clinton in the substance of her commentary. Conversely, the Secretary conducted herself with poise while addressing the moderator's questions with empirics and dignity. I find it hard to believe that any undecided voter could possible side with Trump after this debate. Secretary Clinton was clearly ahead throughout the entire debate and, as she so eloquently stated, is ready and prepared to be president.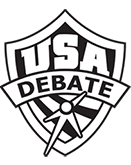 Vice Presidential Debate Watch Parties
Celebrating two prominent alumni on the national stage!
Both the Republican and Democratic vice presidential candidates are alumni of the National Speech & Debate Association! Governor Mike Pence (R-Indiana) qualified for Nationals in Oratory and Boys' Extemp and placed third in Impromptu. Senator Tim Kaine (D-Virginia) earned more than 400 points during his time as a student. Pence attended Columbus North High School in Indiana. Kaine competed for Rockhurst High School in Illinois. Both schools are current members of the NSDA. Pence and Kaine squared off in a nationally televised debate on October 4, 2016.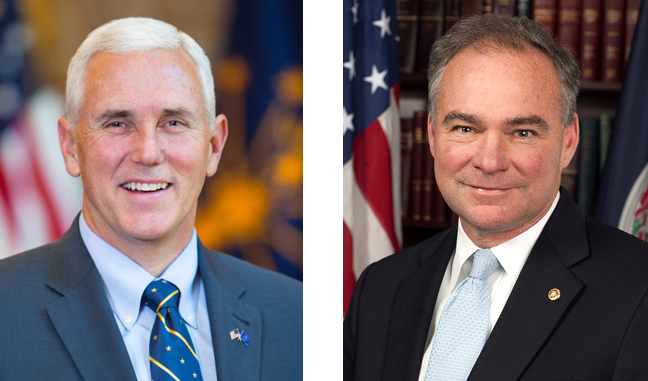 Thank You To Our Watch Party Hosts
COLORADO
Contact: Renee Motter
Host Location: Library 21c
FLORIDA
Contact: Megan West
Host Location: Kathleen C. Wright Broward County School Board Building
IOWA
Contact: Steve Schappaugh
Host Location: NSDA National Office
NORTH CAROLINA
Contact: Jonathan Peele
Host Location: Charlotte Latin School
OHIO
Contact: Chase Williams
Host Location: Hawken School
PENNSYLVANIA
Contact: Sharon Volpe
Host Location: North Allegheny Sr. High School
Debate Schedule
Each debate will be broadcast live on C-SPAN, ABC, CBS, FOX and NBC, as well as all cable news channels including CNN, Fox News, and MSNBC among others. The debates will air from 8:00 p.m. to 9:30 p.m. CT.
Monday, September 26, 2016
First Presidential Debate
Hofstra University, Hempstead, NY
Tuesday, October 4, 2016
Vice Presidential Debate
Longwood University, Farmville, VA
Sunday, October 9, 2016
Second Presidential Debate
Washington University, St. Louis, MO
Wednesday, October 19, 2016
Third Presidential Debate
University of Nevada, Las Vegas, NV
If you're interested in hosting your own watch party event, email Steve Schappaugh.
Be sure to follow us on social media and promote your own activities using the hashtags #debatingthedebates and #voicesofthefuture.
Nearly 1,000 people participated in our online poll about the third and final presidential debate on October 19. Check out the results below!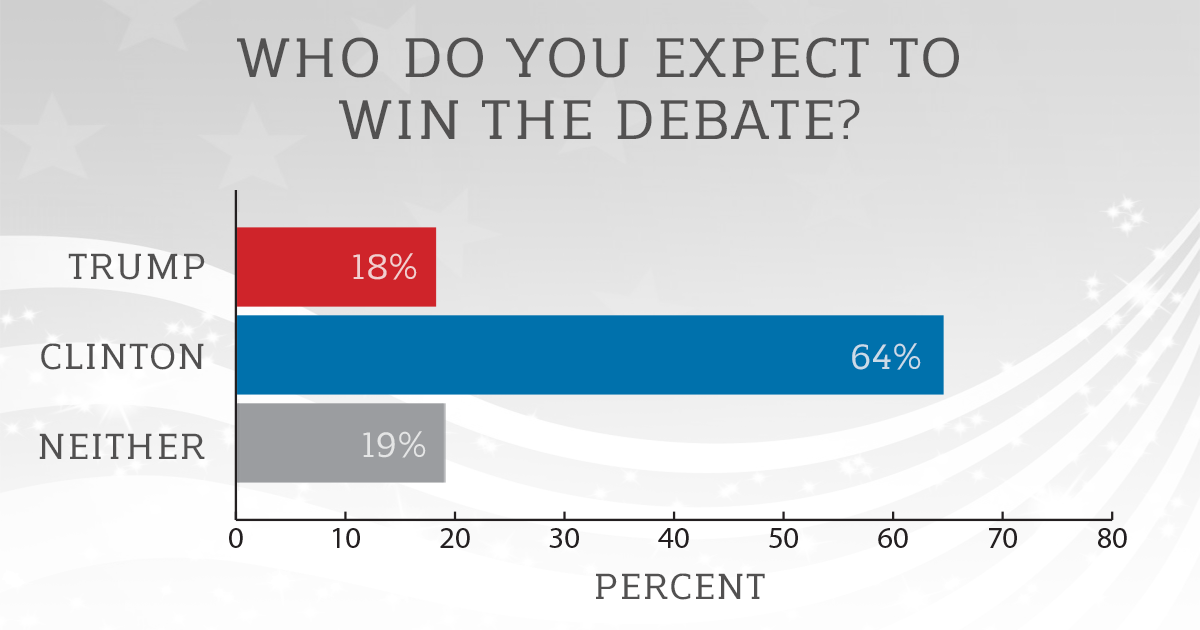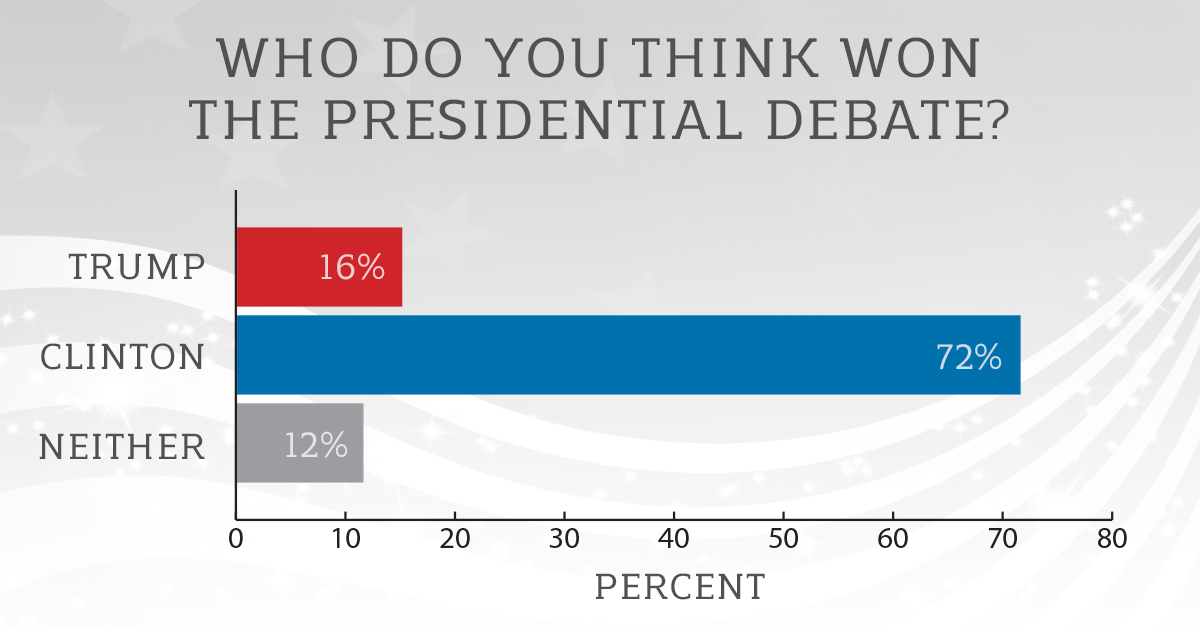 Hundreds of members from across the country also participated in our vice presidential debate poll on October 4. Thank you for making for you voices heard!