Online Middle School National Tournament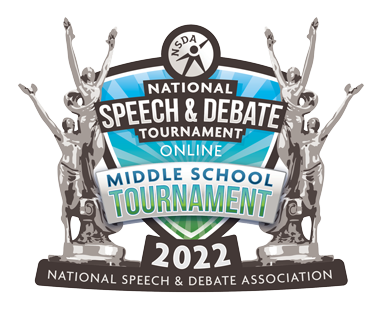 The 2022 Online Middle School National Tournament, presented by Summit Debate, is happening online on June 7-9, 2022. Live debate, live speech, and asynchronous speech events will be held. All middle school NSDA members are welcome to compete for a chance to be named a middle school national champion!
Join in Wednesday, June 8 and Thursday, June 9 for select student performances and the awards ceremony.
Students must have been in the fifth, sixth, seventh, or eighth grade during the 2021-2022 academic school year.
There is no qualification process; this is an open tournament.
Students and schools must have NDSA memberships.
Non-School Clubs
Students involved with non-school clubs must instead be registered with the school at which they are enrolled. Contestants found to be violating this rule will be disqualified.
The Board of Directors affirms the creation, support, and development of speech and debate programs at the middle and secondary levels through accredited public and private schools.
All members of the Association must be school-based. For any club or organization that does not currently have a school-based membership, the NSDA is eager to work with you to create school-based speech and debate teams.
Students who are currently members through their area non-school-based clubs and organizations may request to have their memberships transferred to their accredited public and private schools.
Homeschools and virtual schools that are recognized by the state in which those schools compete may join the National Speech & Debate Association. Please contact info@speechanddebate.org for more information.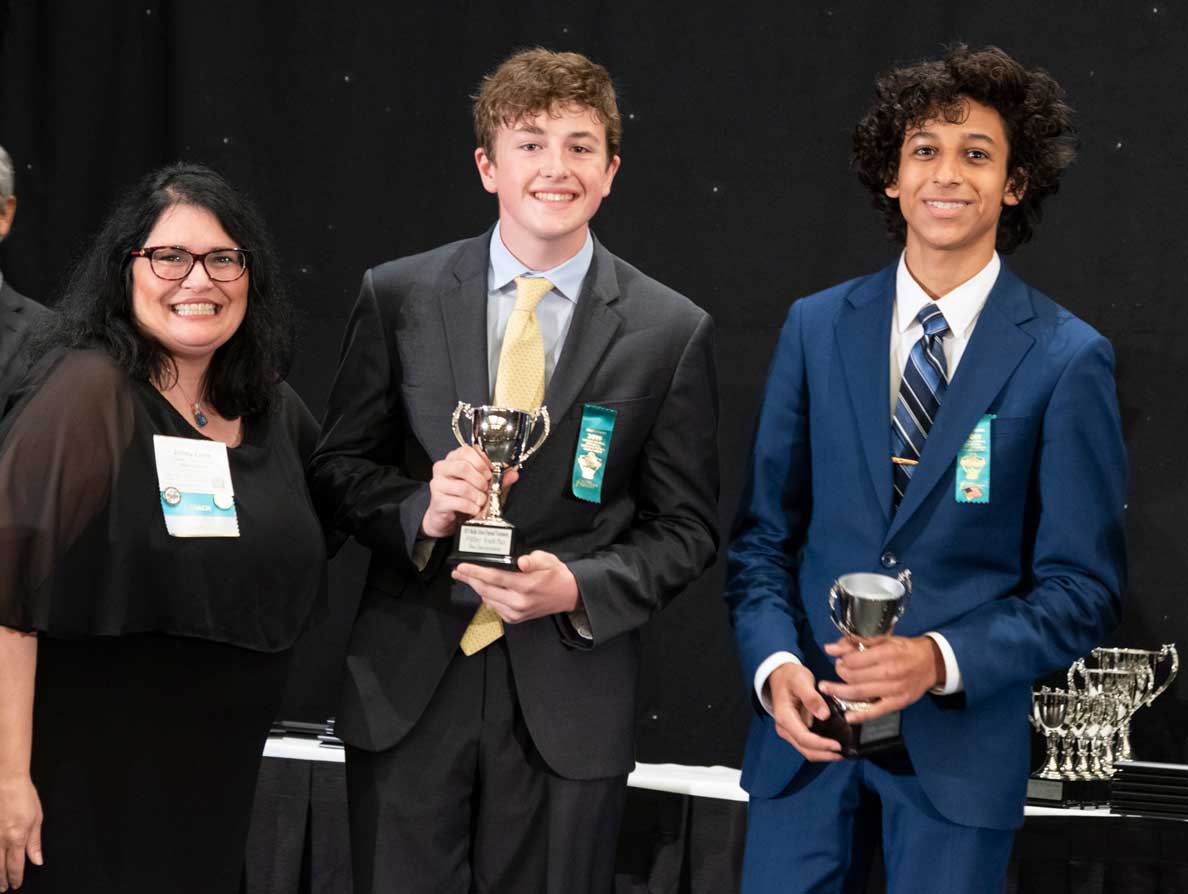 Live Debate: Congress Debate, Lincoln-Douglas, Public Forum, and World Schools.
Live Speech: Dramatic Interp, Duo Interp (Same Room Only), Humorous Interp, Mixed Extemp, Original Oratory, Informative Speaking (No Visual Aids), and Impromptu.
Asynchronous Speech: Declamation, Prose, Poetry, Program Oral Interp, Pro Con Challenge, Original Spoken Word Poetry, and Storytelling.
Duo Interp partners must compete in the same physical room and in the same virtual window as their partner.
Live speech and debate events will use NSDA Campus with Observers. Up to two coaches per entry may observe debate rounds; up to one coach per entry may observe live speech rounds. No observers are permitted in Congress.
Participants can download a customizable certificate to commemorate their experience!
The entry fee is $25 per solo entry, $50 per partner entry, and $75 per World Schools entry.
A school may enter up to 8 entries per event.
No double entry is permitted in live speech or debate. Students in live speech may not enter debate events. Students may enter as many asynchronous speech events as they wish.
Students entered in asynchronous speech may also enter up to one live event.
Title, author, and ISBN information for Interpretation events, title and topic for Original Oratory and Informative Speaking, and title for Declamation, must be posted on the registration website by May 15.
Asynchronous speech video links are due on May 15.
Coaches must acquire a signed Entry Release Form for each competitor before the first day of competition, retain these signed forms through December 31, and be ready to produce them at any point during or following the Middle School National Tournament. These forms do not need to be uploaded to the registration website.
Coaches must certify that each contestant entered under their school name is a student at this middle school and will be under the supervision of a supervising adult who is the student's parent, coach, or school administrator, approved by the school principal by agreeing to the disclaimer prior to registering. No forms need to be uploaded, but evidence that a school has violated this agreement could result in disqualification of the school's entries.
Schools that have entries in Duo or partner debate events that plan to compete in the same physical room must make their school administration aware that students will be competing in the same physical room receive approval that the protocols put in place are sufficient to be compliant with school safety requirements.
Each debate event: 1 judge is owed per 2 entries or fraction thereof. Each debate event has a separate judging pool.
Speech events: 1 judge is owed per 5 entries or fraction thereof. Live speech and asynchronous speech are separate judging pools.
Congress events: 1 judge is owed per 5 entries or fraction thereof.
High School Judges: If a school enters high school students to judge, they must have been juniors or seniors with at least 250 Honor Society points in the last academic year. No underclassmen or upper classmen without 250 Honor Society points will be permitted to judge. A rising junior does not meet this criterion.
If a school owes a judge, they must provide a judge for each day of competition that that event runs. For example, a school-provided debate judge must be provided for Tuesday, Wednesday, and Thursday rounds. If needed, contact the national office to split an obligation between different judges. A different judge may be provided for each day, but one day of judging cannot be split between multiple judges.
Judging paradigms for Lincoln-Douglas Debate judges must be entered on the registration site by May 15.
Judges must complete the NFHS/NSDA Cultural Competence course prior to judging.
Judges must have Tabroom.com accounts.
Judges must have conflicts listed in Tabroom.com by May 15.
All judges are committed through the end of the tournament and are expected to judge any round assigned within their event group.
A limited number of tournament-provided judges are available for hire at $200 each. If your school hires a tournament-provided judge, the tournament is responsible for hiring, paying, and communicating with that judge. Your school will not be put in contact with them or arrange payment to them.
Each school must post a judge bond of $200. Judge bonds will be forfeit if judges miss or are late to round assignments. The first round missed will result in forfeiture of the judge bond, and each subsequent round missed will incur a $100 fine.
Payment is due May 15. A PO or check postmarked by May 15 is acceptable.

Follow these instructions to create your National Tournament invoice.

Schools may pay by credit card or ACH via their NSDA account. There is no processing fee for credit card and ACH payments. POs should be mailed to the office (postmarked by May 15) or emailed to billing@speechanddebate.org. 

Checks payable to National Speech & Debate Association. Mail payment to: NSDA, 401 Railroad Place, West Des Moines, IA 50265. 

Full refunds will be issued for changes made before May 15. No refunds will be made after May 15. 

If you make changes to your registration before May 15 but have already created an invoice that is higher than that amount, contact the national office for the invoice to be revised.

Limited hired judging will be available for the price of $200 per judge.

Each school must post a judge bond of $200. This bond is in addition to entry fees and judge fees. If all judges from a school complete all judging assignments, the $200 will be returned after the tournament using the method selected during registration (on the general tab of your Tournament registration): refund check by mail or credit to your NSDA account. To use the credit for your school membership, you must generate an invoice as usual in the fall and apply the credit to activate your membership. Judge bond refunds will be processed by July 31. Overpayments will be processed by July 31 and refunded via the same method selected for judge bond refund.
The William Woods Tate, Jr. Memorial Fund was designed to help students attend the National Speech & Debate Tournament. The Tate Fund will continue to provide financial assistances to schools who otherwise would be unable to attend the National Tournament. For 2022 National Tournament, the NSDA is proud to pledge $100,000 to schools to create a more equitable National Tournament experience.

Apply now! Our first round of financial assistance awards will be announced around May 15.

Thank you to the generosity of NSDA donors including the Julia Burke Foundation for making this possible.
Competition will be held Tuesday, June 7 – Thursday, June 9.
Debate events will be single-flighted if possible. Events with 50+ entries will do six preliminary rounds; events with fewer than 50 entries will do five preliminary rounds. All winning records will clear to a single-elimination bracket.
Live speech events will do four preliminary rounds. If there are 24-59 entries, we will break to a semifinal. If there are 60-99 entries, we will break to a quarterfinal. If there are 100+ entries, we will break to an octafinal.
Asynchronous speech submissions will receive at least six ranks to determine placement.
Congress will do two preliminary rounds. If there are 20-40 entries, a final will be held. If there are 41+ entries, a semifinal will be held.
Select live event final rounds will be livestreamed to YouTube. All final rounds will be recorded and made available on the NDSA website after the tournament.
A virtual awards ceremony recognizing top-placing competitors and schools will be held Thursday evening. Read more about awards in the Middle School Unified Manual.
The schedule is in Central Time.
Tuesday, June 7 (Central Time)

Wednesday, June 8 (Central Time)

Thursday, June 9 (Central Time)

Asynchronous Speech Ballots Published at 8:00 a.m.

10:00 a.m. Mandatory meetings for students and judges.

12:30 p.m. R1 Debate/Speech/Congress

3:00 p.m. R2 Debate/Speech

5:30 p.m. R3 Debate/Speech

10:00 a.m. R4 Debate/Speech & R2 Congress

12:30 p.m. R5 Debate/Elim 1 Speech

3:00 p.m. R6 Debate & Elim 2 Speech (if needed) & Semifinals Congress (if needed)

5:30 p.m. Elim 1 Debate & Elim 3 Speech (if needed)

10:00 a.m. Elim 2 Debate & Elim 4 Speech (if needed)

12:00 p.m. Congress Final & Asynchronous Speech Ballots Due

12:30 p.m. Elim 3 Debate

3:00 p.m. Elim 4 Debate (if needed)

5:30 p.m. Elim 5 Debate (if needed)
* all times listed are CT
Share your message with
3,500 High Schools
600 Middle Schools
5,200 Coaches
140,000 Students
Extend your reach at the Nationals
7,000 Attendees
6,500 Tournament Books are Distributed to Coaches and Teachers
7,000 Access the National Tournament App from their Phone or Device
We can design your ad!
It's quick, easy, and affordable. For $125, we will create a beautiful, print-ready ad just for you!