Publications & Newsletters
Rostrum
Rostrum is the official magazine of the National Speech & Debate Association. Each school year, the magazine provides the speech and debate community with news, scholarly articles, and national updates published in the months of September, November, February, April, and August.
Share your message with:
3,600 High Schools
600 Middle Schools
5,200 Coaches
150,000 Students
We distribute:
30,000 Copies per Year
26,000 Online Views
7,500 Copies per Issue
Extend your reach at the National Speech & Debate Tournament:
7,000 Attendees
6,500 Tournament Books are Distributed to Coaches and Teachers
7,000 Access the National Tournament App from their Phone or Device
We can design your ad!
It's quick, easy, and affordable. For $125, we will create a beautiful, print-ready ad just for you! (Note: Copy and images to be provided by the advertiser. Purchase of stock photography or illustrations are not included in ad fee. Photo editing or special effects may incur an additional fee.)
Download Rate Card Advertising Form
Questions?
We're here to help! Email Emily Kriegel for more information.
We are always looking for articles written by our members! Please review the following guidelines before submitting an article to Rostrum.
Submissions need to have current significance to the high school speech and debate community, including coaches, competitors, and judges.
Submissions must be free from religious or political bias or favoritism toward a certain region or school.
Submissions may not be inflammatory, libelous, or discriminatory toward any group based on race, culture, nationality, religious beliefs, gender, sexual orientation, age, ability, or socioeconomic status.
Submissions should be written in English and free from grammatical errors or misspellings.
Submissions should provide APA or MLA citations for references. Please consult the most recent edition of the MLA or APA guidebook for guidelines.
Submissions must include a proper title. Subtitles are also acceptable.
Submissions must not have been submitted previously or simultaneously to other publications, except in cases of express consent from the Association's Executive Director. Permission from the other publisher/organization may also be required.
Submissions may be returned for revision or correction before they are published. In such circumstances, it is the responsibility of the author to return the corrected piece in a timely manner.
Submissions will not be returned to the author, except for revision. All submissions become the property of the National Speech & Debate Association.
Authors will not be paid for their submissions.
Article submissions are generally 500 words (1-page article) to 1,250 words (2-page article) in length. Authors may be required to edit or condense longer articles. Authors planning to submit longer articles should contact the Association with an outline or article summary for approval first.
Authors should include a short (1 to 2 sentence) biography to accompany their submissions. The biography may include coaching/competitive experience in speech and debate, as well as educational or professional background information.
The Association may request a high-resolution (300 dpi or equivalent Adobe PDF, JPG, TIF) author headshot photo, if an article is selected for publication.
The Association does not guarantee if or when a submitted piece will be used.
Articles should serve a non-commercial purpose.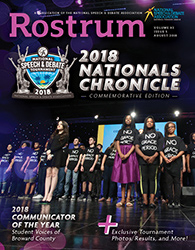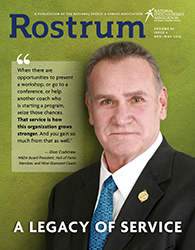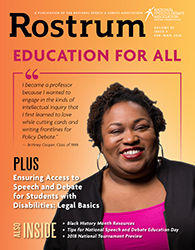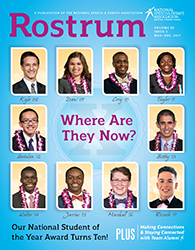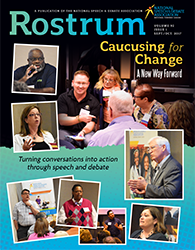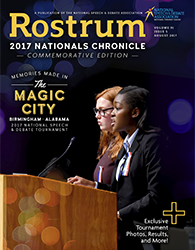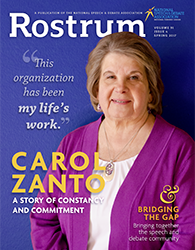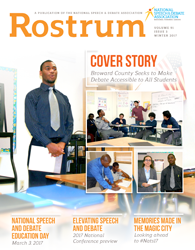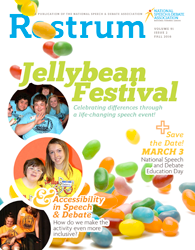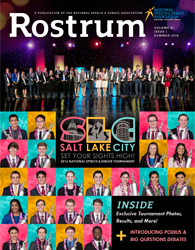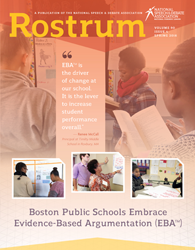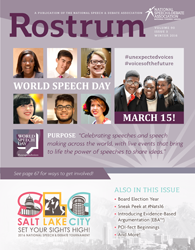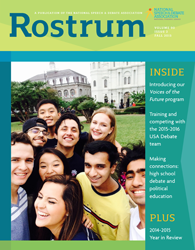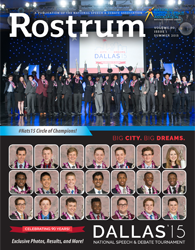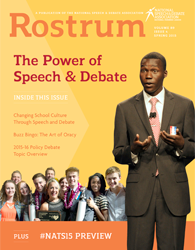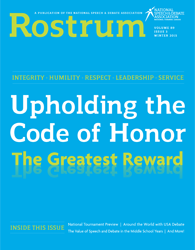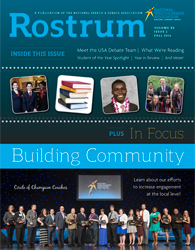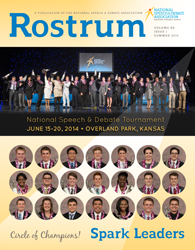 Current Issue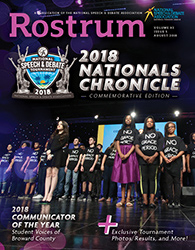 2018 August Rostrum – Nationals Chronicle
UTNIF has chosen Rostrum for our advertising needs for more than 20 years. There is no better place to reach so many coaches and students at once. We love the publication and know that the National Speech & Debate Association membership does, too.
J.V. Reed
Rostrum Intern Applications
Do you look forward to reading Rostrum magazine each quarter? Now you have the chance to have your voice heard! The NSDA is looking for highly motivated high school students to serve as interns for Rostrum magazine. Four (4) Rostrum interns will be chosen from a pool of applicants. This is considered a challenging internship. Students need to be well-qualified writers and individuals who are self-motivated. Interns will conduct interviews and write three (3) profile articles for Rostrum during the 2018-2019 school year. Applications (including a letter of recommendation from your speech/debate coach) are due August 8. In order to apply, students must meet the following requirements:
Applicants must have completed at least one Journalism course.
Applicants must currently hold or have previously held a position on their school's newspaper, yearbook, or publication outside of their school.
Applicants must submit two (2) short writing samples that they've written for their school newspaper or in their journalism course.
Applicants must include one (1) letter of recommendation from their speech/debate coach.
Applicants must submit a short essay (300 words max) explaining why they want to work for the NSDA as a Rostrum intern.
Latest Newsletters
We send periodic updates to coaches, district leaders, students, and alumni to keep our members informed about what is happening in the speech and debate community. Click the links below to check out recent updates!
District Leader Newsletters
Alumni Newsletters
Chapter advisors, join or renew your school membership today, and as our gift to you, we'll send you our calendar filled with important reminders for the 2017-2018 school year. Today, more than ever, words matter. Inside, you'll also find meaningful quotations from past and present leaders that illustrate this point in powerful ways. We hope your students are inspired to find and use their own voice!
Tournament Book
Our National Tournament Program Book is a great way to connect with all student competitors, coaches, teachers, parents, and chaperones at the tournament. Everyone attending the National Tournament receives a free copy of the Tournament Book, and it is also published online. The Tournament Book is the go-to guide throughout the week. It includes schedules, event information, announcements, annual award listings, and more. You can be a part of the Tournament Book for a low price! The ad reservation deadline was April 15, 2018, with final artwork submitted by May 1, 2018.

Tournament Book Guidelines
Payment
You may select check or credit card payment using our online form. All ads must be paid in full by May 1, 2018.
Deadline
All ads must be reserved by April 15, 2018, and final artwork must be submitted by May 1, 2018. (If you need help designing your ad, we can do it for you! Please be sure to provide instructions in the advertising form by or before April 15 to give us plenty of lead time.)
Format
All ad files must be in high-resolution PDF format.
Proofread
Don't forget to double-check your ad before submitting! Remember, "Lincoln-Douglas" should be hyphenated, but "LD" should not. "Student Congress" is now called "Congressional Debate."
Note: If you're a vendor and plan to reserve a table at the National Tournament Expo, you may purchase your Tournament Book ads using our Expo Registration Form. No need to fill out a separate form!