Student members of the National Speech & Debate Association compete throughout the school year, but tournament wins and Honor Society points are just part of the recognition received from our organization!
All Americans
Each year, the top student point earners in the country are named All Americans. The All American award is based on a combination of competitive and service points, of which no more than 25% of the point total can include service. In order to qualify, a student must have competed once at Nationals. Following the National Speech & Debate Tournament, the 25 students with the highest total points in our Honor Society receive this recognition. No application is required to receive this award.
Congratulations to Olivia Wetzel from Whitmer High School in Ohio for being named the top point earner in 2021-2022!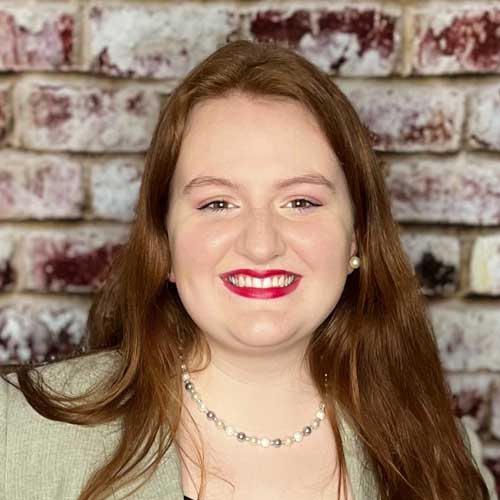 Olivia Wetzel – 2021-2022 Top Point Earner
Academic All Americans
The Academic All American award recognizes high school students who have earned the degree of Superior Distinction (750 points); completed at least 5 semesters of high school; demonstrated outstanding character and leadership; and earned a GPA of 3.7 on a 4.0 scale (or its equivalent). NOTE: If the GPA is between 3.5 and 3.7 on a 4.0 scale (or its equivalent), students also must have received an ACT score of 27 or higher, or a New SAT score of 1300 or higher. Students may apply through August 1 in the year they graduate. For example, if a student graduates in May 2020, they have until August 1, 2020 to apply for the AAA Award.
If a student is eligible, coaches will see a yellow box with "AAA?" under the Awards column on their Student Roster.
District Student of the Year
Each NSDA District has the opportunity to name a District Student of the Year. Coaches may nominate a graduating senior who best represents the tenets of the Association's Code of Honor: humility, equity, integrity, respect, leadership, and service.
Each year, the top students who win the district award are selected as finalists for the William Woods Tate, Jr., National Student of the Year award. Finalists interview with an esteemed panel, and the National Student of the Year is announced during the National Awards Assembly.

2021 Recipients
Deep South (AL) • Marielle Cornes • Mountain Brook HS
Arkansas • Anna Dean • Bentonville West HS
California Coast • Eric Lee • Monta Vista HS
East Los Angeles (CA) • Noemi Liu • Gabrielino HS
Southern California • Lucas Osborn • Helix Charter HS
West Los Angeles (CA) • Jessica Tuchin • The Archer School for Girls
Colorado • Vivek Shah • Kent Denver HS
Colorado Grande • Tayva Anderson • Air Academy HS
Rocky Mountain – South (CO) • Kyla Dominguez • Strive Prep Smart
Florida Manatee • Ariel Arias • NSU University School
Florida Oceanfront • Nirmit Chandan • A. W. Dreyfoos School of the Arts
Florida Panther • Brianna Ramnath • Holy Trinity Episcopal Academy
Florida Sunshine • Grace Kim • Pine View School
Georgia Northern Mountain • George Lefkowicz • Henry W. Grady HS
Georgia Southern Peach • Alec Siek • Carrollton HS
Idaho Gem of the Mountain • Oam Patel • Mountain Home HS
Idaho Mountain River • Daniel Whisman • American Falls HS
Greater Illinois • Yvin Shin • University HS
Illini (IL) • Noor Mryan • Hinsdale Central HS
Northern Illinois • Elijah Ruano • Antioch Community HS
Hoosier Crossroads (IN) • Andrew de las Alas • Cathedral HS
Hoosier Heartland (IN) • Macy Meunier • Noblesville HS
Northeast Indiana • Liam Row • Bishop Dwenger HS
Northwest Indiana • Lily Roberts • Chesterton HS
West Iowa • Troy Roach • Atlantic HS
East Kansas • Jaleon Brown • Sumner Academy
South Kansas • Hannah Eckstein • Frontenac HS
Three Trails (KS) • Jonah Muro • Spring Hill HS
West Kansas • Tiana Marion • Salina South HS
Kentucky • Lindsey Guilford • Henry Clay HS
Louisiana • Blythe Castille • St. Thomas More HS
Maine • Danielle Whyte • Cheverus HS
Chesapeake (MD) • Eli Glickman • Bethesda Chevy Chase HS
New England (MA) • Nikhil Sadavarte • Shrewsbury HS
Central Minnesota • Ben Lu • Woodbury HS
Northern Lights (MN) • Theia Chatelle • St. Michael-Albertville HS
Southern Minnesota • Tanvi Adige • Rosemount HS
Magnolia (MS) • Anna Kang • Oxford HS
Carver-Truman (MO) • Ben Verstraete • Monett HS
Eastern Missouri • Mya Harris • Pattonville HS
Heart of America (MO) • Hadley Brillhart • Truman HS
Ozark (MO) • Tanner Ladouceur • Willard HS
Show Me (MO) • Hannah Lytle • Grain Valley HS
Montana East • Macy Thompson • Bozeman HS
Montana West • Erin Heaton • Capital HS – Helena
Nebraska • Kenny Zhu • MIllard North HS
Nebraska South • Josh Lee • Lincoln East HS
Golden Desert (NV) • Caden Denning • Coral Academy of Science Las Vegas
New Jersey • Akshat Parthiban • Thomas Edison EnergySmart Charter School
New Mexico • Shena Han • Los Alamos HS
Iroquois (VT) • Neil Rohan • Montpelier HS
Carolina West (NC) • Connor Deir • Providence HS
Tarheel East (NC) • Anna Brent-Levenstein • Durham Academy
North Dakota Roughrider • Luke Plagens • Valley City HS
North Coast (OH) • Allie Dettelbach • Hawken School
West Oklahoma • Cecilia Alali • Westmoore HS
North Oregon • Alyssa Elwell • Sam Barlow HS
South Oregon • Madeline Deleon • Marshfield HS
Pittsburgh • Maddie Nolen • Upper St. Clair HS
Valley Forge (PA) • Sahiba Tandon • Gwynedd Mercy Academy
South Carolina • Laurel Holley • Riverside HS
Northern South Dakota • Andrew Calhoon • Lennox HS
Rushmore (SD) • Catherine Liu • Washington HS
Tennessee • Nelson Rose • Brentwood HS
East Texas • Hadley Adkison • Grand Oaks HS
Gulf Coast (TX) • Genevieve Cox • W. B. Ray HS
Heart of Texas • Connor Snow • James Bowie HS
LBJ (TX) • Nidhi Sonwalkar • Centennial HS
Lone Star (TX) • Joshua Timmons • Greenhill School
Space City (TX) • Ethan Jiang • Seven Lakes HS
Tall Cotton (TX) • Grant Denny • Amarillo HS
UIL (TX) • Reid Pinckard • Mount Pleasant HS
West Texas • Kayla Saucedo • Americas HS
Yellow Rose (TX) • Kristen Orsak • Center HS
Sundance (UT) • Sarah Roundy • Westlake HS
Virginia • Urunna Anyanwu • William Byrd HS
Inland Empire (ID) • Audra Totten • Chiawana HS
Puget Sound (WA) • Ausha Curry • Mount Vernon HS
Western Washington • Allen Benjamin Tugade • Thomas Jefferson HS
Southern Wisconsin • Jovan Hernandez • Bradley Tech HS
Hole in the Wall (WY) • YuYu Yuan • Cheyenne East HS
Wind River (WY) • Joshua Hansen • Jackson HS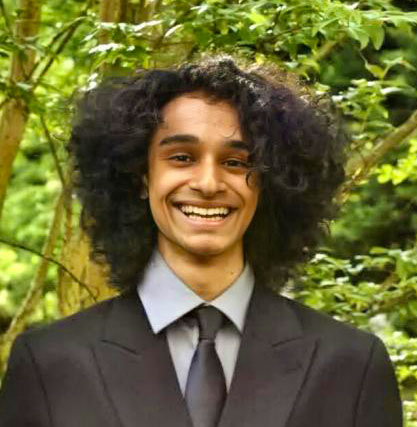 2022 – Arjun Banerjee
Reservoir High School, MD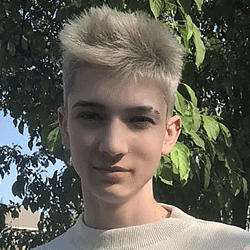 2021 – Theia Chatelle
St. Michael-Albertville High School, MN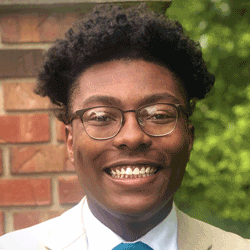 2020 – Jaylon Muchison
Belleville West High School, IL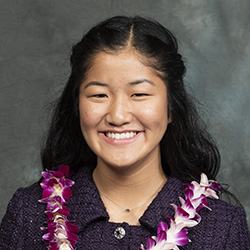 2019 – Joanna Bai
Millard West HS, NE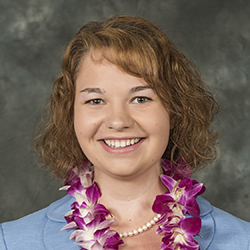 2018 – Elena Cecil
Larue County HS, KY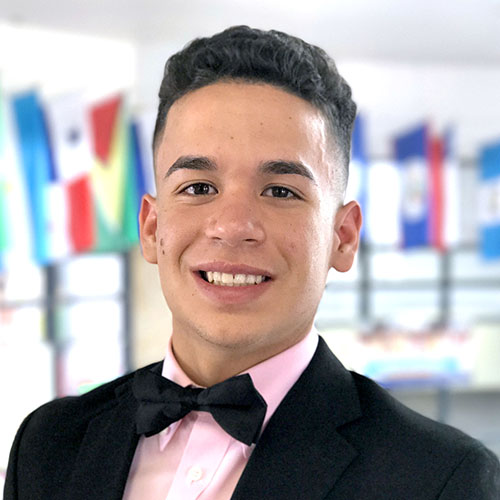 2017 – Ricardo Flores
Americas HS, TX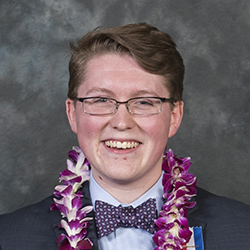 2016 – Marshall Webb
Saint Mary's Hall HS, TX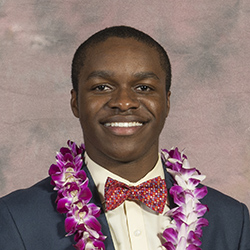 2015 – Jarrius Adams
Hattiesburg HS, MS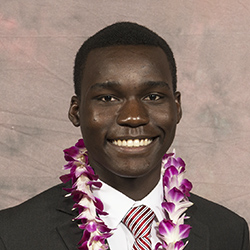 2014 – Walter Paul
Creighton Preparatory, NE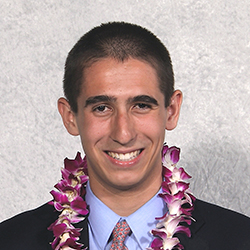 2013 – Robert Shaw
Glenbrook South HS, IL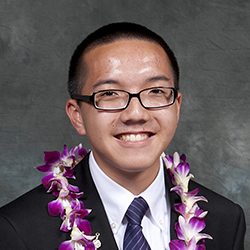 2012 – Quinlan Cao
East Mountain HS, NM
2011 – Taylor Walker
Henry W. Grady HS, GA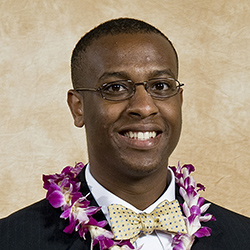 2010 – Cory Williams
Hattiesburg HS, MS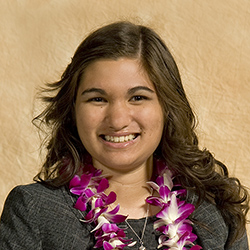 2009 – Danielle Camous
St. Mary's HS, CO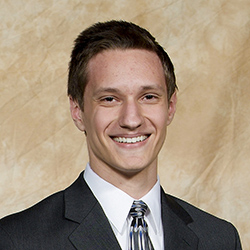 2008 – Kyle Akerman
Downers Grove South HS, IL
William Woods Tate, Jr., National Student of the Year
The 2023 National Student of the Year finalists won their district awards and then were selected as finalists by a panel of coaches. They will interview with a panel on Sunday at Nationals, and the winner will be announced during the National Awards Assembly on Friday, June 16.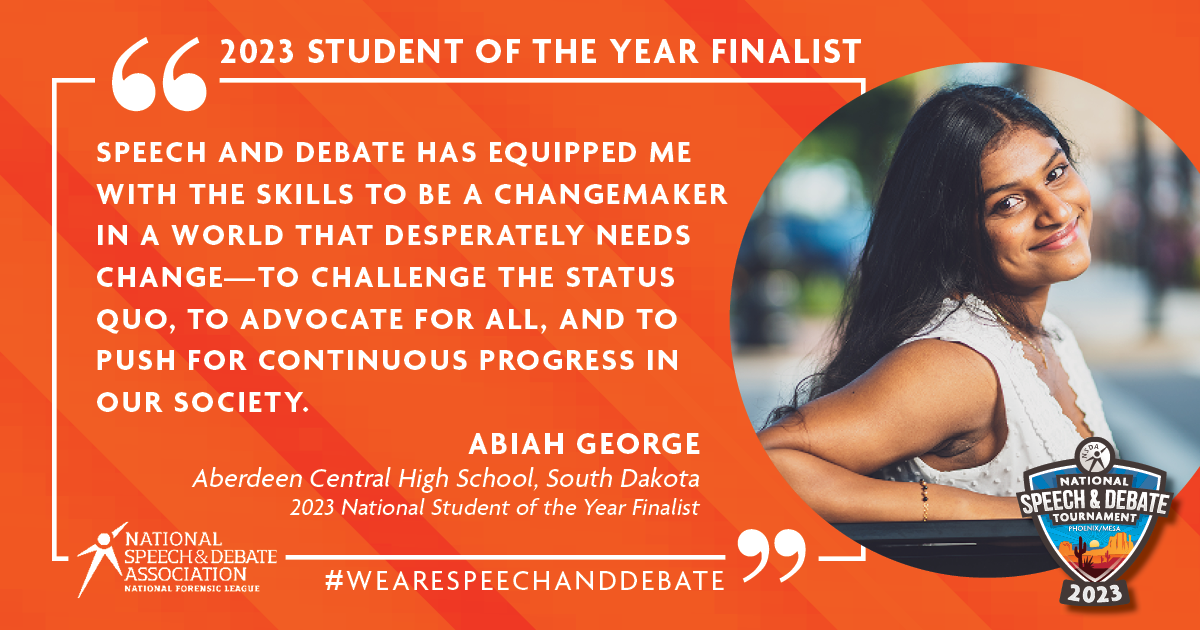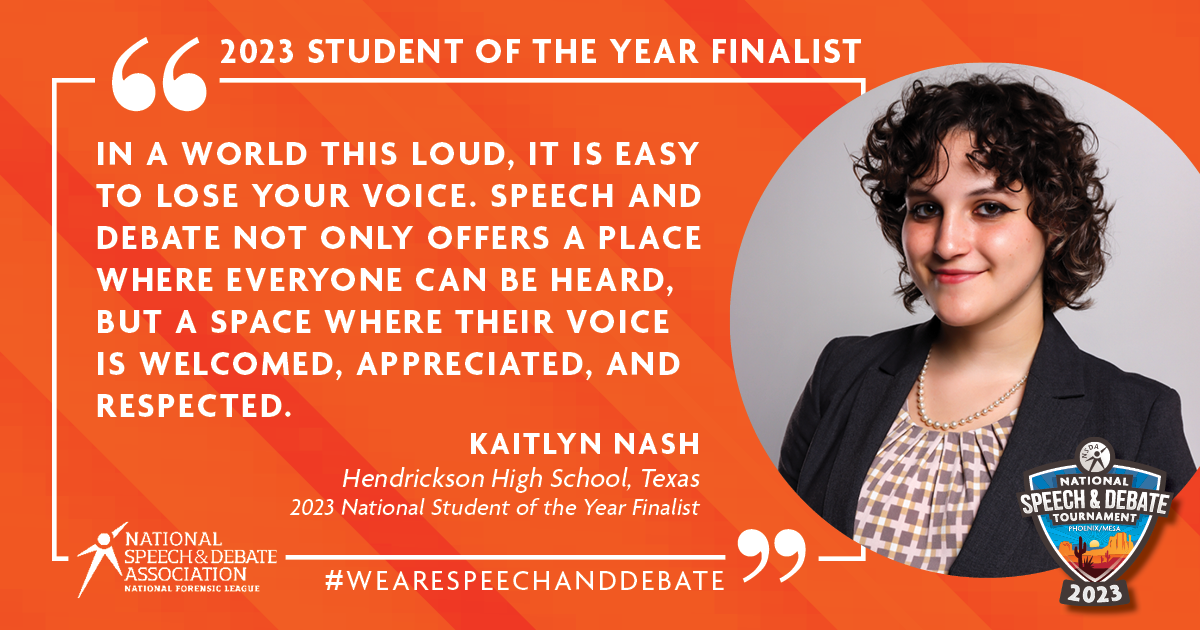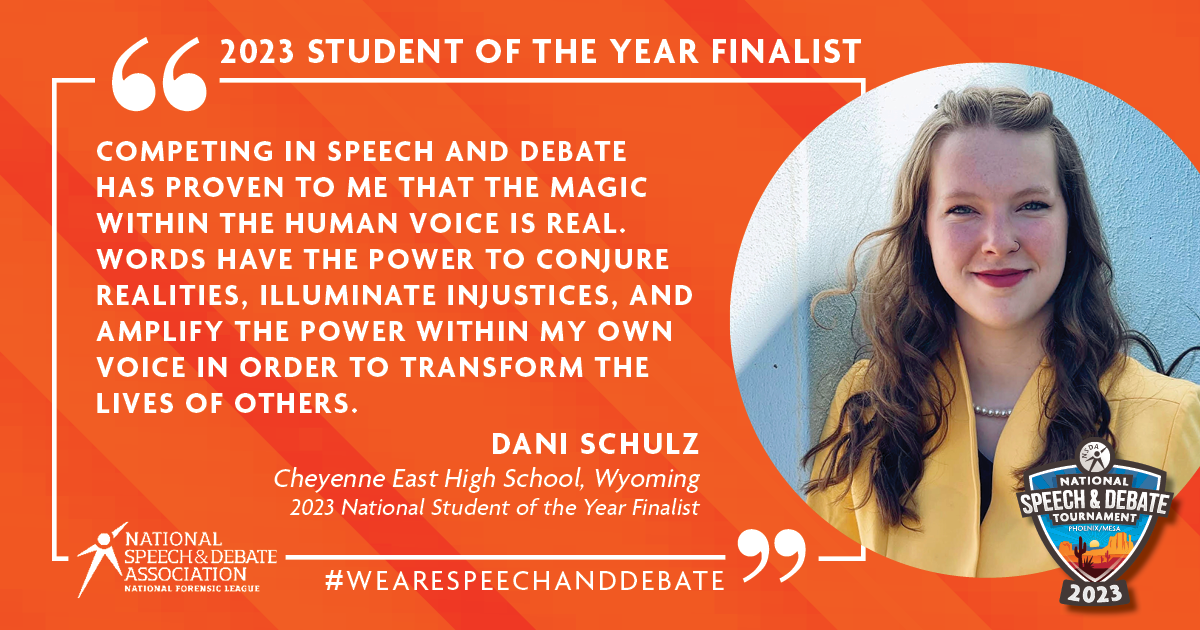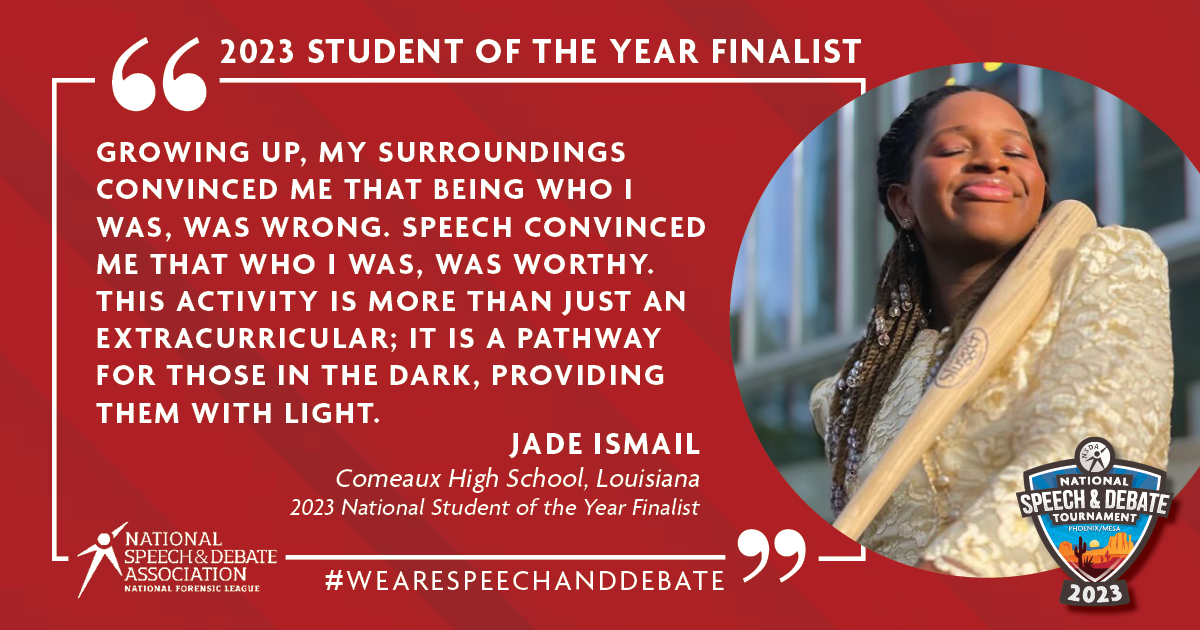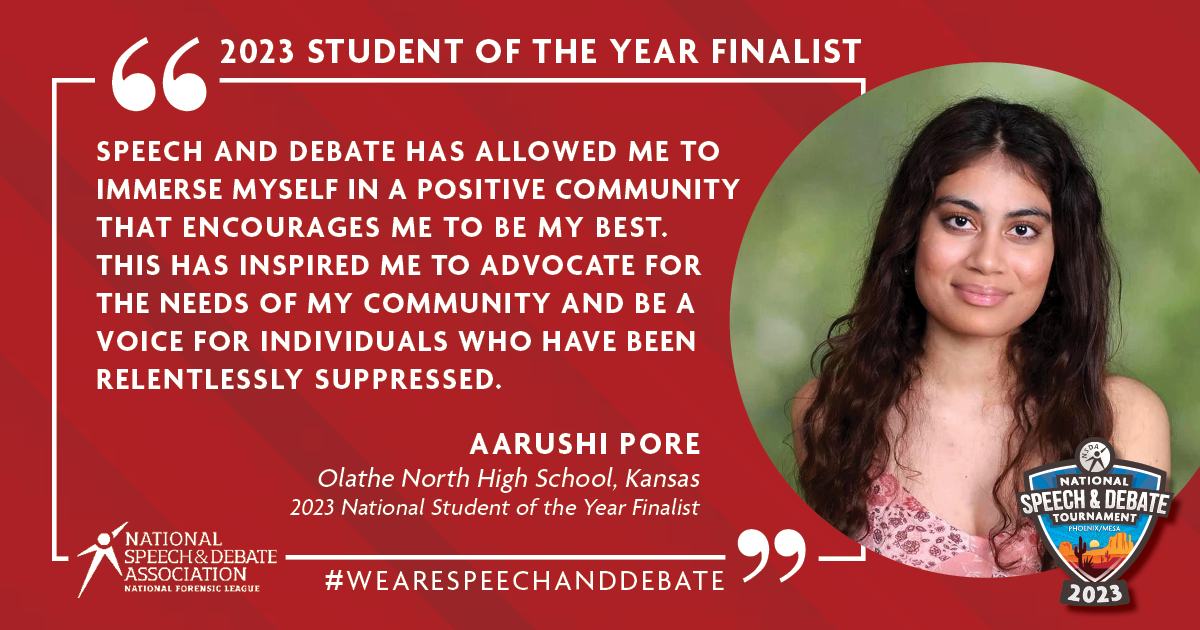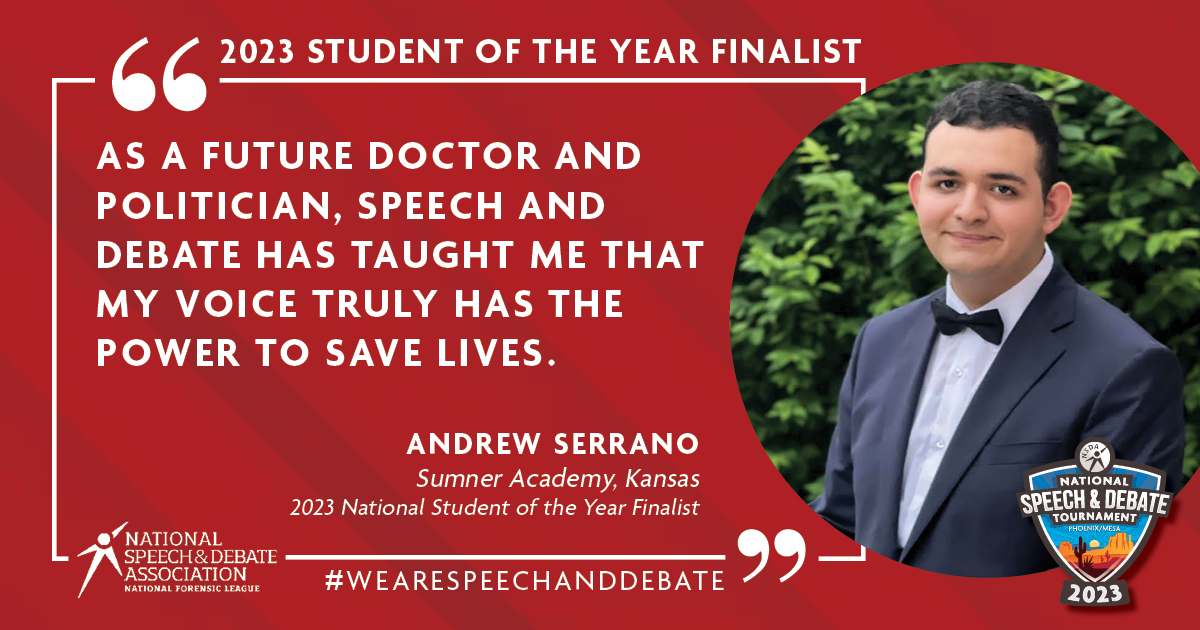 About the Award
This annual award recognizes one individual out of more than 150,000 student members who best embodies the organization's Code of Honor: integrity, humility, respect, leadership, and service. Nominees must also demonstrate strong academic credentials and a commitment to the speech and debate community. Six finalists interview with an esteemed panel of educators during the National Speech & Debate Tournament, and the National Student of the Year is announced during the National Awards Assembly. Watch the video »
Previous Recipients
Find out Where Are They Now? in this article from the 2017 November/December issue of Rostrum magazine.
Speaking and Service Award
The Speaking and Service Award annually recognizes students who go above and beyond in their service to their teams, schools, and communities. Students receive this award when they earn 200 service points in a given year, the maximum number possible in a school year in our Honor Society. 
Learn More
To earn the 2022-2023 Speaking and Service Award, students must earn and enter 200 service points between August 1, 2022 and July 31, 2023. The points entry deadline for the Class of 2023 is July 15, whether they be service or competition points. No application process is required. Current member students of all ages are eligible.
If an advisor or coach with designated permissions deems an activity as eligible for service points, they may enter them as they would points for competition. Each approximate hour of activity should be treated as two points. Students can earn up to 20 service points per day. Points are entered in increments of one and fall under two categories, speaking (for an audience of 5+ adults) and non-speaking. Learn more about points entry.

Student Leadership Council
The new Student Leadership Council (SLC) will be composed of high school student members of the National Speech & Debate Association. Members will provide feedback and recommendations throughout the year to ensure the NSDA is meeting students' needs. The idea for the SLC is based on requests from students in the 2021 student membership survey for more leadership opportunities and avenues to contribute to and influence the NSDA.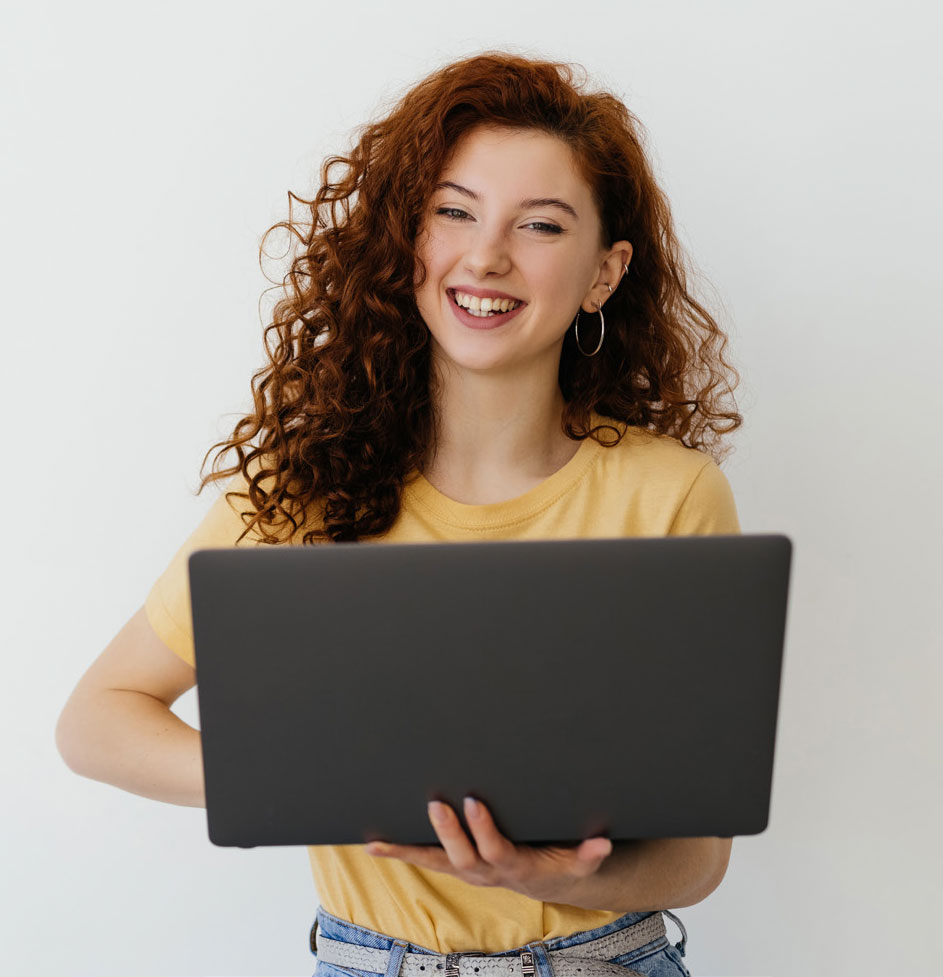 About the Award
Introduced in 2017, the National Exemplary Student Service Award is given annually to a student who serves their school, community, city, region, or state using skills they honed through speech and debate. Coaches or administrators may nominate a student who upholds the highest standard of service, one of the core tenets of the Association's Code of Honor, for recognition. As opposed to the William Woods Tate, Jr., National Student of the Year Award, current member students of any age are eligible for nomination.
Nominations for the current school year are accepted from coaches or administrators through January 21, 2020.
Learn more about service and service points in this guide.
Four-Time Competitor
Students who compete at the National Tournament for four contiguous years in high school earn the prestigious Four-Time Competitor award. Recipients are listed in the Nationals Chronicle and receive a special award at awards pickup during the tournament. Competing at the tournament for four years in high school is a mark of a student's dedication to speech and debate and reflective of the skills they have learned throughout their experience.
Learn more
Beginning at the 2023 Nationals, participation in any portion of the high school NSDA National Tournament competition makes students eligible for the Four-Time Competitor award, including main event competition or supplementals. This change is retroactive; competing only in supplementals in 2022, for example, would count toward the award.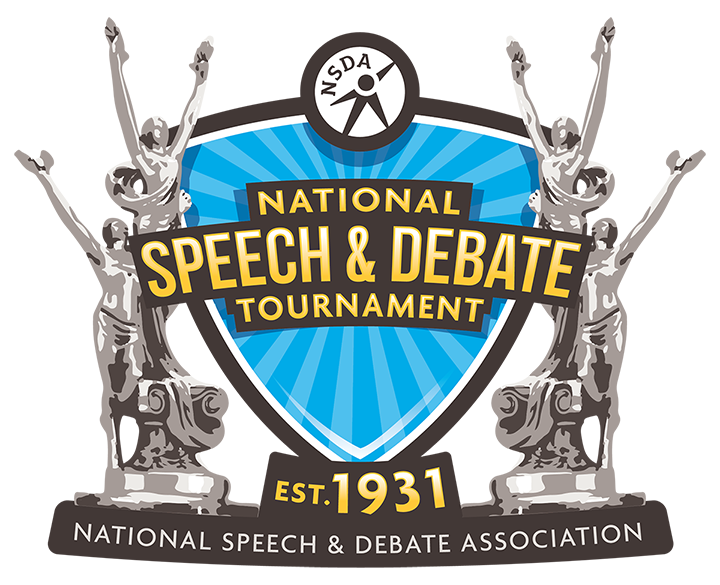 Honoring Member Students and Graduates
There are many ways to recognize a student's commitment to speech and debate via honor society insignia and graduation items.
Student members can be awarded a jeweled pin or pendant commensurate with their achievement in the NSDA honor society.
The National Speech & Debate Association is also proud to offer honor cords for its members to wear during high school graduation ceremonies. Honor cords recognize member accomplishments and affirm their commitment to speech and debate education. Please visit our online store to place an order for honor cords. If necessary, use this letter to principals in support of NSDA honor cords from Executive Director J. Scott Wunn.
Looking for more recognition?