Donate Today!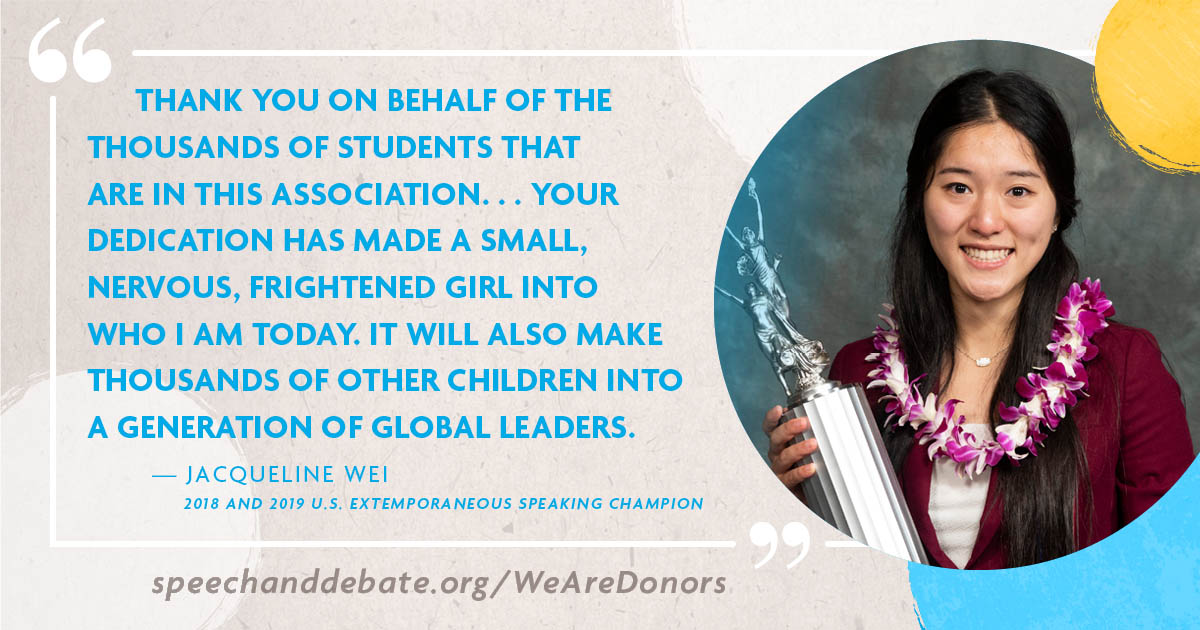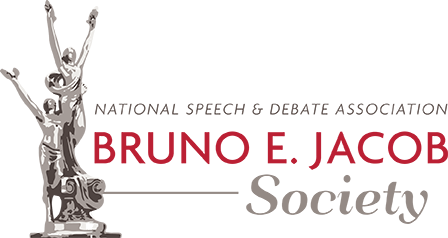 Join the Bruno E. Jacob Society for Donors
Bruno E. Jacob Society members are part of a legacy of speech and debate dating back to our founding at Ripon College in 1925. In the many decades since, the National Speech & Debate Association has provided recognition and support for high school and middle school students participating in speech and debate activities. While our organization has evolved over the years, our mission is more relevant today than ever before.
As a Bruno E. Jacob Society member, you'll receive special benefits like monthly newsletters, listing in the annual report, VIP seating, and exclusive invitations to events. These benefits are just a small token of our appreciation for your support. Of course, the real benefits come in knowing that you are helping young people across the country gain the essential life skills of critical thinking, collaboration, communication, and creativity.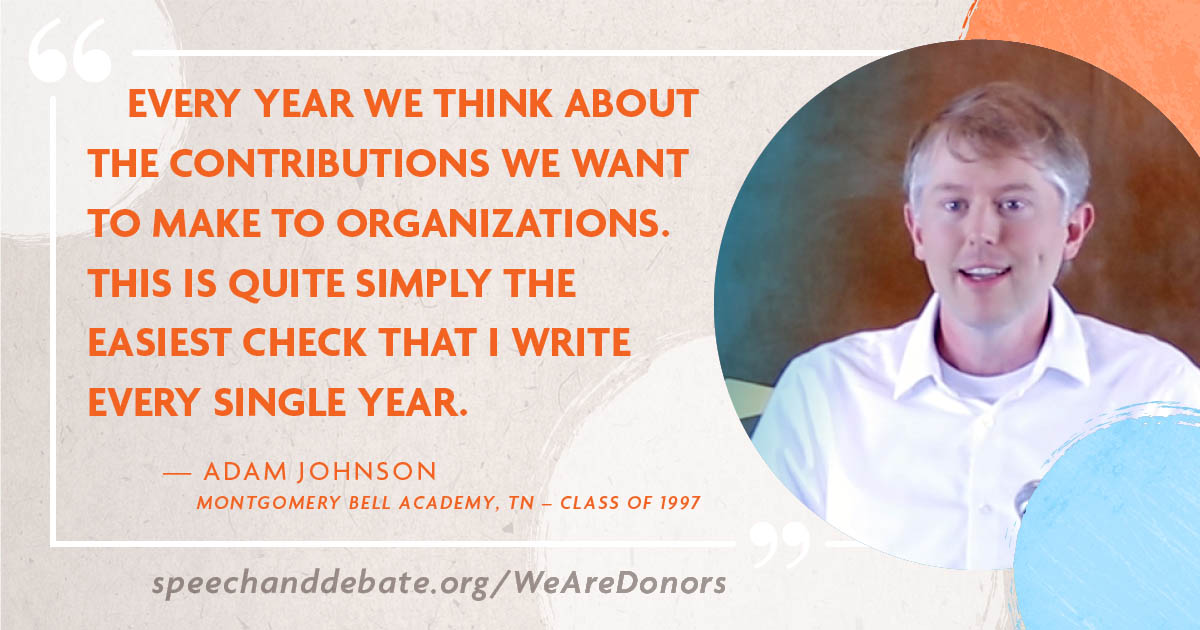 Specific Memorial Funds
Any donation can be given in memorial or in honor of an individual. The NSDA sends follow up cards.
In specific philanthropic instances, the NSDA is able to set up memorial funds that restrict the funding to mutually agreed upon areas.
One of our most known memorial funds is the William Woods Tate, Jr., Fund, often called the Tate Fund. Former President of the NSDA, Billy Tate believed that students who qualified for the National Speech & Debate Tournament should not be denied the experience because of a lack of funds. The Tate Fund is designed to help schools attending the National Speech & Debate Tournament for the first time, as well as schools with demonstrated financial need.
If you would like to learn more about the Carmendale Fernandes Fund for United States Extemporaneous speaking, the Harold Keller Fund for Congressional Debate, the Lanny & B. J. Naegelin Fund for Dramatic Interpretation, or any of our other funds, contact nicole.wanzer-serrano@speechanddebate.org.
Please note in the comment box of your donation the specific fund you would like to support or if you would like more information about setting up a memorial fund. Please consider choosing "greatest need" to provide speech and debate to as many students as possible. For any questions, please email nicole.wanzer-serrano@speechanddebate.org.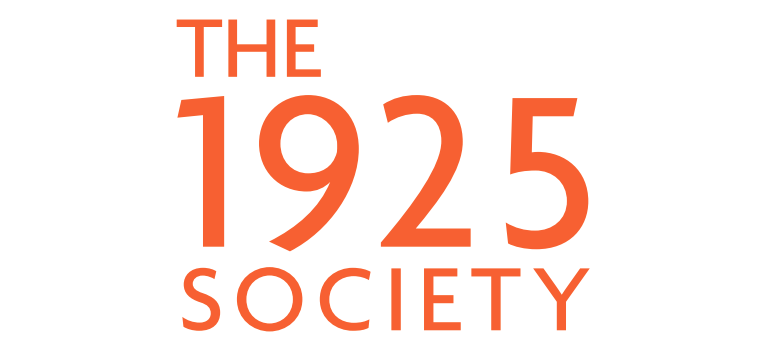 Make a commitment for generations to come
The 1925 Society recognizes the extraordinary commitment of speech and debate coaches, alumni, and supporters who have chosen to remember the National Speech & Debate Association in their will or estate plans. Members of the 1925 Society play an important role in accomplishing the NSDA's mission of providing speech and debate opportunities to students throughout the country.
Your early support for the 1925 Society will show new coaches, recent alumni, and our other supporters that those who have been most committed to speech and debate in the past are the strongest champions for ensuring its future. 
2019-2020 School Year Individual Donors
Adam and Ashley Johnson
Dale DeLetis
In Honor of Debbie Simon.
The Lanier Law Firm, P.C.
Faisal and Hina Habib
Tom and Vicki Rollins
Joe and Pam Wycoff
Semifinalist
($2,500 – $4,999)
Michael and Linda Langford
In Memory of Joy Robbins and In Honor of Jim Robbins
Jill Sitnick
In Memory of Carl Grecco
Quarterfinalist
($1,000 – $2,499)
Kristen Soltis Anderson
Susan Anderson
Hunter and Michael Arton
Mark Ferguson
Jill Irvine and Ron Halterman
In Memory of Dr. Alfred "Tuna" Snider
JEPS Foundation
The Kettles Law Firm
David Lopez
Mark Michaels
Alexandra and Matthew Murray
Quynh Nguyen
Donus and Lovila Roberts
Michael J. Shapiro
Deborah Simon
In honor of Dale DeLetis and In memory of Carmendale Fernandes
J. Scott and Megan Wunn
Octafinalist
($500 – $999)
Ted W. Belch
Peter L. Coffey and Kristine H. Cleary
Yvonne and Kirby Chin
In Memory of Richard B. Sodikow
James Cox
Robert Ickes
In Honor of Joni Anker
Shelly and Greg Lanier
Dr. Robert S. Littlefield
In Honor of Lindsay and Brady Littlefield
J. E. Masters
In Memory of Carmendale Fernandes
Vicki Pape
Dr. Randy Patterson
In Memory of Reba Brown Miller
Joshua Swartsel
In Memory of Harold Keller
Cindi and Aaron Timmons
Anne White
Melisa L. Wilson
Double Octafinalist
($250 – $499)
David and Katherine Abel
Bob Bilyeu
Jennifer Burton
Bret Culpepper
Barbara and David Dansky
Mary Gormley
F. Patrick Hughes
David and Judy Huston
Beth and Pat Ingram
Adam J. Jacobi and J. Scott Baker, Ph.D.
Mark Zhou and Hong Jiang
Susan Sprung and Christopher Keyser
Raymond and Pam McComas
In Honor of Natalie McComas Gallecier
Mike and Jackie Oakes
Mel Olson
Poetic License, Inc.
Susan and Eric Sutherland
David Wendt
Jarrius Adams
Anonymous
In Honor of James M. Copeland
David Baker
In Memory of Ken Strange
Dr. Kenny and Nancy Barfield
Stefan Bauschard
Gay Brasher
Judith Brisman
Gregg T. Campbell
Virginia Tyler Campbell
Glenn R. Cavanaugh
Alden B. Chace
In Memory of Carmendale Fernandes
Charlton G. C. Friedberg Trust
Don and Ann Crabtree
Celeste and Jim Egger
Toni Espey
Jacqueline Evrard-Vescio
Betsy Hanmer
Steve and Lynn Hanon
Aaron Hardy
Jan Heiteen
Bill and Charlotte Hicks
Marie Yang and Oliver Huang
Jennifer Jerome
Sarah Knobloch
Jennifer and Lee Konfrst
In honor of Ellie Konfrst
Robert and Sandra Krueger
David Lillehaug
Rev. and Mrs. David C. Marx
Steve Meadows
In Honor of Dr. Randy Patterson
Timothy McAuliffe
Chase and Lauren McCool
Art McMillion
Susan Napier and Alex Berger
Betty Whitlock and Kathy Owens
In Memory of Doris Compere
Chris Palmer
Cpt. Joseph L. and Jan Pizzo
Warren Poschman
James Poterba
In Memory of Edwin Kelly
Zachary Prax
Yvonne Schaeffer
Steven and Anna Schappaugh
Amy and Ray Seidelman
Jamey Siefert
In Memory of B. J. and Lanny Naegelin
Michael E. Starks
Ron Steinhorst
Daniel and Charlotte Tyree
Lisa Weber
Natalie Weber
Gregory F. Wells
Jonathan Wolshuck
Michael Amadeo
Joni Anker
In Honor of Robert Ickes
Bonnie Bonnette
Georgia Brady
Doris and Roger Brannan
Andrea Garcia
James Gentile
Jessica Hughes
Robert Ihrig
Robert J. Kelly
William and Valerie Koeber
Emily Kriegel
Susan Kriegel
Ronald Krikac
Clare Lascelles
Ken and Michelle Law
In Memory of Carmendale Fernandes
Walter Lemanski
Derek Liles
Greg and Alma Malis
Scott and Beth Maltzie
Randall McCutcheon
James E. Menchinger
In Memory of Margaret Miller
Grant Nelson
Ryan L. Nelson
William Ponder
Annie Reisener
Jay Rye
Liora and Ehud Schmidt
Maria Nubia Serrano
Paul Sevigny
Caroline and Jon Skidmore
Ashley Sovereign
Laura Stein
Ashley Strasser
Michael Stroud
Micki W. Smith
Michael and Lynn Sullivan
Margaret Owen Thorpe
Scott and Stephanie VanderBruggen
Nicole and Darrel Wanzer-Serrano
Ronald and Brett Welch
Rachel Wimpee
Carol and Dave Zanto