Donate Today!

The National Speech & Debate Association (National Forensic League) is a GuideStar Gold Participant.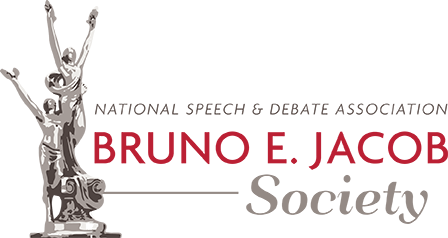 Join the Bruno E. Jacob Society for Donors
Bruno E. Jacob Society members are part of a legacy of speech and debate dating back to our founding at Ripon College in 1925. In the many decades since, the National Speech & Debate Association has provided recognition and support for high school and middle school students participating in speech and debate activities. While our organization has evolved over the years, our mission is more relevant today than ever before.
As a Bruno E. Jacob Society member, you'll receive special benefits like monthly newsletters, listing in the annual report, VIP seating, and exclusive invitations to events. These benefits are just a small token of our appreciation for your support. Of course, the real benefits come in knowing that you are helping young people across the country learn critical thinking skills, gain confidence, and find their own voice.
For more information about joining, please email nicole@speechanddebate.org or make a gift today!

When you're helping others, you can never really underestimate your power as one person to make a difference.
Delanya Storey

The most powerful tool a citizen has in a democracy is their voice. By giving youth a voice, the Association is equipping tomorrow's leaders with that tool!
David Abel
2017-2018 School Year Individual Donors
Ed and Liz Holland
The Lanier Law Firm, P.C.
Lynne and Andrew Redleaf Foundation
Victoria and Tom Rollins
Semifinalist
($2,500 – $4,999)
Simon Greenstone Panatier Bartlett, PC
Quarterfinalist
($1,000 – $2,499)
Anonymous
Robert J. Feldhake
In Memory of Carmendale Fernandes
Shelly and Greg Lanier
Michael Morris
Texas Forensic Association
Octafinalist
($500 – $999)
David Mainiero
J. E. Masters
In Memory of Carmendale Fernandes
Deano and Vicki Pape
Poetic License, Inc.
Joshua Swartsel
David A. Wendt
Double Octafinalist
($250 – $499)
Adam Jacobi and Dr. J. Scott Baker
Stefan Bauschard
Joel Butterly
Peter L. Coffey and Kristine H. Cleary
Barbara and David Dansky
Robert Ickes
In Honor of Jenny Cook
Drs. Jill Irvine and Ron Halterman
Jeffrey Miller
Julie Nelson
Ed Purdy
Rotary Club of Algiers
James (Jay) Rye
Anne White
J. Scott and Megan Wunn
Arlene Akerman
Marcia Allen
Marisa and Kyle Anderson
Dr. Kenny and Nancy Barfield
Jennifer Burton
Alden B. Chace Jr.
Helen S. Corry
Thomas Evnen
In Honor of Steve Schappaugh
Elena Herskowitz
David Hingstman
Jennifer Jerome
Megan Koester
Karen Kravit
Vicki Larsen
Joseph Leary
Louie Mattachione
Johnny Molson
Varsha Monick
Laura Natzke
Jackie and Michael Oakes
Lois Pierson
Michael Reszler
Alexandra Shilko
Deborah Simon
James Stage
Danielle Strait
Jill Van Wyke
Maureen Voll
In Memory of Carl Grecco
Gregory F. Wells
Jacqueline Whisman
Chase Williams
Carol and Dave Zanto
In Memory of Billy Tate and Bro. René Sterner
Tim and Lauren Averill
Michael Bole
Christine Campbell
Karan Choudhary
Don and Ann Crabtree
Kendra Dahlstrom
Daniel DeBois
Antonia Espey
Tracey Faenza
Dalton Feeley
Matthew Feng
Katherine Ferman
Stacey Freeman
In Honor of Steve Schappaugh
Steve and Ari Gloss
In Honor of Robin Gloss
Nancy Gordon
Mary Gormley
Jane Hagedorn
David Harper
Mina Hoffman
Robert and Gail Ihrig
Amber Johnson
Marian Joss
Michelle Kelsey Kearl
Peter Klein
In Honor of Nicole Wanzer-Serrano
Jason Kline
Sarah Knobloch
William and Valerie Koeber
Jason Kurth
Clare Lascelles
Walter Lemanski
Colin Malinak
Scott and Beth Maltzie
Elliot Mamet
Kalie Marsicano
In Honor of Steve Schappaugh
Karen Martin
In Honor of Steve Schappaugh
Rev. and Mrs. David C. Marx
In Memory of Marian Milstead
Virginia J. Mayes
Randall McCutcheon
Edward McGuire
James Menchinger
In Memory of Margaret Miller
Gregory and Elaine Mersol
Jeffrey Miller
Jason Moore
In Memory of Carl Grecco
Susan Napier and Alex Berger
Grant Nelson
Lisa Pelton
Sister Mary Patricia Plumb, S.N.J.M.
Daniel Rego
Joan Roberts
Maria Ruhe
Brooke Ryan
Anna and Steven Schappaugh
Natalie M. Schira
Joshua Schmidt
In Memory of Carl Grecco
Liora and Ehud Schmidt
Christy Schneider
Maria Nubia Serrano
Micki Smith
Anthony Tovar
Rhianna Urban
In Honor of Megan and J. Scott Wunn
Jill Van Wyke
Nicole and Darrel Wanzer-Serrano
Libby Waterbury
Betty Whitlock
Lonny and Linda Wunn
Ryan and Shelby Young
Nicole Zeoli