Donate Today!
The National Speech & Debate Association (National Forensic League) is a GuideStar Gold Participant.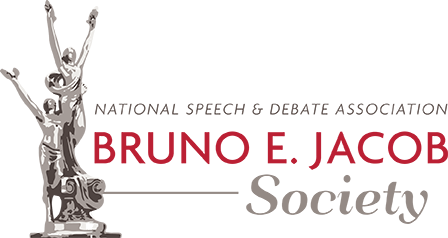 Join the Bruno E. Jacob Society for Donors
Bruno E. Jacob Society members are part of a legacy of speech and debate dating back to our founding at Ripon College in 1925. In the many decades since, the National Speech & Debate Association has provided recognition and support for high school and middle school students participating in speech and debate activities. While our organization has evolved over the years, our mission is more relevant today than ever before.
As a Bruno E. Jacob Society member, you'll receive special benefits like monthly newsletters, listing in the annual report, VIP seating, and exclusive invitations to events. These benefits are just a small token of our appreciation for your support. Of course, the real benefits come in knowing that you are helping young people across the country learn critical thinking skills, gain confidence, and find their own voice.
For more information about joining, please email nicole@speechanddebate.org or make a gift today!
For more information on specific funds, please email emily.kriegel@speechanddebate.org.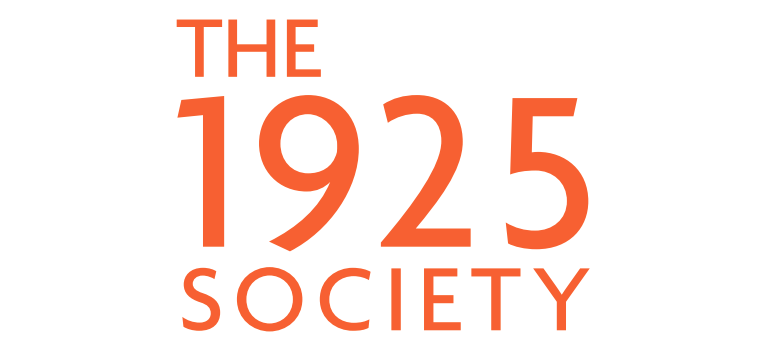 Join the 1925 Society
Founded in 2016, the 1925 Society recognizes the extraordinary commitment of speech and debate coaches, alumni, and supporters who have chosen to remember the National Speech & Debate Association in their will or estate plans. Members of the 1925 Society play an important role in accomplishing the NSDA's mission of providing speech and debate opportunities to students throughout the country.
Your early support for the 1925 Society will show new coaches, recent alumni, and our other supporters that those who have been most committed to speech and debate in the past are the strongest champions for ensuring its future.
When you're helping others, you can never really underestimate your power as one person to make a difference.
The most powerful tool a citizen has in a democracy is their voice. By giving youth a voice, the Association is equipping tomorrow's leaders with that tool!
William Woods Tate, Jr., Fund
William Woods Tate, Jr., passed away April 6, 2013, leaving behind a legacy of leadership that will remain unmatched in history. Billy was a five-diamond coach at Montgomery Bell Academy (MBA) in Nashville, Tennessee. Prior to joining MBA, he coached at Selma High School in Alabama from 1968 to 1983. In addition to coaching, Billy was a shining leader within the National Speech & Debate Association. He was elected to the Board of Directors in 1988 and served on the Board until his retirement in 2012. He served as President from 1998 to 2012, and joined the National Speech & Debate Association Hall of Fame in 2000.
The William Woods Tate, Jr., Fund is designed to help schools and students attending the National Speech & Debate Tournament for the first time, as well as schools with demonstrated financial need. The National Tournament is the largest academic competition in the world! For students, it is the culmination of months or years of hard work and dedication to their event. Of the 140,000 student members we serve, nearly 6,000 students qualify each year, and we want to make sure all students who qualify have the opportunity to attend.
| Donation Amount: | Provides: |
| --- | --- |
| $30 gift | three rounds of judging for one team |
| $60 gift | register one student for the National Tournament |
| $120 gift | register one team (Policy, PF, DUO) for the National Tournament |
Your gift of any size will help schools in need attend the National Tournament and allow their students the opportunity of a lifetime to compete on a national level and receive the recognition they deserve for their achievement. In order to provide these grants to qualified schools before the next National Tournament, please consider making a contribution before April 15.
Please select "William Woods Tate, Jr., Fund" under the program designation section to allocate your online gift to this fund.
2019-2020 School Year Individual Donors
Adam and Ashley Johnson
Tom and Vicki Rollins
Semifinalist
($2,500 – $4,999)
Quarterfinalist
($1,000 – $2,499)
Susan Anderson
The Kettles Law Firm
J. Scott and Megan Wunn
Octafinalist
($500 – $999)
Peter L. Coffey and Kristine H. Cleary
James Cox
Vicki Pape
Jill Sitnick
In Memory of Carl Grecco
Double Octafinalist
($250 – $499)
David and Katherine Abel
Ted W. Belch
Susan Sprung and Christopher Keyser
Jarrius Adams
Jennifer Burton
Jacqueline Evrard-Vescio
Betty Whitlock and Kathy Owens
In Memory of Doris Compere
Bret Culpepper
James Gentile
Robert Ihrig
Sarah Knobloch
Grant Nelson
Ryan L. Nelson
Amy and Ray Seidelman
Maria Nubia Serrano
Laura Stein
Michael Stroud
Nicole and Darrel Wanzer-Serrano
Lisa Weber