Donate Today!

The National Speech & Debate Association (National Forensic League) is a GuideStar Gold Participant.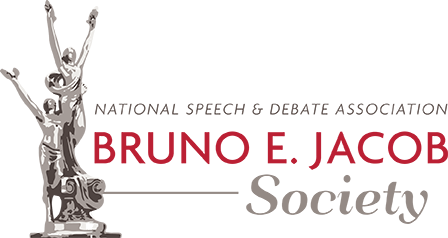 Join the Bruno E. Jacob Society for Donors
Bruno E. Jacob Society members are part of a legacy of speech and debate dating back to our founding at Ripon College in 1925. In the many decades since, the National Speech & Debate Association has provided recognition and support for high school and middle school students participating in speech and debate activities. While our organization has evolved over the years, our mission is more relevant today than ever before.
As a Bruno E. Jacob Society member, you'll receive special benefits like monthly newsletters, listing in the annual report, VIP seating, and exclusive invitations to events. These benefits are just a small token of our appreciation for your support. Of course, the real benefits come in knowing that you are helping young people across the country learn critical thinking skills, gain confidence, and find their own voice.
For more information about joining, please email nicole@speechanddebate.org or make a gift today!
When you're helping others, you can never really underestimate your power as one person to make a difference.
Delanya Storey
The most powerful tool a citizen has in a democracy is their voice. By giving youth a voice, the Association is equipping tomorrow's leaders with that tool!
David Abel
2018-2019 School Year Individual Donors
Mr. James Copeland
The Lanier Law Firm, P.C.
Tom and Vicki Rollins
Semifinalist
($2,500 – $4,999)
Quarterfinalist
($1,000 – $2,499)
Anonymous
Hunter and Michael Arton
Robert J. Feldhake
In Memory of Carmendale Fernandes
J. Scott and Megan Wunn
Octafinalist
($500 – $999)
David and Katherine Abel
Savita Banerjee
Jill Irvine and Ron Halterman
In Memory of Dr. Alfred "Tuna" Snider
Jeffrey Miller
Vicki Pape
Poetic License, Inc.
Jill Sitnick
In Memory of Carl Grecco
Joshua Swartsel
In Honor of Nicole Berckes and In Memory of Harold Keller
Marc A. Wallenstein
Ziziki's
Double Octafinalist
($250 – $499)
The Butler Family
Robert Ickes
In Honor of Don Crabtree and Pam McComas
Beth and Pat Ingram
Adam J. Jacobi and J. Scott Baker, Ph.D.
Stacy G. London
Louie Mattachione
Mel Olson
Lisa and Darrell Vossekuil
David Wendt
Shawn and Lynn Aiken
In Honor of Dwayne Purrington and Michael Tilleman
Dr. Kenny and Nancy Barfield
Ted W. Belch
Bob Bilyeu
Susan Catan
Alden B. Chace, Jr.
In Memory of Carmendale Fernandes
Mary Gormley
Steve and Lynn Hanon
Aaron Hardy
Jan Heiteen
Jennifer Jerome
Sarah Knobloch
Robert and Sandy Krueger
Dawna Levang
David Lillehaug
Sherry Lingenfelter
Robert "Bob" Marks
Phil McIntosh
In Honor of Don Crabtree
Dr. J. W. Patterson
The Mersol Family
Fred Robertson
In Memory of William Woods Tate, Jr.
Steven and Anna Schappaugh
Cathy Stevermer
Natalie Weber
Betty Whitlock
Marcela Velarde Aceves
Lily Aggarwal
Iskender Agi
Mridul Agrawal
Anonymous (5)
Mahesh Balaji
Venkatesh Balasubramanian
Roger and Doris Brannan
Arthur and Emily Bratton
Elena Byun
Lauren Burdt
Ishan Chatterjee
Kevin Chen
James Chien
Walker Desing
Erik Dominguez
Jacqueline Evrard-Vescio
Dave Gampell
Stella Gelsomino
In Honor of Guido Dominguez
Jay Gullapalli
Kirsten and Joe Greene
Wesley Hampson
Timo Henttonen
Katie Hines
Robert Ihrig
Aditya Ashok Jadhav
Marian Joss
William and Valerie Koeber
Jennifer and Lee Konfrst
Michael Kwong
Clare Lascelles
Karen Leonard
Ming Lin
Scott and Beth Maltzie
Veena Malwankar
Rev. and Mrs. David C. Marx
In Memory of Marian Milstead
Regi Mathew
Edward McGuire
James E. Menchinger
In Memory of Margaret Miller
Mohit Mittal
Susan Napier and Alex Berger
Grant Nelson
Ryan L. Nelson
Kent Ng
Edwin Pham
Todd Pixton
Navid Poulad
Sister Mary Patricia Plumb, S.N.J.M.
In Memory of Sister Phillip Mary, S.N.J.M.
Praveen Chikkamma Prabhakar
Zain Qazi
Andy Ray
Annie Reisener
Grace Rogers
Jay Rye
Liora and Ehud Schmidt
Amy and Ray Seidelman
Jitesh Shah
Laura Stein
Steve Stein
Matthew Stensrud
Doug Stiles
Gayathri Sundaresan
John Teichman
Scott and Stephanie VanderBruggen
Jayadev Velagandula
Sahar Vilan
Nicole and Darrel Wanzer-Serrano
Joe Weigand
In Honor of Kathie Abel
Rachel Wimpee
In Honor of Paulina Wanzer-Serrano
Lonny and Linda Wunn
In Honor of Megan and J. Scott Wunn
Michael Lauren Yost
Nicole Zeoli