The most powerful tool a citizen has in a democracy is their voice. By giving youth a voice, the Association is equipping tomorrow's leaders with that tool!
David Abel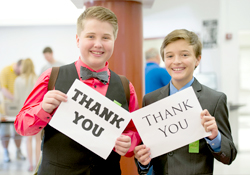 2016-2017 School Year Individual Donors
Up to $50,000
Anonymous
Adam and Ashley Johnson
Anonymous
David C. and Sophia Frederick
Donus and Lovila Roberts
Mark Thompson
Melisa Lewis Wilson
J. Scott and Megan Wunn
David and Katherine Abel
Hunter and Michael Arton
Robert Feldhake
Kerry Maguire and Tom Stossel
In Honor of Chesterton High School Forensics Team
Cherian and Betsy Koshy
Michael and Linda Langford
In Memory of Joy Robbins and In Honor of Jim Robbins
David and Lilliana Lopez
Christopher Regan
Steven and Anna Schappaugh
Kristen Anderson
Kirby Chin
Barbara and David Dansky
Robert Ickes
In Honor of Gay Brasher, Pam and Joe Wycoff, and Steven Kirk Schappaugh
Lowndes, Drosdick, Doster, Kantor & Reed, P.A.
Meredith Corporation
Johnny Molson
James (Jay) Rye
Jamey Siefert
In Memory of B. J. and Lanny Naegelin
Joshua Swartsel
Anonymous
Stephen and Lynn Hanon
Aaron Hardy
Jamie Harper
Beth and Pat Ingram
Sarah Knobloch
Ray and Pam McComas
Arlyn Miller
Chris Palmer
Deano and Vicki Pape
Lois Pierson
Dr. Paulette and Bruce Reikowski
St. Andrew's Episcopal School
In Honor of Jade Lewis and In Memory of Perry Tyner Tate
Shawn and Lynn Aiken
Lauren and Tim Averill
Kenny and Nancy Barfield
Duane Benton
Emily and Art Bratton
Lauren Burdt
Jennifer Burton
Alden B. Chace, Jr.
Helen S. Corry
Don and Ann Crabtree
Walker Desing
Kathy and Dan Dumke
Shannon Duus
Katherine Ferman
Jimmy Ficaro
Autumn Geist – The Public, A Speech Consulting Company
Steve Gloss
Jane Hagedorn
Betsy Hanmer
Katie Hines
Robert Ihrig
Jennifer Jerome
Esther Kalmbach Revocable Trust
Abigail Karlin
William and Valerie Koeber
Emily Kriegel
Robert and Sandra Krueger
Mark E. Kulda
Clare Lascelles
Ken and Michelle Law
Walter Lemanski
Tomas Lorinc
Scott and Beth Maltzie
Sarah and Zach Mannheimer
David C. Marx
John and Susan Mathis
Virginia Mayes
Randall McCutcheon
Karen McHale
Arthur McMillion
Steve Meadows
Jackie and Michael Oakes
Sister Mary Patricia Plumb
Dr. Randy Patterson
Warren Poschman
Annie Reisener
Michael Reszler
Ehud J. and Liora Schmidt
Amy and Ray Seidelman
Maria Nubia Serrano
Erin Sheehan
Alexandra Shilko
Jill Sitnick
In Memory of Carl Grecco
Matthew Stensrud
Margaret Owen Thorpe
Jill Van Wyke
Stephanie and Scott VanderBruggen
Lisa and Darrell Vossekuil
Chad Wagner
Nicole and Darrel Wanzer-Serrano
John and Kathleen Whatley
Jonathan Wolshuck
Shelby and Ryan Young
Carol and David Zanto