Donate Today!
The National Speech & Debate Association (National Forensic League) is a GuideStar Gold Participant.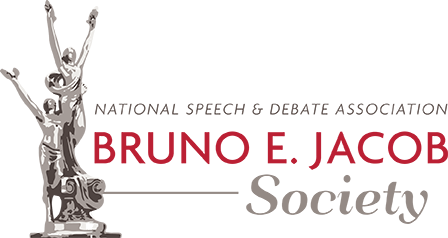 Join the Bruno E. Jacob Society for Donors
Bruno E. Jacob Society members are part of a legacy of speech and debate dating back to our founding at Ripon College in 1925. In the many decades since, the National Speech & Debate Association has provided recognition and support for high school and middle school students participating in speech and debate activities. While our organization has evolved over the years, our mission is more relevant today than ever before.
As a Bruno E. Jacob Society member, you'll receive special benefits like monthly newsletters, listing in the annual report, VIP seating, and exclusive invitations to events. These benefits are just a small token of our appreciation for your support. Of course, the real benefits come in knowing that you are helping young people across the country learn critical thinking skills, gain confidence, and find their own voice.
For more information about joining, please email nicole@speechanddebate.org or make a gift today!
When you're helping others, you can never really underestimate your power as one person to make a difference.
The most powerful tool a citizen has in a democracy is their voice. By giving youth a voice, the Association is equipping tomorrow's leaders with that tool!
2019-2020 School Year Individual Donors
Semifinalist
($2,500 – $4,999)
Quarterfinalist
($1,000 – $2,499)
Susan Anderson
J. Scott and Megan Wunn
Octafinalist
($500 – $999)
Double Octafinalist
($250 – $499)
David and Kathie Abel
Jarrius Adams
Ted W. Belch
Jacqueline Evrard-Vescio
Jill Sitnick
Betty Whitlock and Kathy Owens
In Memory of Doris Compere
Jennifer Burton
Bret Culpepper
James Gentile
Robert Ihrig
Sarah Knobloch
Grant Nelson
Amy and Ray Seidelman
Laura Stein
Michael Stroud
Nicole and Darrel Wanzer-Serrano
Lisa Weber