Donate Today!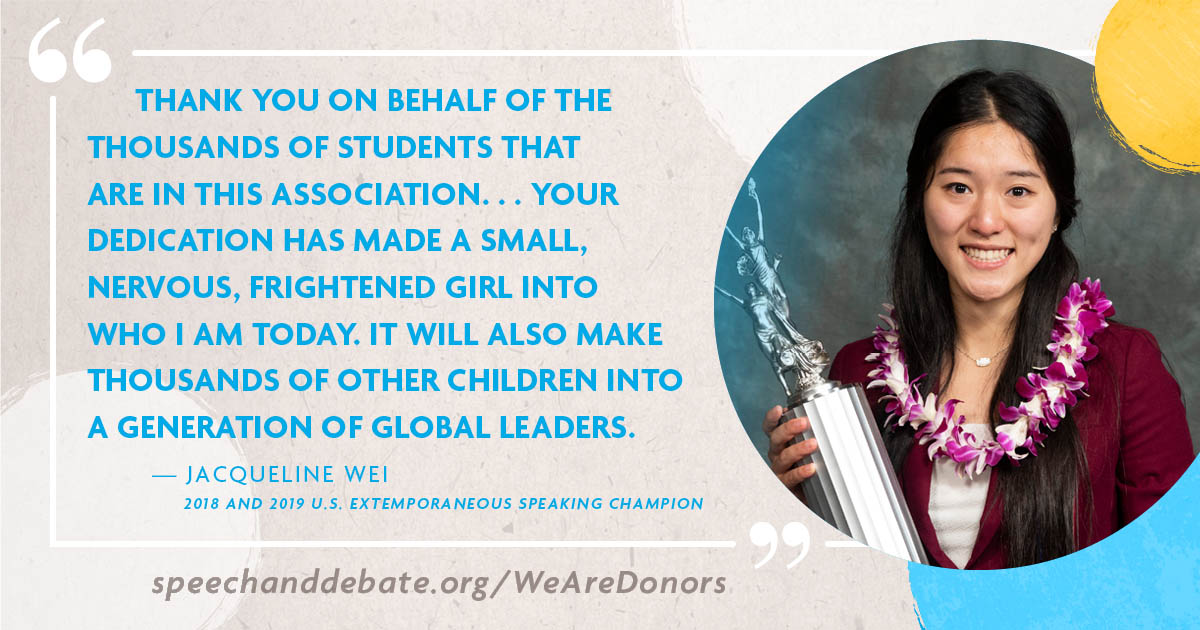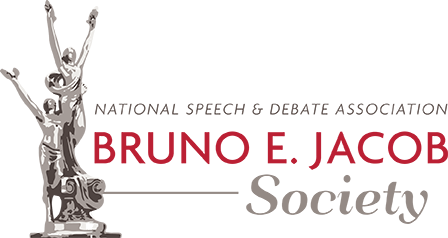 Join the Bruno E. Jacob Society for Donors
Bruno E. Jacob Society members are part of a legacy of speech and debate dating back to our founding at Ripon College in 1925. In the many decades since, the National Speech & Debate Association has provided recognition and support for high school and middle school students participating in speech and debate activities. While our organization has evolved over the years, our mission is more relevant today than ever before.
As a Bruno E. Jacob Society member, you'll receive special benefits like monthly newsletters, listing in the annual report, VIP seating, and exclusive invitations to events. These benefits are just a small token of our appreciation for your support. Of course, the real benefits come in knowing that you are helping young people across the country gain the essential life skills of critical thinking, collaboration, communication, and creativity.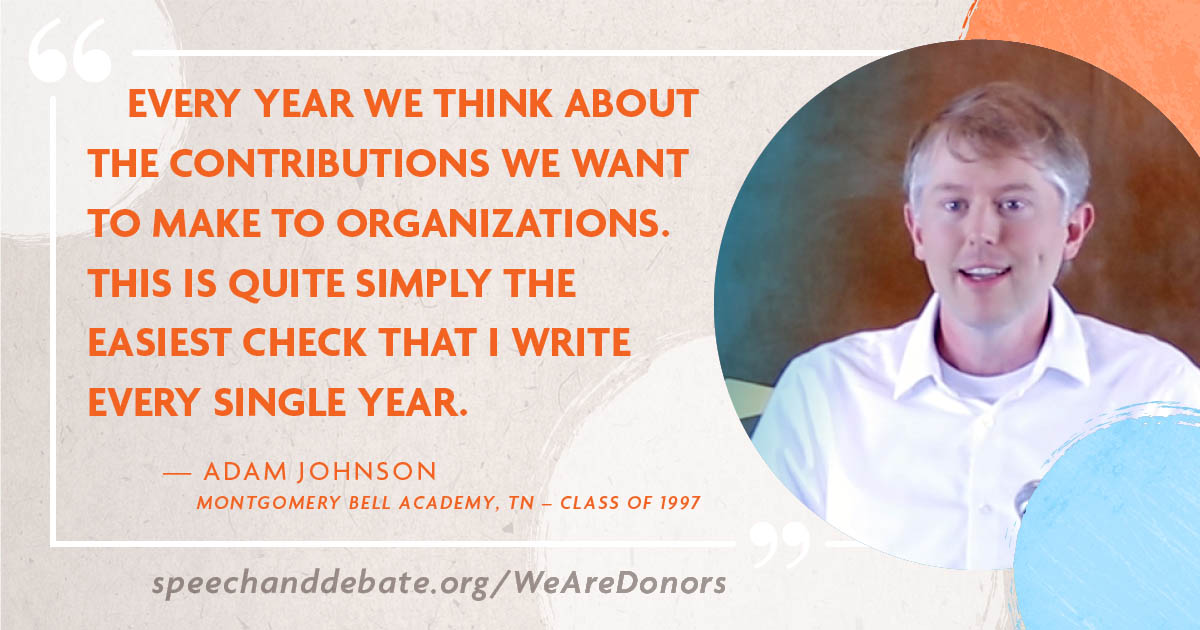 Specific Memorial Funds
Any donation can be given in memorial or in honor of an individual. The NSDA sends follow up cards.
In specific philanthropic instances, the NSDA is able to set up memorial funds that restrict the funding to mutually agreed upon areas.
One of our most known memorial funds is the William Woods Tate, Jr., Fund, often called the Tate Fund. Former President of the NSDA, Billy Tate believed that students who qualified for the National Speech & Debate Tournament should not be denied the experience because of a lack of funds. The Tate Fund is designed to help schools attending the National Speech & Debate Tournament for the first time, as well as schools with demonstrated financial need.
If you would like to learn more about the Carmendale Fernandes Fund for United States Extemporaneous speaking, the Harold Keller Fund for Congressional Debate, the Lanny & B. J. Naegelin Fund for Dramatic Interpretation, or any of our other funds, contact nicole.wanzer-serrano@speechanddebate.org.
Please note in the comment box of your donation the specific fund you would like to support or if you would like more information about setting up a memorial fund. Please consider choosing "greatest need" to provide speech and debate to as many students as possible. For any questions, please email nicole.wanzer-serrano@speechanddebate.org.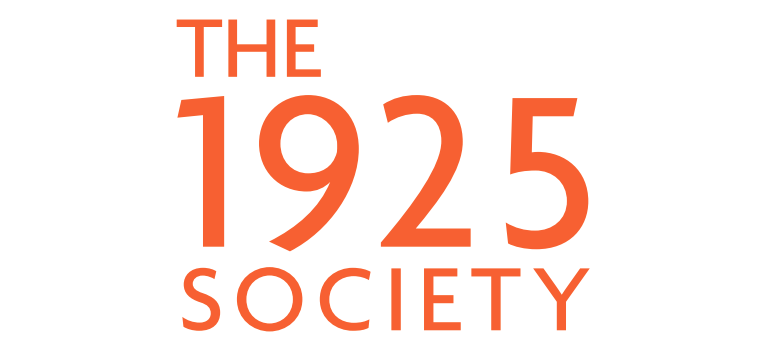 Make a commitment for generations to come
The 1925 Society recognizes the extraordinary commitment of speech and debate coaches, alumni, and supporters who have chosen to remember the National Speech & Debate Association in their will or estate plans. Members of the 1925 Society play an important role in accomplishing the NSDA's mission of providing speech and debate opportunities to students throughout the country.
Your early support for the 1925 Society will show new coaches, recent alumni, and our other supporters that those who have been most committed to speech and debate in the past are the strongest champions for ensuring its future. 
2020-2021 School Year Individual Donors
James Allen
William West
In Memory of Keith West
Semifinalist
($2,500 – $4,999)
Joshua Adams
In Memory of Keith West
Quarterfinalist
($1,000 – $2,499)
Octafinalist
($500 – $999)
Suzanne Case
In Memory of Keith West
Double Octafinalist
($250 – $499)
Douglas Karlen
In Memory of Keith West
Lorraine Ross
In Memory of Keith West
Niki Bell
In Memory of Keith West
Duane Benton
Patricia Black
In Memory of Keith West
Sheila Carter
In Memory of Keith West
Steve Clark
In Memory of Keith West
Mary Lee Coleman
In Memory of Keith West
Bret Culpepper
Jacqueline Evrard-Vescio
Elaine and Jonna Failing
In Memory of Keith West
Richard and Rosemary Hutchinson
In Memory of Keith West
Robert Kern
In Memory of Keith West
Sarah Knobloch
Vickie Loher-Johnson
In Memory of Keith West
Michelle McGinty – White
In Memory of Keith West
Renee Motter
Arvid and Mary Oliver
In Memory of Keith West
Mateo Portelli
Joseph Rogers
In Memory of Brother Rene Sterner and Brother Kevin Dalmasse
Caitlyn Ross
In Memory of Keith West
Pamela Runde
In Memory of Keith West
Ashley Sovereign
Jami Vander Zee
In Memory of Keith West
Kathy Battles
In Memory of Keith West
Pat and Alan Bratetic
In Memory of Keith West
David Brown
Sonja and Stanley Brown
In Memory of Keith West
Jennifer Burton
Karen Bush
In Memory of Keith West
Timothy Butler
In Memory of Keith West
Eileen Chesnek
Justin Clark
In Memory of Keith West
Daniel Flaherty
In Memory of Keith West
Pablo Gannon
Lorene Harris
In Memory of Keith West
Ruth and Glenn Hobin
In Memory of Keith West
Kaye Hughes
In Memory of Keith West
Eileen MacDougall
In Memory of Keith West
Julie McAvoy
In Memory of Keith West
Alyson Nelson
In Memory of Keith West
Grant Nelson
Ryan L. Nelson
William Ponder
Dolores Ross
In Memory of Keith West
Amy and Ray Seidelman
Jill Sitnick
In Memory of Carl Grecco
Constance Skinner
In Memory of Keith West
Laura Stein
Eric and Brittany Torgerson
In Memory of Keith West
James and Joanne Trees
In Memory of Keith West
Nicole and Darrel Wanzer-Serrano
James and Fonda Wettestad
In Memory of Keith West
Bob and Ronda Wissink
In Memory of Keith West