National Speech and Debate Education Day
What is National Speech and Education Day?
The National Speech and Debate Education Day (NSDE Day) is an annual celebration which honors, celebrates, and promotes the activity of scholastic speech and debate on the first Friday in March (March 3, 2023).
We know how this activity can change lives and we are thrilled to have a day dedicated to celebrating you, your team, and all you put into speech and debate. We can't wait to celebrate together on March 3!
Download the poster, logos, and graphics
Download our NSDE Day poster, official logos, and graphics for your use in promoting National Speech and Debate Education Day. Be sure to tag us @speechanddebate and use the #NSDEday whenever possible, so we can follow your celebration.
We encourage schools to celebrate on March 3, 2023, in recognition of teachers and students who are transforming tomorrow through speech and debate education. Get inspired below!
Classroom Activities
Classroom Activity #1 – Students prepare a presentation for their class by taking a topic of their choice that is related to the content of the class and offering insights on an issue of concern, with potential changes to address the situation.
Classroom Activity #2 – Examine powerful speeches from unexpected voices. Discussions, essays, or presentations can be arranged in class. Some examples of speeches to examine include, but are not limited to:
Large Group/Whole School Events
Celebrate Expression Assembly – An assembly where students are afforded an opportunity to express themselves through spoken word poetry, an oratory, an extemp speech, or a debate. After each performance, audience members could be given the opportunity to ask questions about the message—why they framed their opinions the way they did; how they chose what to perform; what motivated them to speak.
Guest Speaker Assembly – The school arranges for a guest speaker to come in and talk about an issue of significance to the student body. That speaker could be anyone. In fact, if the speaker isn't already a renowned speaker, they embody the theme of "unexpected voices." At some point, the speech or speaker should touch on how students can use their voice to affect change.
Town Hall Meeting – Using the town hall concept, students have the opportunity to ask administrators their perspectives on issues important to them. Possible topics could include the impact of early release for professional development on single family homes or working class families; grading policies; bullying; amount of homework; AP classes; or diversity at the school. The principal can lead the Town Hall and have their leadership team on stage with them. A student leader would offer an opening address and outline the ground rules for the questions:
No references to specific individuals
No disrespectful comments
Constructive questions or perspectives only
The opening speech should also be a chance for the student leader to offer a 5-10 minute State of the School speech. Once the speech is over, the event would be turned over to the principal. The principal would make some opening comments and then start the town hall.
Community Events
Celebrate with Mentorship – Recognize National Speech and Debate Education day by planning a day of mentorship for your program. To get started, reach out to teachers in local elementary schools or middle schools that don't have existing programs, and celebrate the day by introducing speech and debate to a new generation. Inspire them to speak up, engage, and think critically.
Host a Showcase and Meet the Team Event – Teachers, students, and alumni can work together to open the doors of their program to the community with a Speech and Debate Day. Invite teachers, students, parents, friends, administrators, and school board members to come see the team perform and talk with students and alumni about the value of speech and debate.
Spread the Word
Use this custom template to invite guests to your National Speech and Debate Education Day event! Be sure to use the hashtag #WeAreSpeechAndDebate when sharing your event on social media.
You can also download our printable posters to spread awareness of the day around your school and community, including this year's student poster contest winner, designed by Olivia Tsang from American Preparatory Academy in Nevada!
Celebrate the Honor Society
The National Forensic League Honor Society is one of the oldest and largest honor societies in which students can earn recognition. Celebrate the achievements of your students outside of competition by holding an induction ceremony! Read the guide below and find more resources here.
State and Local Resolutions
Each year, we worked to secure state and local resolutions to spread awareness about our activity. We are thrilled to have representatives willing to sponsor legislation in support of speech and debate activities!
If you have leads or connections that could bring a resolution to the floor of your state legislature, school board, or local municipality, please email Alyssa Rivera. If you're ready to get the ball rolling, download our resolution templates with helpful tips for passing a state or school board proclamation!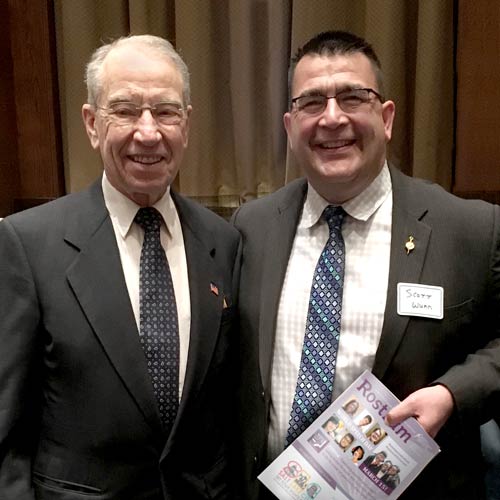 (editable Word documents)
Resources for Celebrating
We encourage schools to celebrate on March 3, 2023, in recognition of teachers and students who are transforming tomorrow through speech and debate education. Get inspired below!
Find Your Best Spokesperson Challenge
The more people talking about National Speech & Debate Education Day, the better, which is why we're challenging all of our 2020 participants to recruit their best spokesperson for NSDE Day! Don't forget to tag us on social media @speechanddebate and use #WeAreSpeechAndDebate when you post your spokesperson's statement.
Pass a State or Local Proclamation, or a School Board Resolution
Work with your local elected officials to pass a proclamation or resolution declaring March 6, 2020 as National Speech & Debate Education Day! We have all of the resources you need to do it, including an email template to contact your elected officials, a sample resolution, and a sample proclamation.
Advocacy Resources
Promote speech and debate in your community by showing others the value of this incredible activity. Invite administrators or local officials to a tournament, or show them the benefits of speech and debate using our collection of articles!
Sign Up to Participate Today!
Is your team planning to celebrate National Speech and Debate Education Day 2023? Complete our sign up form and we'll send you more information! Select someone to be your NSDE Day Captain, and we will work with them directly to ensure NSDE Day is a success at your school. This could be you, or you can designate another coach, student, committee member, parent, or school administrator who can take the lead on your team's behalf. This year, every team that signs up to celebrate NSDE Day will receive a toolkit with information, resources, and FREE swag! We appreciate all that you do and look forward to supporting your team's efforts. Get started below!
NSDE Day History
National Speech and Debate Education Day is an important celebration for the speech and debate community. Together, we are celebrating educators, inspiring students, and transforming tomorrow. Click here to see how we've recognized this special day in recent years.