A core value of the National Speech & Debate Association is service.
As a community dedicated to empowering students through speech and debate, we want to support new programs and under-resourced schools, as well as connect potential supporters to programs impacted by natural disasters and other hardships.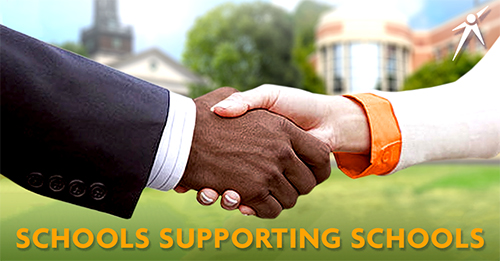 Teams Seeking NSDA Membership Support
The NSDA has a limited number of Pay It Forward grants available to under-resourced schools, schools experiencing a hardship, and brand new programs. These grants, which provide a one year school membership, resource package, and ten free student memberships, are made possible through the contributions of the speech and debate alumni of Apple Valley High School (MN) and Joe and Pam Wycoff through the Pay it Forward Fund. Schools may use this form to apply for Pay It Forward funding or other forms of NSDA membership support.
Keith West Memorial Fund School Grant
In order to ensure more students have access to speech and debate, the Keith West Memorial Fund School Grant provides funding support to schools that show strong potential but significant lack of financial resources through an application-based process each fall.
Tate "Road to Nationals" Fund
The Road to Nationals Fund, founded by the William Woods Tate, Jr. Memorial Fund (often called "the Tate Fund") is designed to help students attend the high school National Speech & Debate Tournament. The Road to Nationals Fund provides financial assistance to schools who are lacking financial resources to attend the National Tournament. 
In 2023, the NSDA is proud to provide over $100,000 to schools to create a more equitable National Tournament experience.
Teams Seeking Community Support
Teams seeking donations of any form from other speech and debate communities may apply to have their request publicized in the list below. Typical donation requests often include competition attire, learning materials, and more. Please note, in cases of direct support from other schools, the NSDA will help make initial connections to potential supporters, but does not serve as a pass through for funds or items.
Teams Seeking Community Support
Click the blue plus sign (+) to the left of each school to learn more about their program and specific needs.
If you see a program you'd like to help, or have items or materials you are willing to donate to other teams, please complete our Supporter Match Form.
| Your Name | Email | School | Greatest Need | Additional Needs | State | Status |
| --- | --- | --- | --- | --- | --- | --- |
| Your Name | Email | School | Greatest Need | Additional Needs | State | Status |