Speech and debate is a multicultural activity, in which many of our participants are committed to using their voices to shed light on social injustice and propose actions for change. The Activating Equity Award was created to honor the work of groups or collectives of individuals who, over the past year or years, have dedicated themselves to the enhancement of the culture of equity in middle and high school speech and debate activities. 
The recipient of the Activating Equity Award receives a monetary award of $5,000 to help them further their work in pursuing equity in speech and debate and public recognition at the National Speech & Debate Tournament.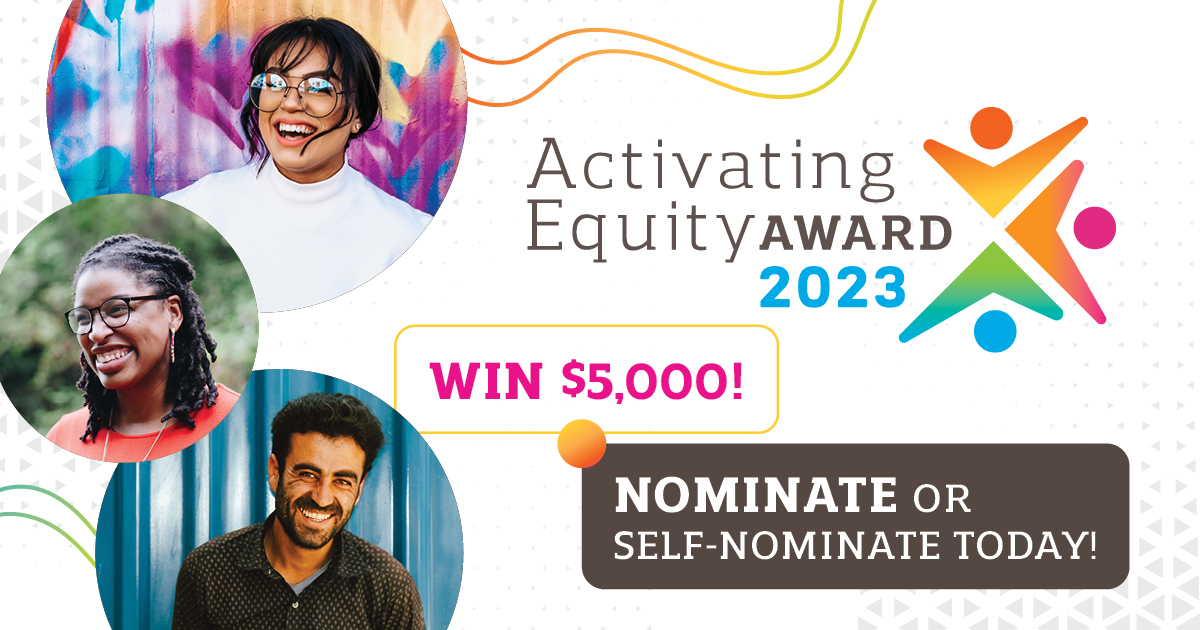 Why Activating Equity
The NSDA defines equity as a shared commitment to operational processes, practices, and spaces that affirm identity, promote inclusion, and ensure the conditions of fairness in our organization.
In alignment with our ongoing equity commitments, the Activating Equity Award exists to acknowledge members of our community who have turned their conviction into action and strive to ensure fairness and justice in the context of speech and debate—both in round and beyond. 
Nomination and Selection
The Activating Equity Award is a nomination/self-nomination process. Groups who feel they meet the criteria are encouraged to apply. In addition, outside parties who feel that a particular group is worthy of nomination can do so as well.
Some examples of what a group or organization could be doing to enhance a culture of equity in speech and debate:
Create an initiative for students to have free food at tournaments.
Create speech and debate learning opportunities for underfunded schools or teams.
Raise awareness regarding inequalities within speech and debate and work toward solutions.
Focus on recruitment practices that encourage students and assistant coaches from historically marginalized identities to join speech and debate.
Finalists will be invited to meet virtually with the NSDA Governance Committee and give a short presentation on their initiative as well as answer questions.
All applications must be submitted by Wednesday, March 1, 2023. 
Priority will be given to: 
Collaborations with students—particularly, students from traditionally underrepresented communities 

Collaborations with local advocates and activists committed to social justice/social change

Partnerships with/service to groups who work in environments where funds and other resources for support are extremely limited or non-existent

Actions taking place in spaces/places where social action is particularly needed

Projects that are creative and visionary with anticipated long-term impact
Evaluation
A panel of NSDA member coaches and leaders will be assembled to vet applications and determine three finalists. The finalists will participate in a Zoom presentation and interview with the NSDA Governance Committee. Evaluation of applicants will be done using a rubric consisting of four categories. Each category is weighted based on significance to the award. Learn more »
December 2022: Nomination form opens

March 1: Nominations due

April 2023: Finalists announced 

May 2023: Winner announced
The application for the 2023 Activating Equity Award is now closed.
What constitutes a group?
Nominees must be an organization, such as a school district, booster club, or other non-profit corporation. If selected for an award, the nominee must be able to provide a federal tax ID number for their organization to verify eligibility. Individuals are not eligible nominees.
Do all members of the group have to be NSDA members?
No. NSDA membership is not required.
Why is this a group award and not an individual award?
This award is designed to recognize the efforts of more than one individual in creating long-term sustainability of efforts in equity within the speech and debate community.
Does the group have to be established?
Yes. The group must have the ability to legally receive a $5,000 award as a legal entity.
Are there specifics on how the $5,000 must be spent?
The award is meant to further the cause of the group. It can be used as the group sees fit to do so. 
Can students apply?
Student groups can apply, but the entity they represent must be able to legally receive the cash award.