How to Start a Team Guide
How to start a team
Speech and debate is a life-changing activity that should be available for all students, but sometimes you need help making the case. NSDA membership is school based. Whether you're hoping to establish a class or an after-school program, getting the support of administrators is key. This guide contains resources to help parents, students, alumni, and NSDA coaches advocate for a new program. 
Reach out via email 
Identify key contacts at school, likely the principal or activities director, and use our email template to reach out about starting a program and attach an administrator letter so they can hear from a peer! 
Preparing for your meeting 
Print off some glossy materials like our Honor Society flyer and administrator handout to leave behind or reference in your meeting. You can also contact us at info@speechanddebate.org to request printed advocacy materials. 
Talking points for your meeting 
Speech and debate prepares students for college, career, and the future. 

Literacy skills: Students build reading comprehension skills through exploring challenging literature and dense research. They learn annotation and master the claim, evidence, reasoning model, the cornerstone of writing argumentation in public speaking and debate. This skill directly transfers to state assessments that measure student proficiency in writing.

 

Social-emotional skills: 

Advocacy: NSDA student members not only learn valuable skills, but learn how to use those skills to make the world a better place. As members of the Honor Society, students pledge to uphold the highest standards of

integrity, humility, respect, leadership, and service

in the pursuit of excellence. The NSDA Honor Society rewards students who engage in service activities with service points and special awards. NSDA students organize fundraisers, create new programs, mentor young students, found non-profits to make changes in their communities and around the world, and much more. 

Civility: Students learn to see both sides of an issue, to talk out their problems with effective communication, and to make a point without making an argument. 

Career and college readiness 
Prepare for College, A Career, and the Future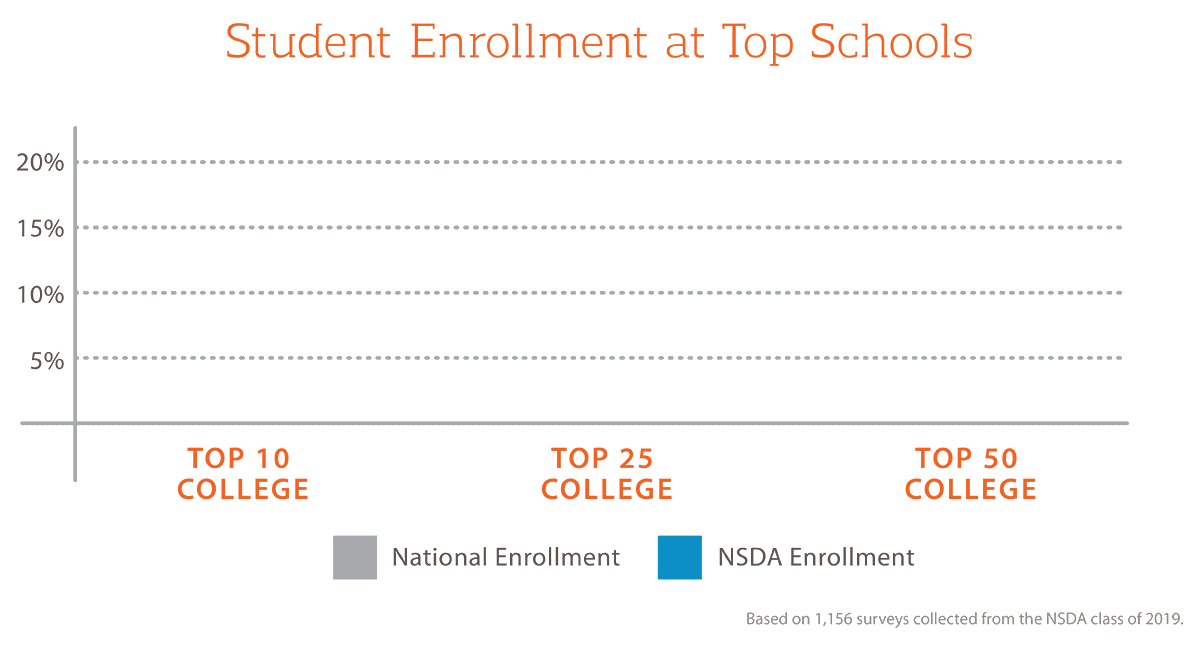 Master the skills employers value most.
A LinkedIn survey of more than 660+ million professionals revealed the most in demand soft skills in 2020. Here's how speech and debate helps students master them:
Creativity – Students are empowered to make artistic choices about how they bring words to life through performance. Unique arguments are encouraged and thinking outside the box differentiates students from their peers debating the same topics.
Persuasion – Students learn how to best convince an audience in the face of equally well-informed, persuasive competition.
Collaboration – Students work with teammates and coaches to craft stories, create arguments, build upon feedback, and perfect their performances.
Adaptability – Students learn to think on their feet and tailor a performance to a given audience.
Emotional Intelligence –  Students learn to see both sides of an issue and to use appropriate strategies for questioning things they do not understand.
There is an existing local and national infrastructure of support. 

By joining the NSDA, you have access to educational resources, competitive opportunities, and support from experts. 

You can access online courses for new coaches to learn the ropes. 

You can collaborate with peers via online forums. 

High school: A local team of elected district leaders oversees competition, mentors new coaches, and facilitates learning and connection. 

If you are offering to be the coach, great! If not, we have a free

jobs board

where the position can be posted. Many of our member coaches are English or Social Studies teachers. There may be someone with interest or speech and debate experience already working at the school! Learn more about finding a coach here.

Speech and debate improves school environments. Administrators report the following impacts from NSDA membership:

Improved classroom performance

Higher student confidence and self esteem

Increased attendance rates

Decreased negative student behavior

Increased school pride

Increased engagement in the classroom

Higher test scores

New recognition opportunities
Administrator Testimonials
[Speech and debate] helps students come to terms with their identity and teaches empathy. At an age when bullying is so common, speech and debate celebrates kids who often fall through the cracks in more traditional settings. Specifically, girls are encouraged to be smart and argumentative as much as boys, in whom strong emotional awareness and expressiveness are celebrated.
Speech and debate participants do better academically across the board. They become engaged, active participants in their education and in their community. Our school has seen great improvements in student culture and spirit since we started our program, and I would highly recommend joining the NSDA to any administrator looking to make a positive impact on school culture and academic performance.
Follow up on your meeting 
If you plan to help lead the program, work through these questions in the following weeks. 
How will the team travel to tournaments? What is the policy for field trips? 

Determine district options and policies. This will impact budget considerations. 

How will the team receive the necessary funds to compete? If financial support through the school is limited, think about alternative funding sources. 
We're ready to join!
Welcome! Sign up and find all the resources you need to get started coaching in our New Coach Guide.