Local, District, and National Tournaments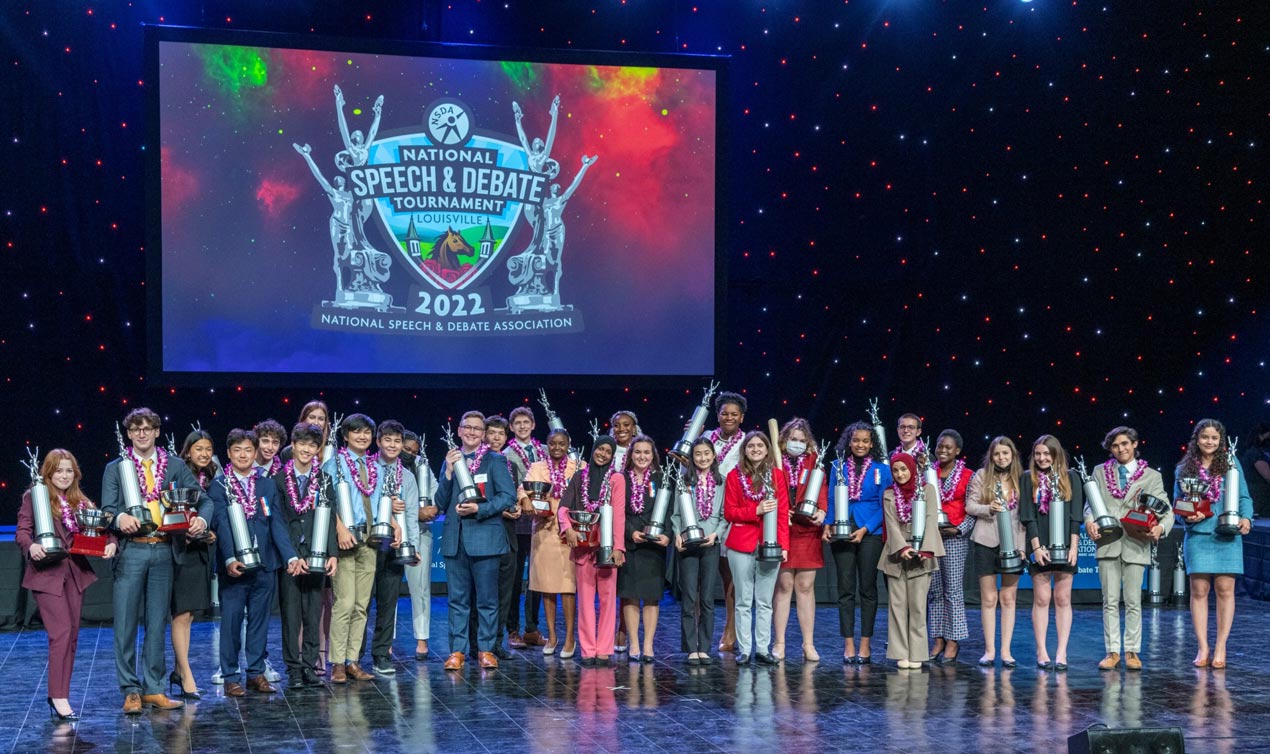 Learn the ropes with overviews of what to expect at local competition, district tournaments, and Nationals.
Local Tournaments
In most areas there are regular weekend and after-school tournaments throughout the season. Those may be organized by individual coaches, state associations, colleges, or other entities. The NSDA does not have purview over these competitions; a local contact is your best resource for guidance on local events and their rules. 
Finding Tournaments: To get started, visit the upcoming tournaments calendar on our tournament hosting platform Tabroom.com. Sort by state or by date to find events in your area. High school teams can also connect with their local contacts, called district leaders, to find out about upcoming tournaments and their rules. Some tournaments are not posted more than a month in advance, so when building your schedule, it's advantageous to contact an established local coach and ask them to share their tournament schedule with you. Middle schools can reach out to us for a connection by emailing info@speechanddebate.org! 
What to Expect: During tournaments, students compete after school or on weekends against peers from other schools. While they may be intimidating at first, tournaments are a great way for new students to learn by doing. Your team will compete against students with varied skill levels and different strategies, which is a great way to expand their thinking. Plus, you'll receive feedback from judges with ideas for improvement and celebrations of successes. Get the guide to what to expect when attending your first tournament!
District Tournaments 
High school students who compete at the district tournament, also referred to as districts, national qualifiers, or quals, are attempting to qualify for a chance to compete at our National Speech & Debate Tournament. The National Tournament is held every June and is the largest academic competition in the world. 
What is the district tournament? » The district tournament series is unique from many tournament experiences. It is called a series because many districts hold qualifying tournaments for different events on different dates. This allows students to easily participate in multiple events, which increases their chance of qualifying to Nationals. 
When is the district tournament? » Districts set their own tournament dates and report them to us each winter. Your tournament dates will be available on your District Info page, accessible from the left side menu on your Account page. 
Who runs the tournament? » The tournament series is run by your district committee, which is a group of five individuals elected by the members of your district, and led by your district chair. Lean on your committee for guidance to help make sense of the process! To see who's on your district committee and view their contact information, log in to your Account page and then click here. 
Who is eligible to compete? » Unlike other tournaments throughout the year, only member students from NSDA schools are eligible to compete. Students must be NSDA members with a Degree of Merit (at least 25 points in the honor society) and have an email address attached to their account. Students who are currently eligible will have a check mark in that column on your team roster.
How many students can I bring? » The number of entries (students/teams competing) afforded a school at the district tournament is limited based upon the school's overall strength. 
How does strength work? »  A school's total strength is equal to the top 3 active, paid coach degrees plus ALL the active, paid student degrees. Only members with an email address attached to their account can contribute to a school's strength, so make sure your members provide an email address! An email address can be entered by a student when they sign up for an account or it can be added by an advisor or a coach with permissions when creating an account from the student roster. For an example of strength, please see this illustrated guide. 
You can view your school's strength on your Account page. To determine your allotted entries based on your strength, see the chart on page 65 of the High School Unified Manual.
What are the entry requirements?
Students can only participate in one event at the National Tournament, which we refer to as single entry. For that reason, if a student elects to compete in multiple events in the district tournament series to increase their chances of qualifying to Nationals, they must indicate the event they would prefer to compete in at Nationals prior to the start of the district qualifying tournament. This preference is indicated on the Single Entry Letter of Intent, required as part of the registration process. 
Partnered events always take precedence; i.e., you may not leave your partner behind. If students qualify in a partner event, that event must be taken to Nationals unless both students qualify in another event. If students are double entered in two partner events (e.g., Public Forum and Duo) students must have the same partner in both events. If one partner is not able to attend the National Tournament, other partners may not be substituted, and the remaining student cannot take the other event – the partnership event will be dropped entirely.
Who can I ask for help? 
We want to ensure your first district tournament experience goes smoothly! Both your district committee and the NSDA staff are available to help you navigate the tournament. If you have questions, reach out to your district chair or email us at info@speechanddebate.org.
National Tournament
The National Speech & Debate Tournament marks the capstone of speech and debate activities for more than 140,000 members across the country.
The National Tournament has been held across the country since 1931, and today is the largest academic competition in the world. Each year, thousands of high school and middle school students take part in prestigious national competition, at the end of which the best of the best are crowned national champions in front of a live audience of thousands and tens of thousands more streaming the events online.
Learn more at www.speechanddebate.org/nationals.