Native American Heritage Month
Inspired by recommendations from the Native American and Indigenous Coaches' Caucus and in partnership with the Native American Rights Fund, we have created a series of classroom and competition resources to celebrate Native American Heritage Month. We invite you to commemorate the month in your school and/or community with our special poster collection featuring speech and debate supporters! In addition, you will find a literature collection featuring works by and about Native American and Indigenous Peoples.
Interested in more like this? Sign up for our newsletter updates!
The National Speech & Debate Association is proud to partner with the Native American Rights Fund (NARF). Since 1970, the Native American Rights fund has provided legal assistance to Indian tribes, organizations, and individuals nationwide who might otherwise have gone without adequate representation. NARF has successfully asserted and defended the most important rights of Indians and tribes in hundreds of major cases and has achieved significant results in such critical areas as tribal sovereignty, treaty rights, natural resource protection, and Indian education. NARF is a non-profit 501(c)(3) organization that focuses on applying existing laws and treaties to guarantee that national and state governments live up to their legal obligations.
Throughout its history, NARF has impacted tens of thousands of Indian people in its work for more than 250 tribes. Some examples of the results include:
Protecting and establishing the inherent sovereignty of tribes
Obtaining official tribal recognition for numerous Indian tribes
Helping tribes continue their ancient traditions, by protecting their rights to hunt, fish and use the water on their lands
Upholding Native American religious freedom
Assuring the return of remains and burial goods from museums and historical societies for proper and dignified re-burial
Protecting voting rights of Native Americans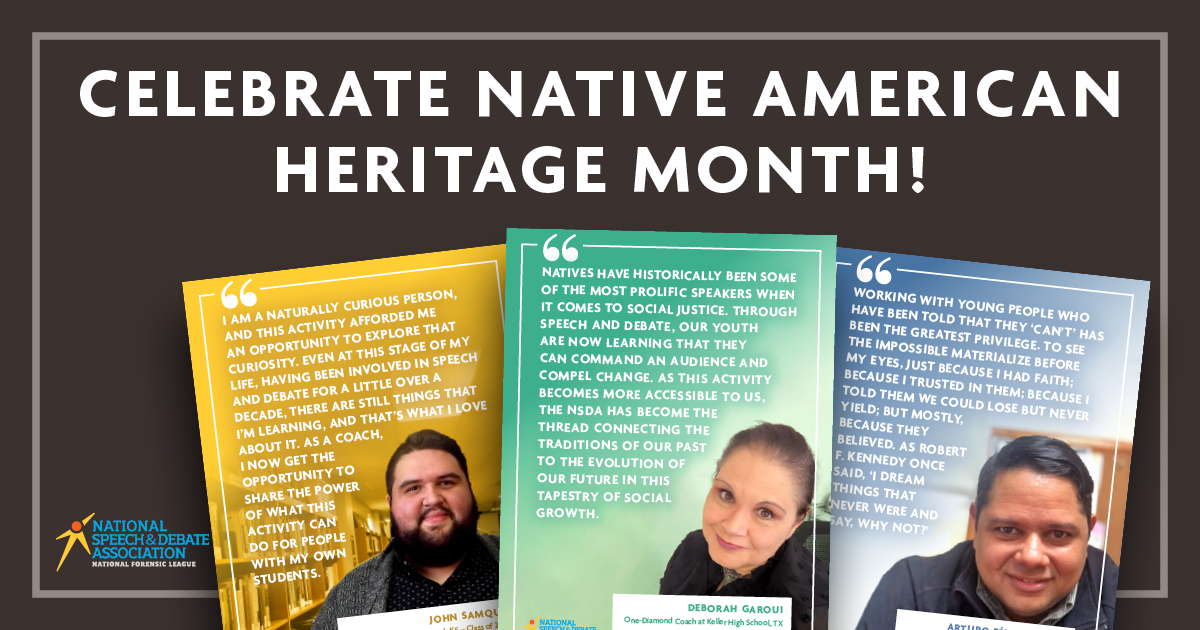 NSDA Poster Template
You can make your own posters featuring current students, coaches, or alumni from your program! Download the template below and follow the instructions to start creating.
This resource is provided under the framework of our Honor Society. We ask that you please feature individuals who live by our Code of Honor.
Literature Collection
Looking for literature for a speech event? Check out our collection of works by Native American authors.

2021 National Tournament Land Acknowledgement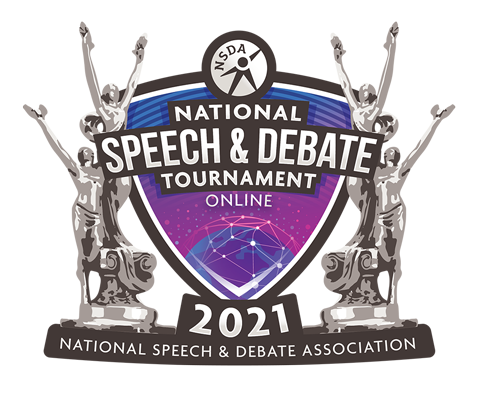 "As we stream the National Speech & Debate Tournament from Des Moines, Iowa, it is important for me to begin by acknowledging the Indigenous Peoples that have called Des Moines home first." — J. Scott Wunn, NSDA Executive Director, 2021 National Tournament Opening Ceremony
We acknowledge that our national headquarters occupies the ancestral home of the Ioway, for which Iowa is named. Des Moines is also the ancestral home of the Očhéthi Šakówiŋ, Meskwaki, Sauk, and other Indigenous Peoples that have passed through at various times. 
We thank the Indigenous Peoples who have made essential contributions to Iowa and to speech and debate communities. 
We recognize that our presence here today is the result of the on-going exclusions and erasure of Indigenous people. We affirm our commitment to conscientiously work to meet the needs of American Indian and Indigenous Peoples. 
Land Acknowledgement Resources
We believe educators featuring topics, themes, and issues that impact an assortment of peoples and our society at large can create more informed global citizens and a space where students feel heard, welcomed, and encouraged to learn. Visit our Diversity and Inclusion page for specific competitive resources to diversify the subject matter at your tournament, classroom, or practice.