We know that, thinking about next school year, many of you are worried about finding solutions for online speech and debate in a socially distanced environment. We believe that successfully navigating the world of virtual competition will not be "one-size-fits-all," but will require the community working together to address different use cases and needs. In order to do our part to ensure speech and debate thrives next year, we're excited to announce NSDA Campus. NSDA Campus is an online platform offering team practice space and tournament hosting space at a low cost. This is not the platform we used for the 2020 National Tournament. 
NSDA Campus is still in the early testing phases (pre-Beta). As a first step, next week we will roll out a test platform with practice space for teams to meet, built into your NSDA Account.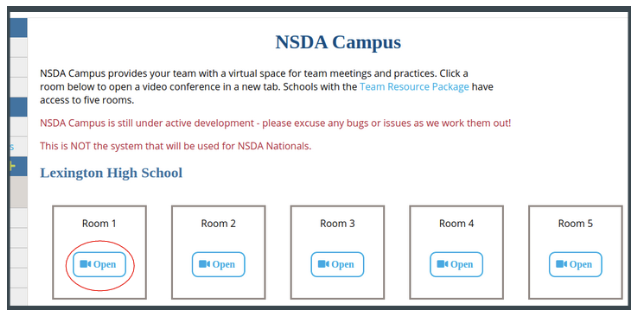 We will continue to do testing and development and hope to open a Beta version by July 15. In the next phase, NSDA Campus will offer a low cost and secure way to run an online competition that is integrated with Tabroom.com. Although we will provide instructional materials, NSDA Campus will not have full-time dedicated support staff and we will not be able to provide customization.
As an early proof of concept, we held a successful competition test tournament in May, which facilitated 300 students competing in speech and debate. By using Tabroom.com accounts, participants clicked on the "room" in Tabroom. Only the assigned students and judge were able to enter the room.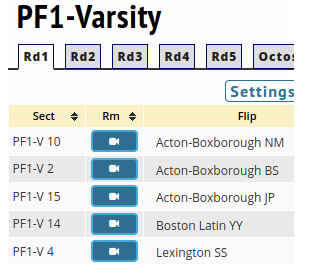 Initial feedback from local speech and debate coaches included:
"THE SECURITY! I LOVE the fact that you need to have a valid Tabroom account linked to a specific school…."
"This was a welcome opportunity and bodes well for the fall if we're still online."
"I found the platform to be simple and easy to maneuver!"
"I just found the whole experience exceptionally easy to use."
"Experience connecting and communications was in general, seamless."
"Pleasantly surprised with the simple user interface (UI) and functionality."
More details will be released when we move to our Beta version by July 15, but here are answers to some anticipated questions:
When will NSDA Campus for competition be released?
All details will be released by July 15. At that time, tournament hosts will have the ability to purchase virtual rooms to use for competition after August 1, 2020. We will continue to test over the summer with selected tournaments. If you wish to be considered for that, please fill out this form (TBD).
What technology do I need to use NSDA Campus?
Any device that accesses the internet and can use Google Chrome or a mobile app (iOS/Android). Depending on your event, you may also need access to a microphone or camera. 
Will there be any limitations on use of NSDA Campus?
Because equity is a priority of our organization, we have created NSDA Campus with the goal of providing a platform for the hundreds of local tournaments that normally occur every weekend. We do not anticipate limiting the number of tournaments that can be held. To ensure that we can scale to serve as many tournaments as possible, we may need to consider limits on the size of individual tournaments. Furthermore, we will not be able to support customizations to the platform. 
What will it cost?
Pricing details will be released in the future. Our testing will help us better estimate the server costs and system maintenance necessary to support large numbers of tournaments. While the system will not be free, we are committed to keeping the pricing simple and as low as we can sustainably provide.
Can my tournament sign up?
By July 15, the NSDA Store will sell packages of rooms for you to purchase and activate for your tournament or scrimmage after August 1. Much like an in-person tournament, you can schedule your event in advance using the rooms throughout the day as you'd wish.
Do I have to be an NSDA member to use NSDA Campus?
NSDA Campus practice rooms will be available exclusively for NSDA members for free through their account. Five practice rooms will be available this summer to maximize testing; each school will have at least one practice room next school year. Competition rooms available for the fall will be the same low cost for members and non-members. 
Will this be secure?
Yes. There are several layers of security built in to the system to prevent things like "bombing," trolling, and other forms of unauthorized use. Because rooms are only accessible via a Tabroom.com or NSDA account, they will be very secure.
Does this use Zoom?
No. NSDA Campus is built using open source video conferencing software, and does not use a commercial service like Zoom.
What features will NSDA Campus have?
The exact feature set is still under development, but NSDA Campus will have everything you need to run a virtual speech and debate competition. This will include things like videoconferencing, chat, contact forms, hand raising, and livestreaming. However, we will not be able to support customizations to the platform or specific feature requests from individual tournaments.
Will observers be able to access NSDA Campus rooms?
In order to keep costs low and provide a high quality experience for participants, NSDA Campus competition rooms will only be open to the participants and judges and not observers. However, tournaments will still have options to livestream rounds to make them available to a wider audience.
Can we use NSDA Campus with tournament management systems other than Tabroom?
Currently, NSDA Campus is only integrated with Tabroom.com to ensure security for all participants and keep costs low. We will explore other integrations if we are able to do so in a way that does not raise costs or jeopardize security. 
To whom do I send my questions about NSDA Campus?
We have created a form to collect questions available here (TBD). The NSDA staff are currently focused on delivering the best possible National Tournament, just two weeks away, but we will do our best to answer all questions eventually. 
Can I donate to or sponsor NSDA Campus?
In order to best live our value of Equity, our goal for NSDA Campus is to keep the cost per room as low as possible. We are actively looking for support to manage the cost of building out NSDA Campus, providing instructional materials, and otherwise supporting the venture to avoid passing costs on to tournaments. In order to keep the system as user friendly as possible, currently we will not be selling advertising on NSDA Campus. If you would like information on how to philanthropically support NSDA Campus or the NSDA, please reach out to nicole.wanzer-serrano@speechanddebate.org or make a donation at www.speechanddebate.org/donate .