Top 3 Reasons to Do Speech and Debate
Looking for a new high school activity to try, but not sure which one? Here are our top 3 reasons you should join your school's speech and debate team!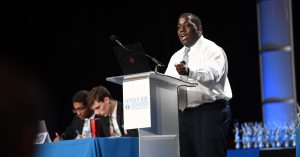 1. Get over your fear of public speaking.
"Speech and debate has honestly changed my entire life. I was actually mute when I was younger, and speaking out terrified me. And I was told to join speech and debate and I found a place where I could just get 10 minutes for people to listen to my actual voice." – Kimberly Lu, 2018 DI Champ
Public speaking is a critical skill for any career path, and there's no better way to get comfortable with it than practice. Speech and debate gives students endless opportunities to practice their public speaking skills in classrooms.
2. Improve your academic standing.
Former Secretary of Education Arne Duncan argued that high school speech and debate was uniquely suited to build skills in critical thinking, communication, collaboration, creativity, and civic engagement. These skills are crucial for colleges and future employers, and countless studies have shown the impact of speech and debate education on high school standardized test scores, attendance, college admission rates, and more.
3. Use your voice to change the world.
Whether you're telling a story through an interpretation event or advocating for an issue in debate, speech and debate gives you the opportunity to stand up and take a stand. Your voice is powerful — use it!