Community Impact Report 2019

Explore how NSDA membership helped coaches and students get involved, build their skills, and celebrate achievement during the 2018-2019 school year. 
Member Services –
We're here to support you!
We believe in providing the educational resources, competitive opportunities, and expertise necessary to foster every student's communication, collaboration, critical thinking, and creative skills. While your team made the most of your member benefits and resources, we were there to provide the support you need to succeed.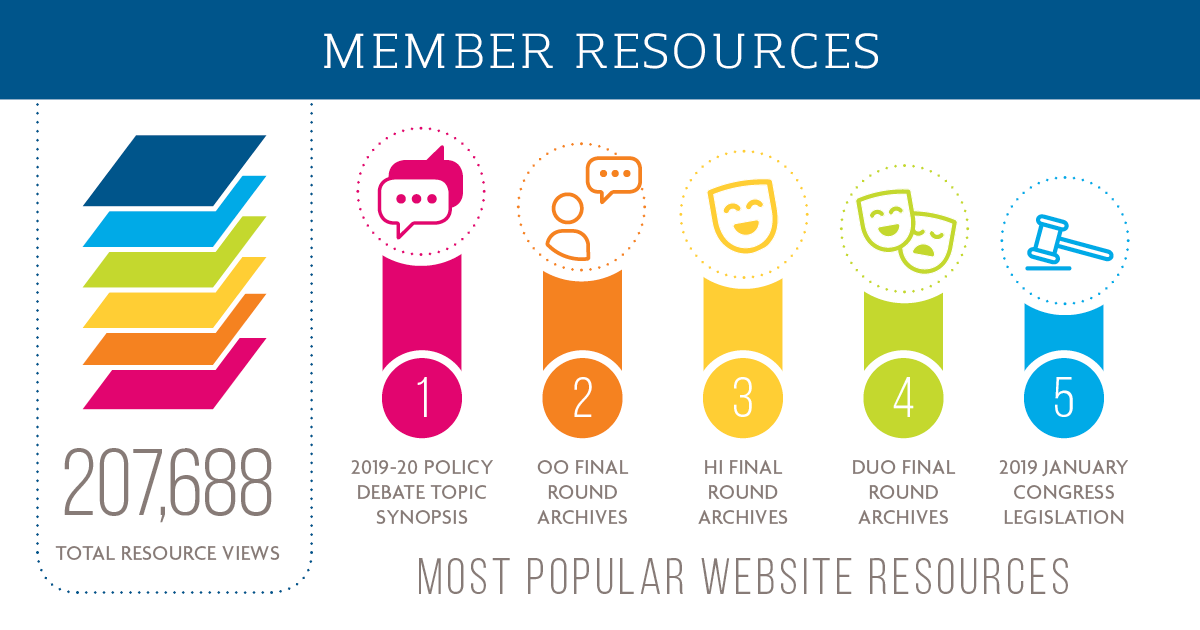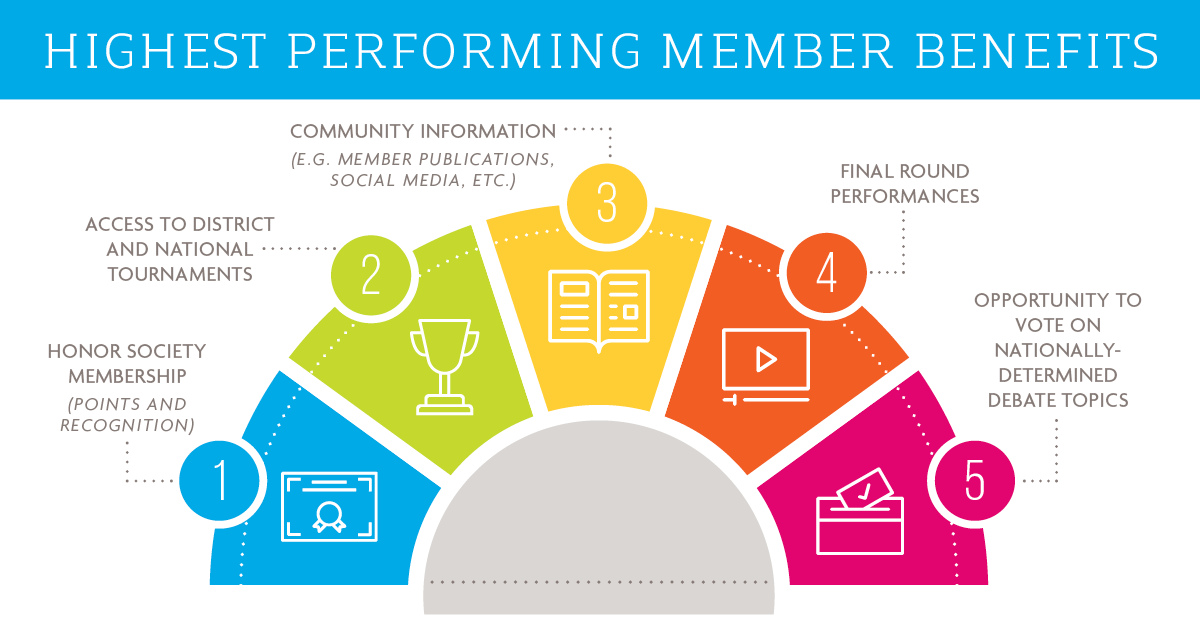 Tabroom.com
Thanks to our sponsorship of the tool, Tabroom.com remained available for use by regular season tournaments free of charge. 
Tabroom as a resource was probably the most valuable this year. This was the first time I learned about and used Tabroom.
Tabroom.com is a work in progress, and I'm thankful for the continued investment in making it better each year.
We capped off year three of our Big Questions Debate program! Over the lifetime of the grant, schools have hosted 1,600 events for nearly 50,000 students and earned almost $1.5 million for hosting Big Questions tournaments. In the spring, we announced that the Big Questions program has been renewed for another three years thanks to the generous support of the John Templeton Foundation!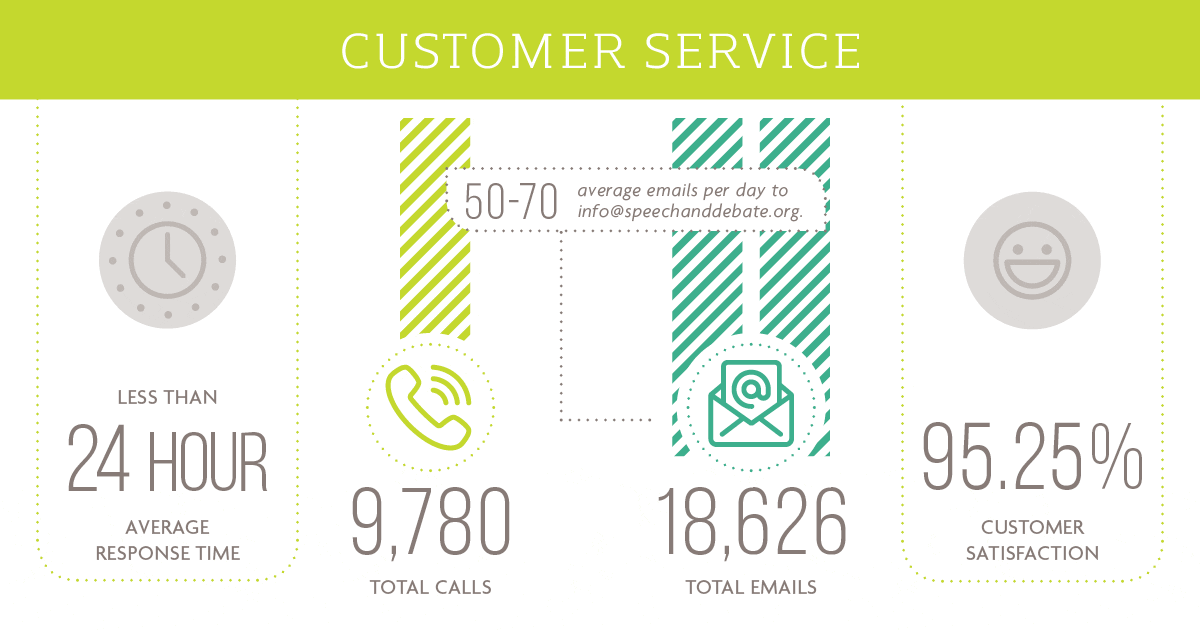 Customer Service Testimonials
I feel the support from the NSDA has always been quick, efficient, and professional. I always get the help I need within a day. Thanks.
Everything I've asked for in the past two weeks has been handled within a day. Thank you so much for all your help!
Great customer service. Very patient and answered all my questions as a new coach. Thank you so very much!
One of the best customer service I've encountered in recent years! Quick reply and right on point. Please keep up the good work.  Thank you.
I am always impressed by the promptness of replies. The response is professional and courteous, even if I think my question is a little silly, and I am sure it is operator (mine) error. Thanks so much! If you were closer, I would bring cookies- real ones, not virtual ones.
Wow! Five different folks contacted me when I left a frantic message. That's MEMBERSHIP SERVICE!
Honor Society
Our Honor Society recognizes middle school and high school students for participation in speech and debate activities. Throughout the year, we celebrated students, coaches, and schools as they earned distinction through speech and debate competition, academic excellence, community service, public speaking, and leadership activities.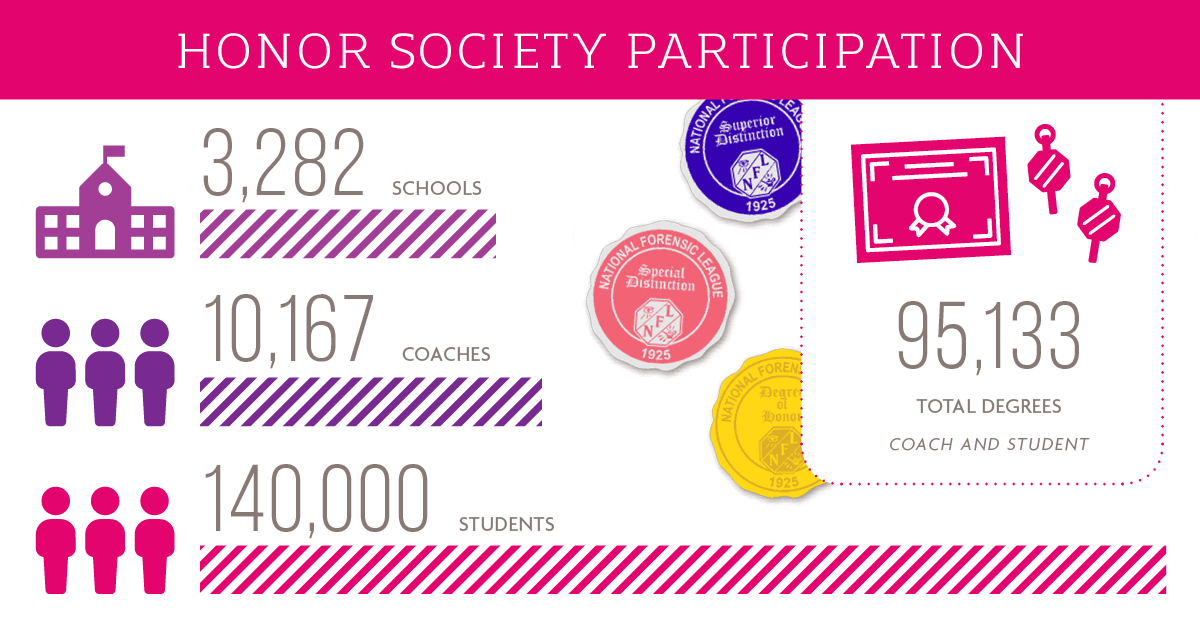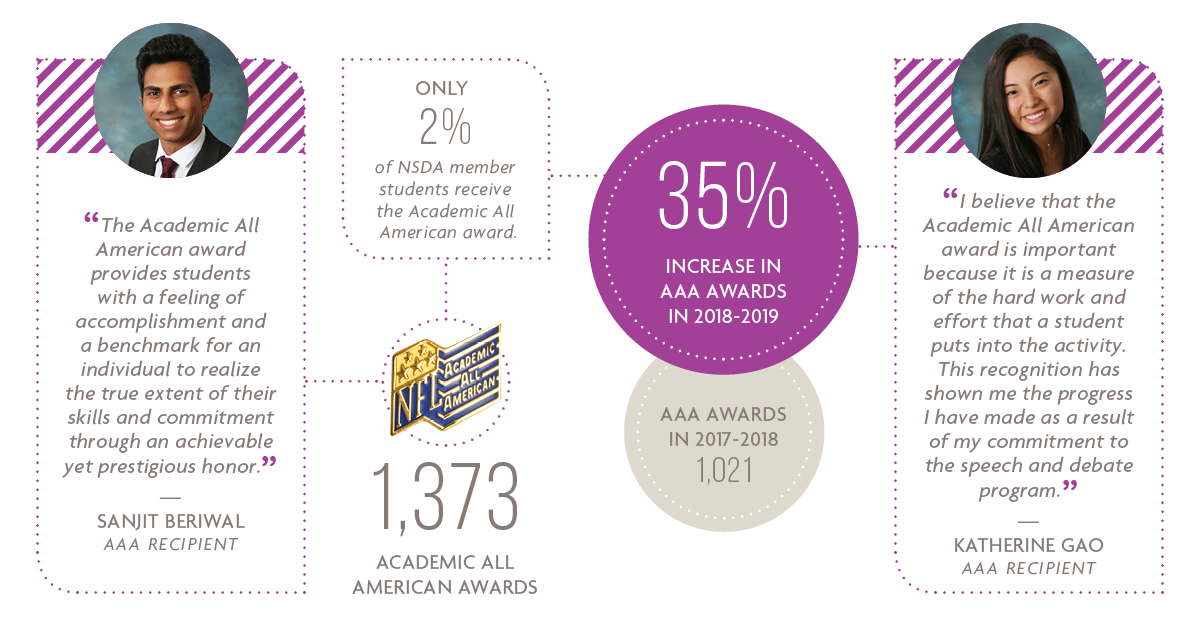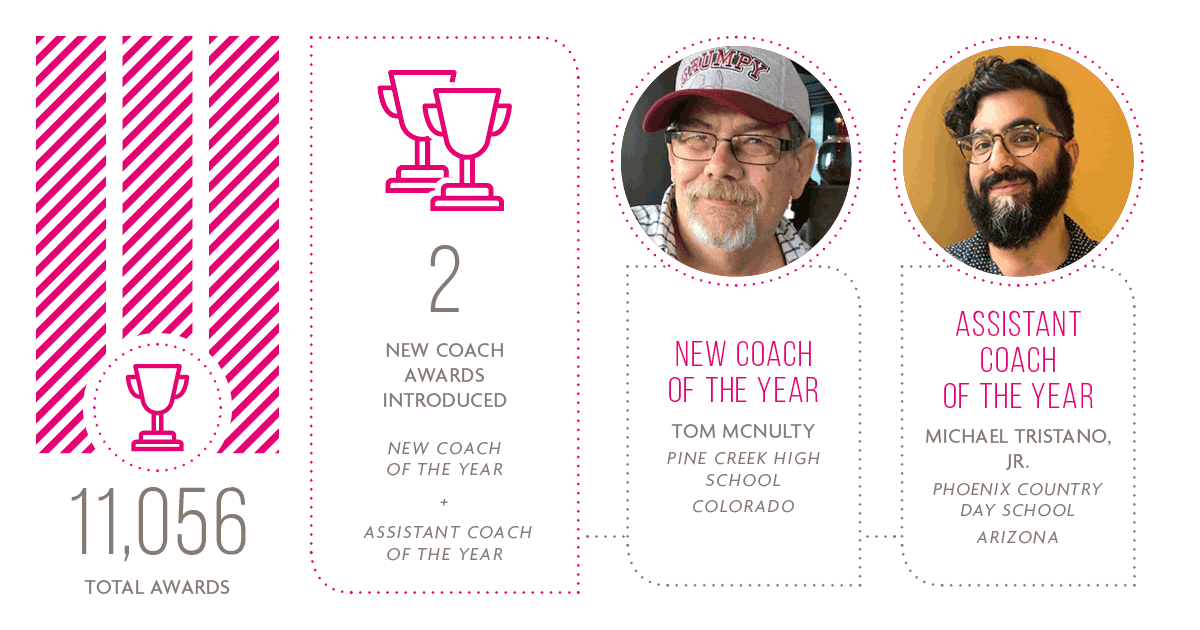 Six graduating seniors were selected as William Woods Tate, Jr., National Student of the Year award finalists for advocating for change, serving their communities, and using the skills they learned through speech and debate to make the world a better place.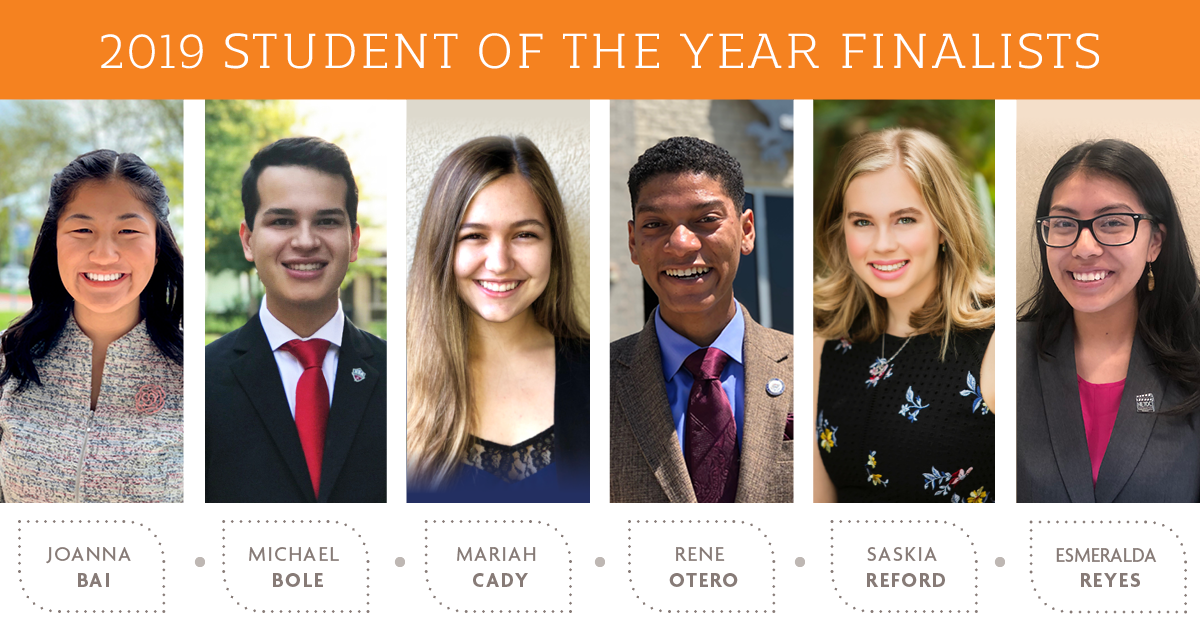 In the video below, our six finalists share how NSDA membership helped them find their voices, advocate for change, and serve their communities.
I think speech and debate teaches us a lesson that we aren't taught other places at such a young age—that despite having so much to learn in life, what we've learned so far is valuable and meaningful to the world. We're not just kids who talk on the weekends. Speech and debate gives us a place where we're encouraged to use our voices to do more, to find our heartbeat in the world and chase after it.
Nationals
The National Speech & Debate Tournament returned to Dallas, Texas, June 16-21, 2019. The Middle School National Tournament took place June 18-21, 2019. We enjoyed hosting you during the largest academic competition in the world!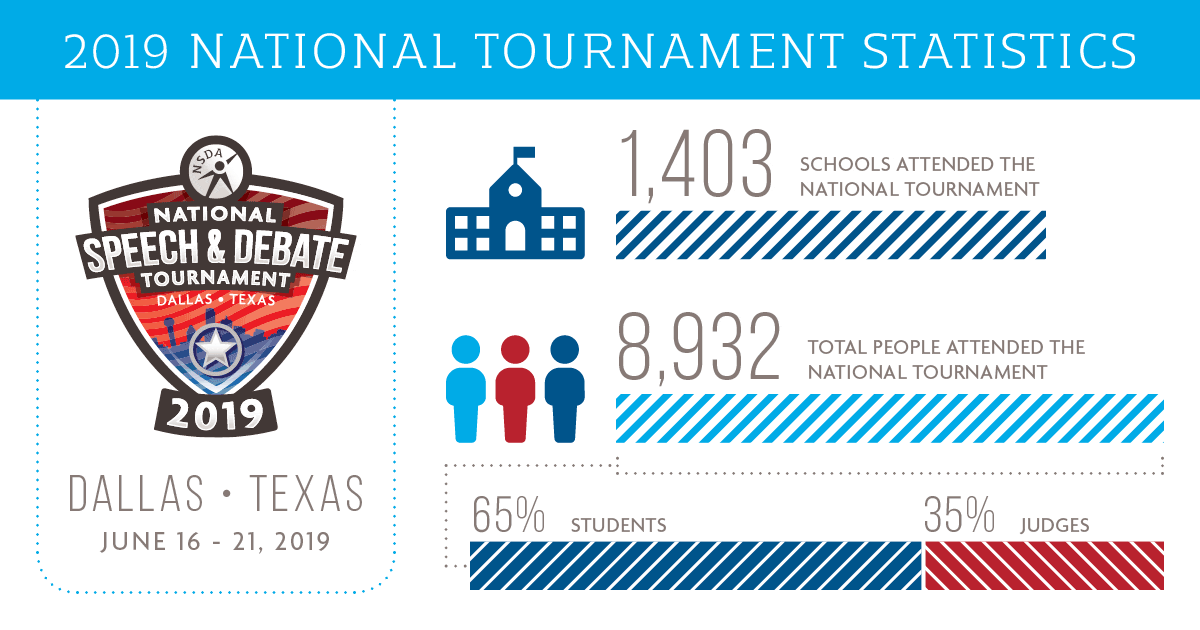 2019 NSDA Lifetime Achievement Award
During the tournament, we honored
Dr. Thomas Freeman, Head Coach Emeritus of the Texas Southern University Debate Team, teacher of Dr. Martin Luther King Jr., and coach of Congresswoman Barbara Jordan, with the 2019 NSDA Lifetime Achievement Award.
2018-2019 Inclusion Commitments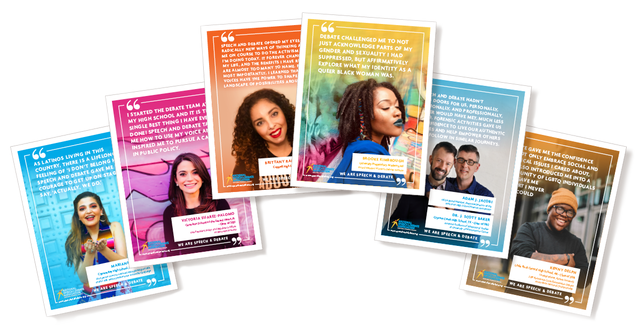 Each year, the NSDA receives recommendations from Coaches' Caucuses that convene at the National Tournament to help drive inclusion efforts for the following year. For 2018-2019, our inclusion commitments are at the heart of our work and are ongoing; however, here is an update of what we have done so far.
Invited administrators and decision makers
from under-resourced schools without speech and debate programs to attend the National Tournament and start a speech and debate program.
Continued to promote the NSDA best practice guides for safe tournaments including all gender restrooms, use of the NSDA harassment and discrimination policy, and an inclusive tournament checklist. As a result, we have established a monthly email sharing safe tournament resources to tournament hosts with upcoming events registered on Tabroom.com.
Celebrated the diversity of our membership that coincide with national monthly celebrations specifically National Hispanic Heritage Month and Pride Month, which included literature collections, posters representing members of our community, and resources regarding equitable best practices and themed Extemp questions, Impromptu prompts, and Congress bills. On social media, celebrated Women's History Month, Celebrate Diversity Month, and Asian American and Pacific Islander Heritage Month. 
Hired the Pacific Educational Group to execute a diversity and inclusion workshop (known as Courageous Conversation) for members of the community to strengthen their own ability to talk about race and deepen their own racial narrative.
Following the Inclusion Workshop, the Board of Directors updated the NSDA's core values to replace inclusion with equity. 
Inclusion is the act of creating environments in which any individual or group can be and feel welcomed, respected, supported, and valued to fully participate. Equity is the fair treatment, access, opportunity, and advancement for all people, while at the same time striving to identify and eliminate barriers that have prevented the full participation of some groups. Our 2019-2020 commitments will reflect this shift in focus and thinking.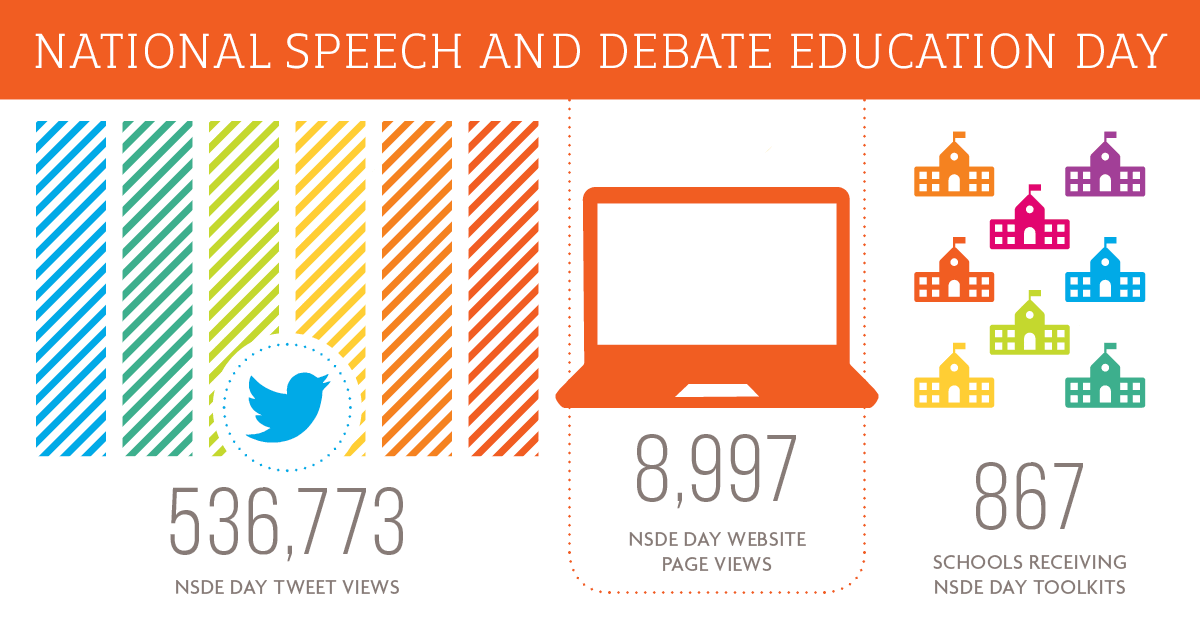 Senator Elizabeth Warren celebrates National Speech and Debate Education Day!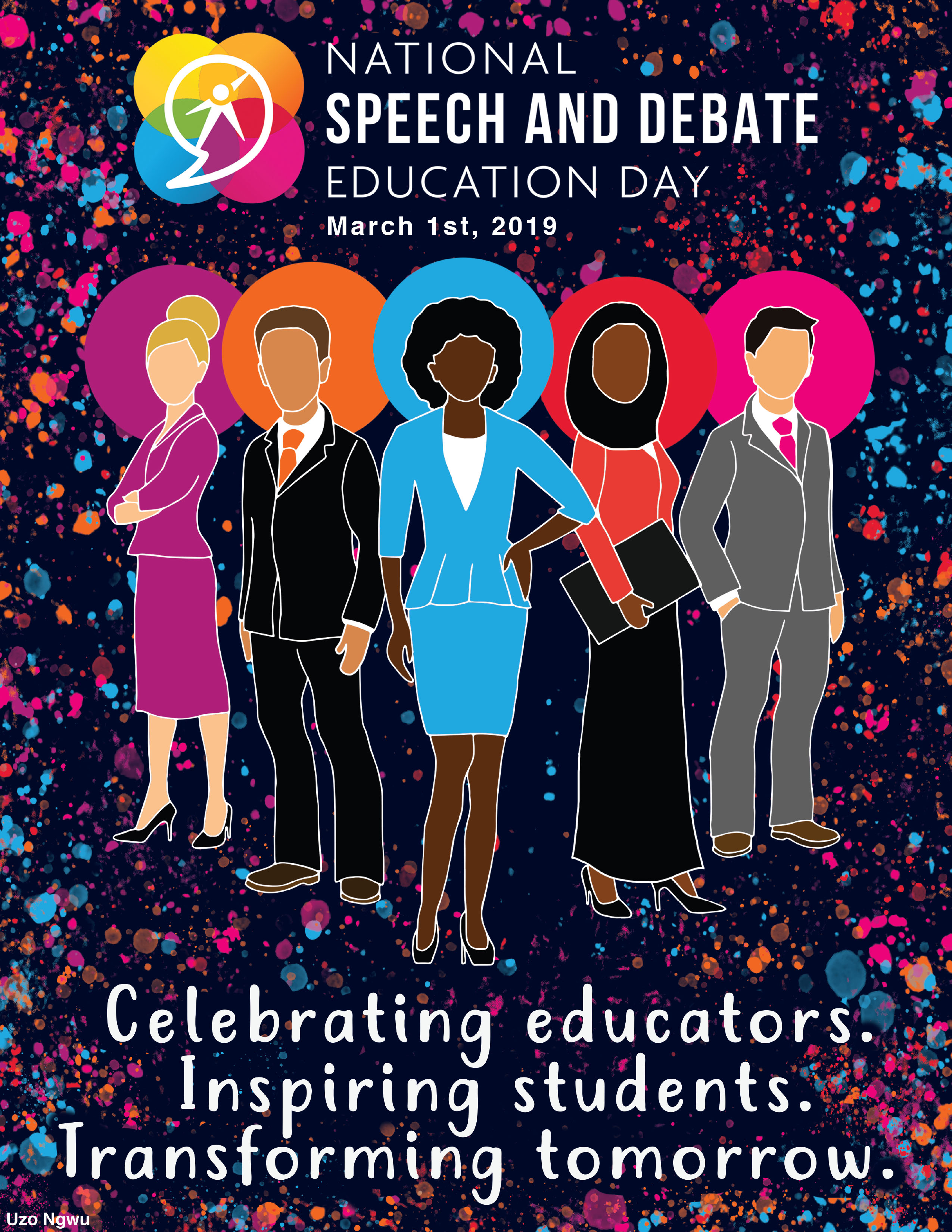 Each year, the National Speech & Debate Association holds a poster contest for member students to kick off the celebration of National Speech and Debate Education (NSDE) Day. Dozens of students submit their works for the contest, but only one can win. This year, that honor went to Uzoma Ngwu, a senior competitor from Apple Valley High School in Minnesota. She was inspired by previous contest winners, the NSDA logo colors, and the competitors from the final rounds of the National Tournament last June. She knew, from the very beginning how she wanted her poster to turn out. For the past three years, speech and debate has provided Uzo with just another outlet to perform and use her voice. Her design for the NSDE Day poster contest blends her love for visual art with her love for speech and debate into one creation. There's one aspect that makes speech and debate stand out as one of her favorite activities: the "speech and debate culture." From coaches to competitors, the unique speech and debate society adds to her adoration for the activity itself. 
Speech has taught me the importance of trusting your abilities and being a genuine performer
Thank you for being a member of our community!