Start Here: Teaching Middle School Program Oral Interp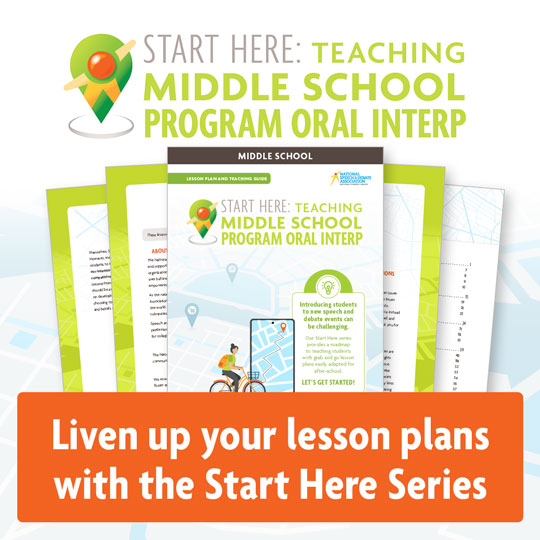 Program Oral Interp is an Interpretation event. Students choose literature from a variety of genres connected by a common theme and weave it together to support their argument.
POI combines original writing, analysis of literature, and acting. It gives students a high degree of freedom to determine the perspective they want to share and the way those stories are told.
We recommend using this collection as a culminating unit after teaching students Interp and Public Address, as those two styles are foundational to POI.
Students Will Be Able To:
Present information, findings, and supporting evidence clearly, concisely, and logically such that listeners can follow the line of reasoning. 

Adapt speech by utilizing nonverbal communication, vocabulary, and the tone, rate, volume, and pitch of their voice.

Integrate multiple sources of information presented in diverse media or formats, evaluating the credibility and accuracy of each source.

Determine a theme or central idea of a text, analyze its development over the course of the text, and use this information to identify commonalities between pieces of literature. 

Describe how a story or drama's plot unfolds in a series of episodes as well as how the characters respond or change as the plot moves toward a resolution.

Bring a character to life by analyzing their spoken and unspoken motivations. 

Research, write, cut, block, memorize, deliver, and revise a POI around a central argument. 
| | |
| --- | --- |
| LESSON 1: POI Building Blocks | 1 |
| LESSON 2: Choose a Theme or Argument | 15 |
| LESSON 3: Choose Your Literature | 24 |
| LESSON 4: Cut and Weave Your Literature | 39 |
| LESSON 5: Write the Introduction | 59 |
| LESSON 6: Create the Performance | 71 |
| | |
Enter your email to access a sample of our "Start Here: Teaching Middle School Program Oral Interp" collection.