by Mary Rodriguez
Three years ago our elementary school was rolled into Broward County's Speech and Debate Initiative, the largest in the country! By the second year as coach I was speaking to our 4th and 5th grade teacher of Deaf and Hard of Hearing (DHH) about offering the opportunity to her students as well. She was immediately motivated, and two boys took the challenge and were part of our team last year, setting the tone and paving the way for future members. They are now in middle school, and Ms. Kelly joined the team as an assistant coach.
This year we had two 3rd grade young ladies from the DHH class jump on board. For our first tournament in October Abby and Alanna performed an interpretation of a poem called, "Deaf Heart" through both sign and speech. It was inspiring, emotional and extremely well done. The judges thought so too- they earned a medal for their performance! It is believed to be the first time elementary DHH students medaled in a speech competition in the whole USA!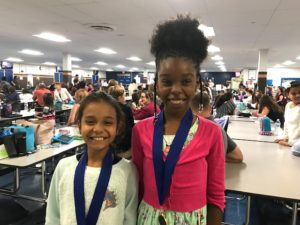 "I am so happy to be part of a group this year," Abby said. "Last year I didn't do anything. Now I can be with my friend in the debate club and I like to perform"
"I like to do the speech and it was fun when we won a medal!" said Alanna. "I am happy to be with my friends. I like to perform and I like when they clap for us and congratulate us."
"The Future is Accessible" is not just a slogan for Abby and Alanna- it is a reality. These two young ladies have taken our district by storm! They have been asked to perform at luncheons, breakfasts and other events. They are typical girls in every way except in the way that they teach us that being DHH is not a barrier, rather just a different approach to life. We look forward to future performances by Abby and Alanna and even more so for the students that will be motivated to access the future like they are!
Thank you to Mary Rodriguez and Melissa Kelly, Speech and Debate Coaches at Peters Elementary Speech and Debate, Broward County, Florida for providing this post. Check out our new collection of resources for the International Day of Persons with Disabilities here!