Community Impact Report 2020
At the core, community is such a huge part of who we are and what we do. We hear from alumni decades after their time in speech and debate has ended that the friendships formed in this activity have lasted a lifetime. Despite all the challenges we've faced in the last year, our community is alive and well. We came together online, supported each other, found solutions, and stayed connected. I hope that's what we take away from this year. That even once your team is no longer in the same squad room every day, once the season ends, or students graduate, that this community and the skills that students learn here are permanent. I hope you find useful takeaways and inspiration from all we accomplished as a community during the 2019-2020 school year.
Speech and debate activities provide students with a space to connect, compete, grow, and have some fun along the way! Despite an unprecedented year, we were still able to connect with each other through the speech and debate community! 
Speech and debate pushes me to reevaluate the world, to consider what it means to be a global citizen and to form a just society. I gained the skills to advocate for the disenfranchised in my own community.
Adapting
In response to the pandemic, the 2020 National Tournament moved online for the first time and students across the world showed up to compete. We enjoyed hosting you during the largest academic competition in the world!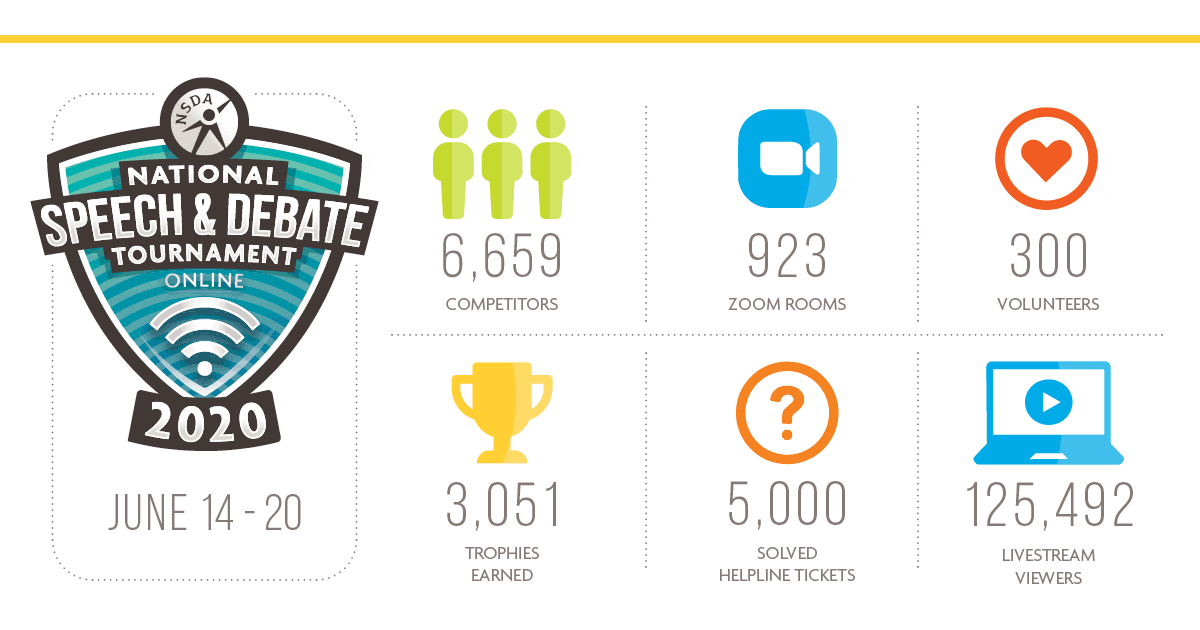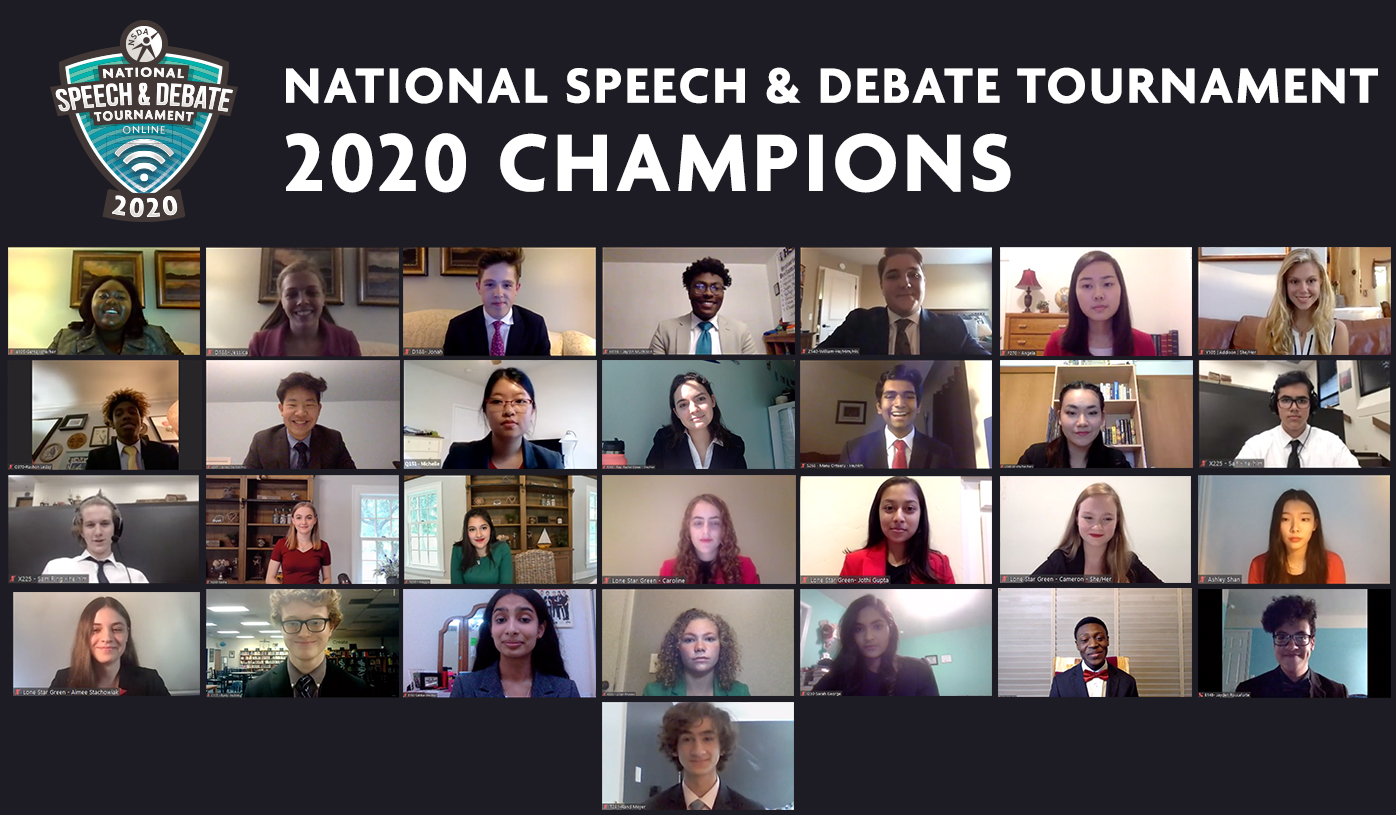 While many in-person events were canceled, we developed NSDA Campus, a low cost and secure way to run an online competition for those who cannot connect in person or want to practice from home! We hosted our first pilot tournament on the platform in May 2020. Since then, more than 35,000 NSDA Campus rooms have been used for competition. Making sure every student continues to have access to speech and debate activities, even during a pandemic, is a top priority for our organization.
NSDA Campus rooms have been invaluable for my team, both during class and outside class. Outside class, NSDA Campus gives students an easy, functional method to get together and practice or talk through cases without needing me to be there or set up the meeting. During class, it allows multiple debates to be going on at once during class. We have never had that before. I am already thinking through how that would work if we were all back in person!
Our sponsorship of Tabroom.com allowed the platform to remain available free of charge to tournament directors as they work to seamlessly organize competition across the country. NSDA Campus has been built to integrate with Tabroom.com to help you manage your tournaments!
In March, National Speech and Debate Education Day once again provided an opportunity for speech and debate teams to celebrate, connect, and share their story with others in their community! Actor Jared Padalecki served as spokesperson, reflecting on how speech and debate and the work of NSDA coaches shaped his life.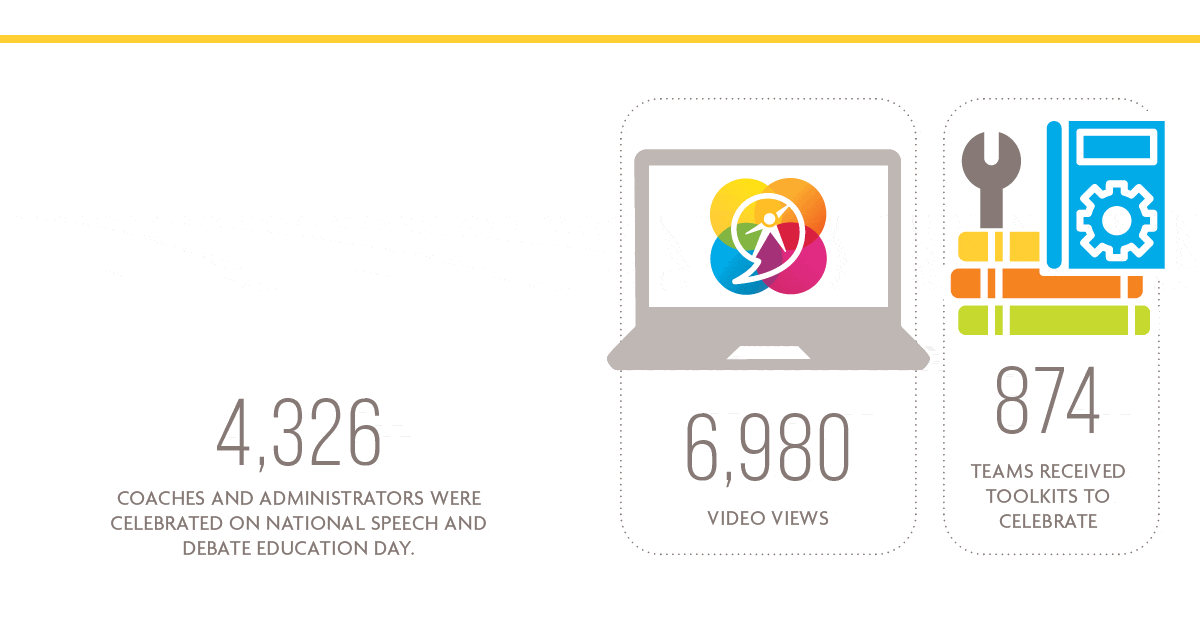 We believe in providing the educational resources, competitive opportunities, and expertise necessary to foster students' communication, collaboration, critical thinking, and creative skills. While your team made the most of your member benefits and resources, we were there to provide the support you need to succeed.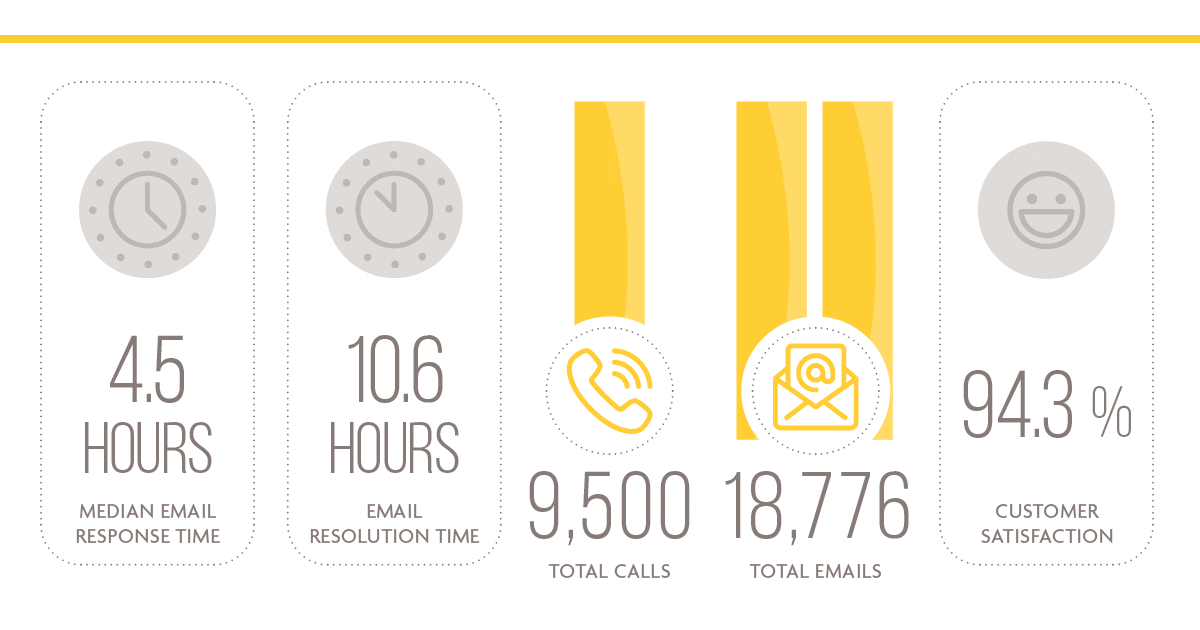 Customer Service Testimonials
This organization and its staff are responsive, courteous, and professional. I could not be more satisfied.
I am always pleased with the speed and effectiveness of the responses I get to questions I have or help I need!!
Everyone in the office should be commended for doing an outstanding job. I was never more proud to be part of this organization. I mean that. Awesome work!!!!
All I can say is thank you from my students, my school, and my family.
Wow!  Better than I could have dreamed!  Thank you for the great support!!
I am receiving great support in my first year participating in NSDA!
Setting Teams Up For Success
Member coaches report primarily starting new students in five events. From Teacher in a Box grab and go lesson plans, textbooks, and NSDA Learn coaching courses to advice from our Student Experts, we created the resources you need to hook students on those formats!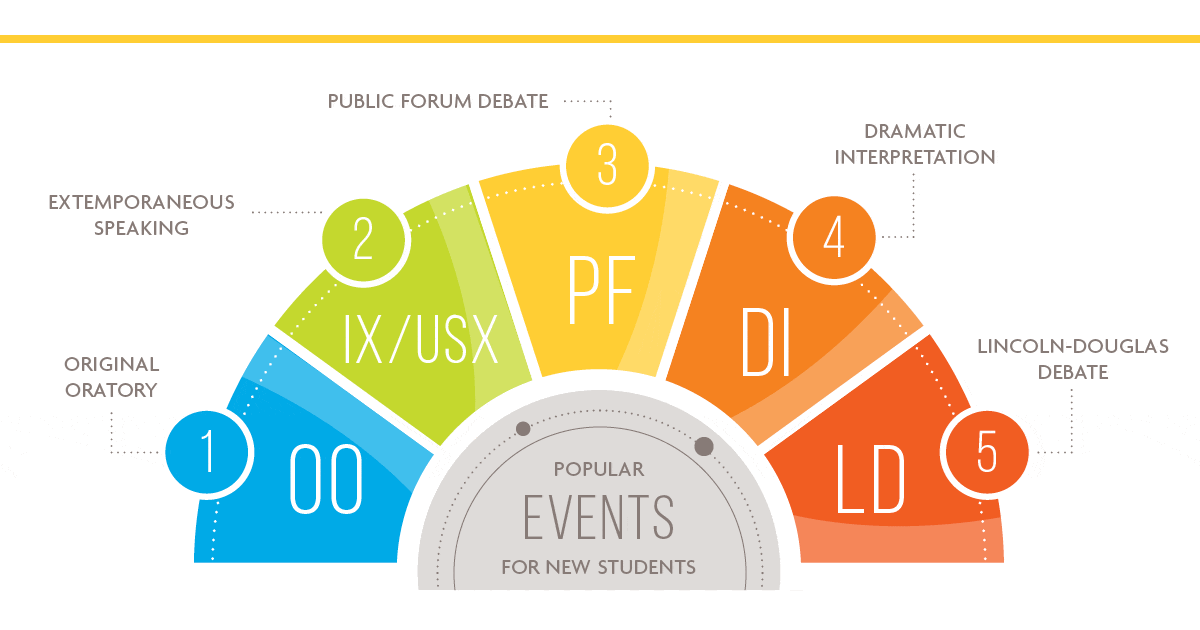 Meeting Your Needs
We continue to provide financial support to speech and debate teams across the country! In 2019-2020, more than $350,000 was awarded to teams and students through grants and scholarships.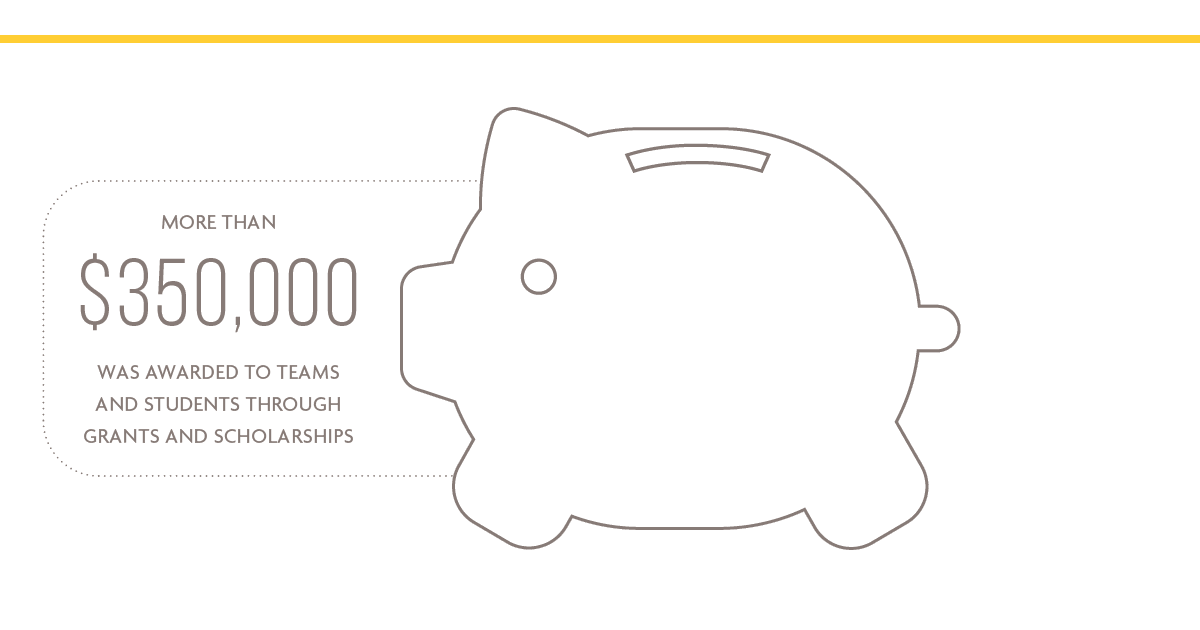 Upholding Community Values
Honoring our mission to connect, support, and inspire a diverse community committed to empowering students, we are working diligently to ensure that the speech and debate community provides a safe space for all. In the 2019-2020 school year, we officially added equity as one of our core values. Our equity statement reflects our commitment to diversity, equity, and inclusion efforts within the speech and debate community. 
Awards and recognition are an important part of our work to commemorate the inspired action you take throughout the year! This year, we celebrated students, coaches, and schools as they earned distinction through speech and debate competition, academic excellence, community service, public speaking, and leadership activities.
Speech and debate has given me a platform where I could grapple with large-scale issues, articulate my opinions, and advocate for solutions. I seek to amplify others' voices, just like this activity did with mine.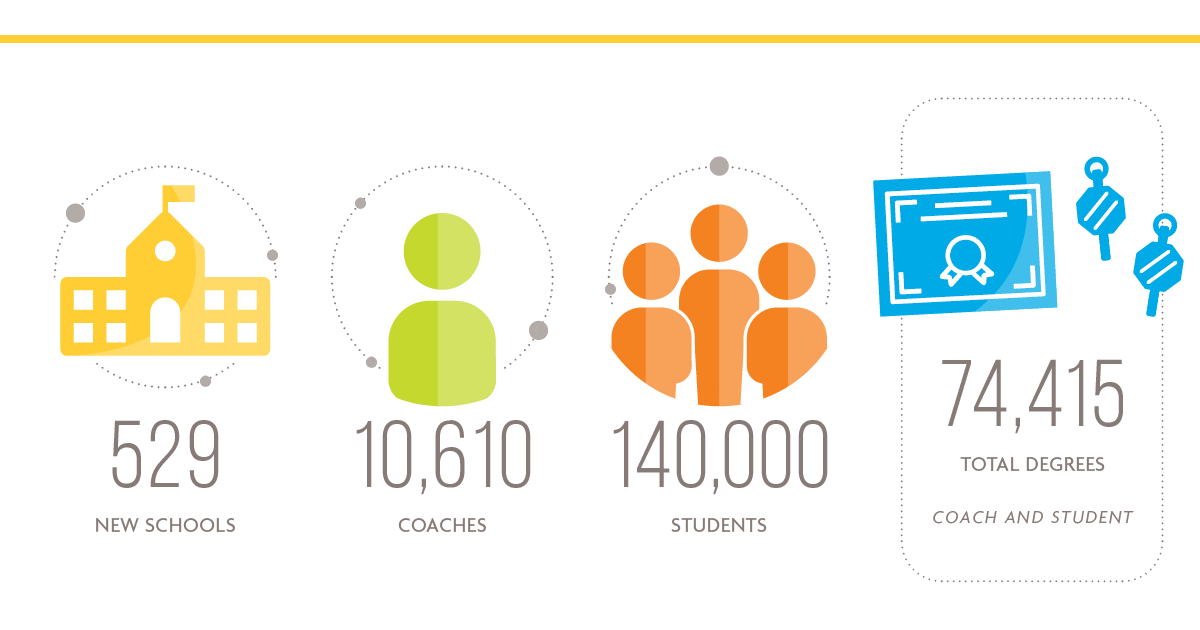 Student Recognition
Celebrating students is a highlight of every year! We introduced the Speaking and Service Award, which recognizes students who go above and beyond in their service to their teams, schools, and communities. A total of 56 students received the inaugural award in 2019-2020.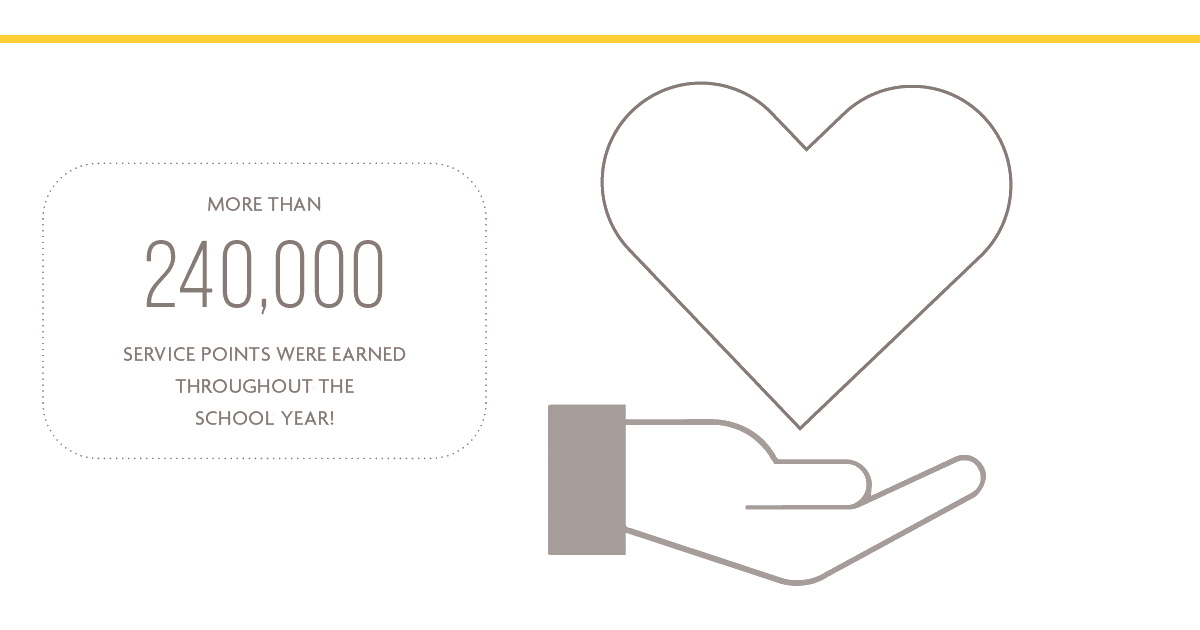 Jaylon Muchison was selected as the William Woods Tate, Jr., National Student of the Year for his character, leadership, and commitment to bettering his community. At the National Tournament, Jaylon claimed the rare "Triple Crown" when he was named Student of the Year, Humorous Interpretation champion, and final round Interp Bowl winner all in the same year. Jaylon reflects on the importance of student voices and overcoming the obstacles this year presented in the video below.
Coach Recognition 
Coaches play an important role in this community, working tirelessly to support and inspire students through speech and debate activities. 
Here are just a few of the many coaches whose involvement we recognized this year.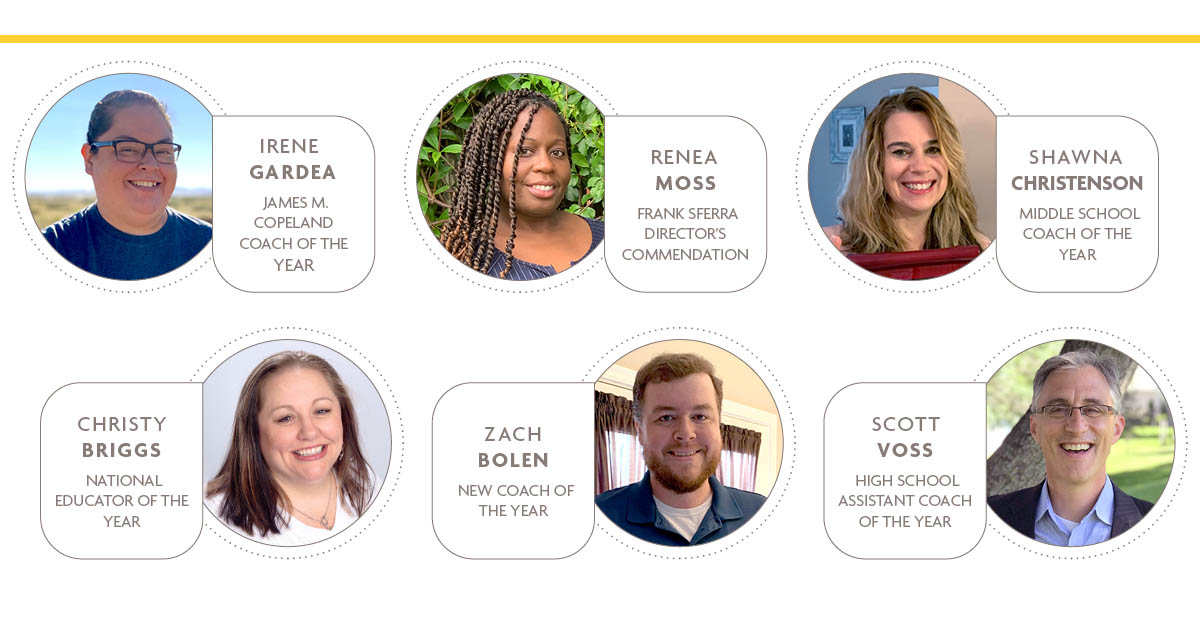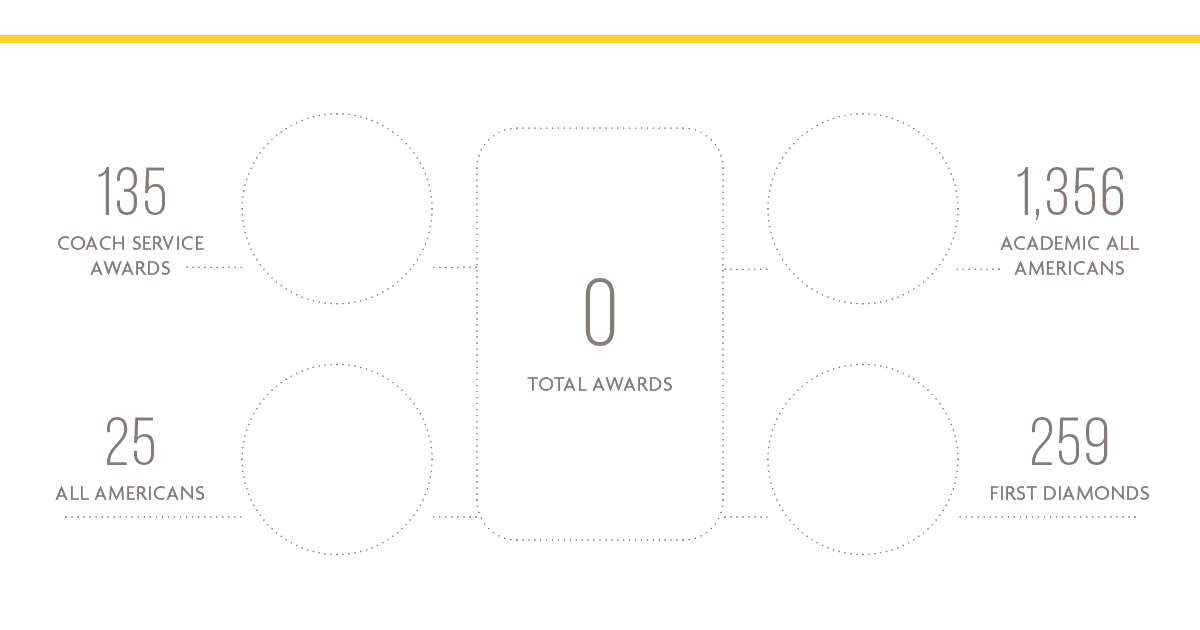 This year we celebrated Wooster High School in Ohio as the first school in the history of the National Speech & Debate Association to reach 70 National Tournament appearances. Wooster's first National Tournament appearance was at the second annual National Tournament in 1932! Wooster's years of achievement represent thousands of students who have learned to collaborate, communicate confidently, and think critically and creatively.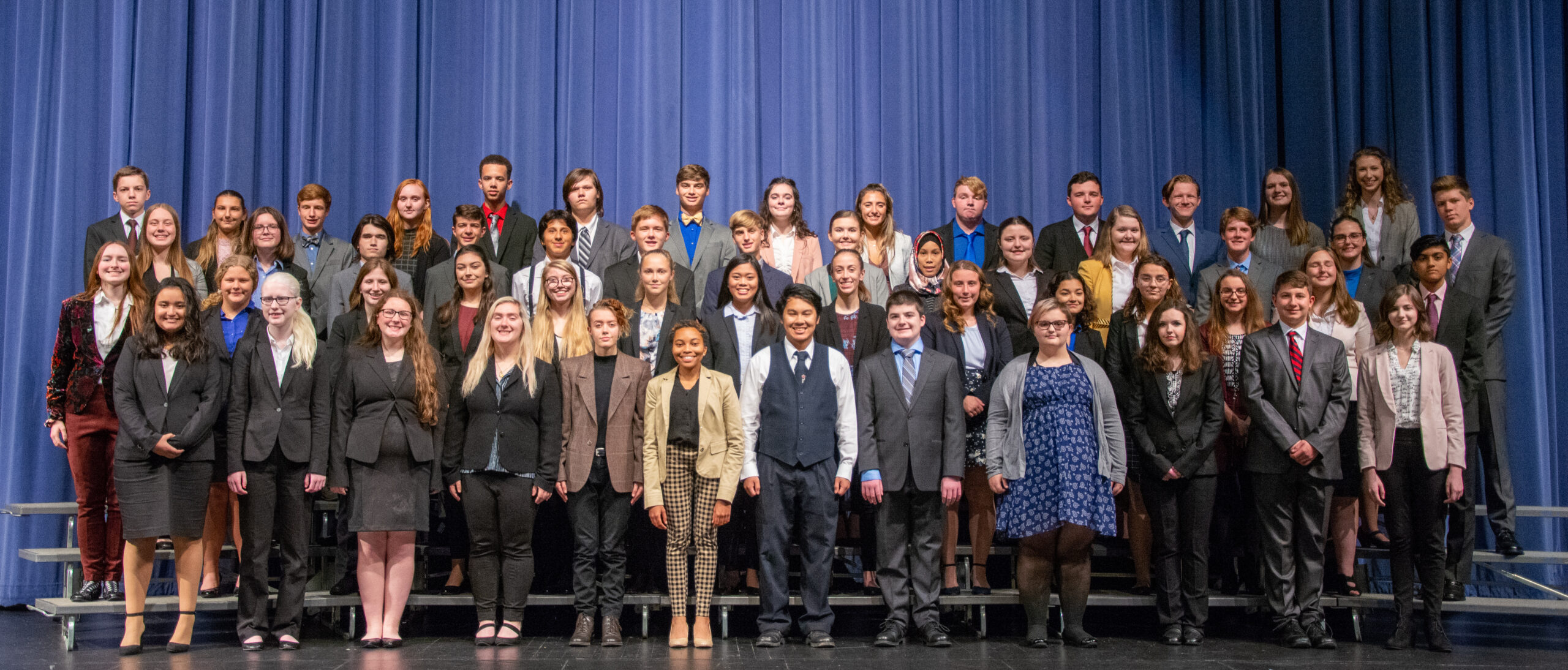 Thank you for being a member of our community!