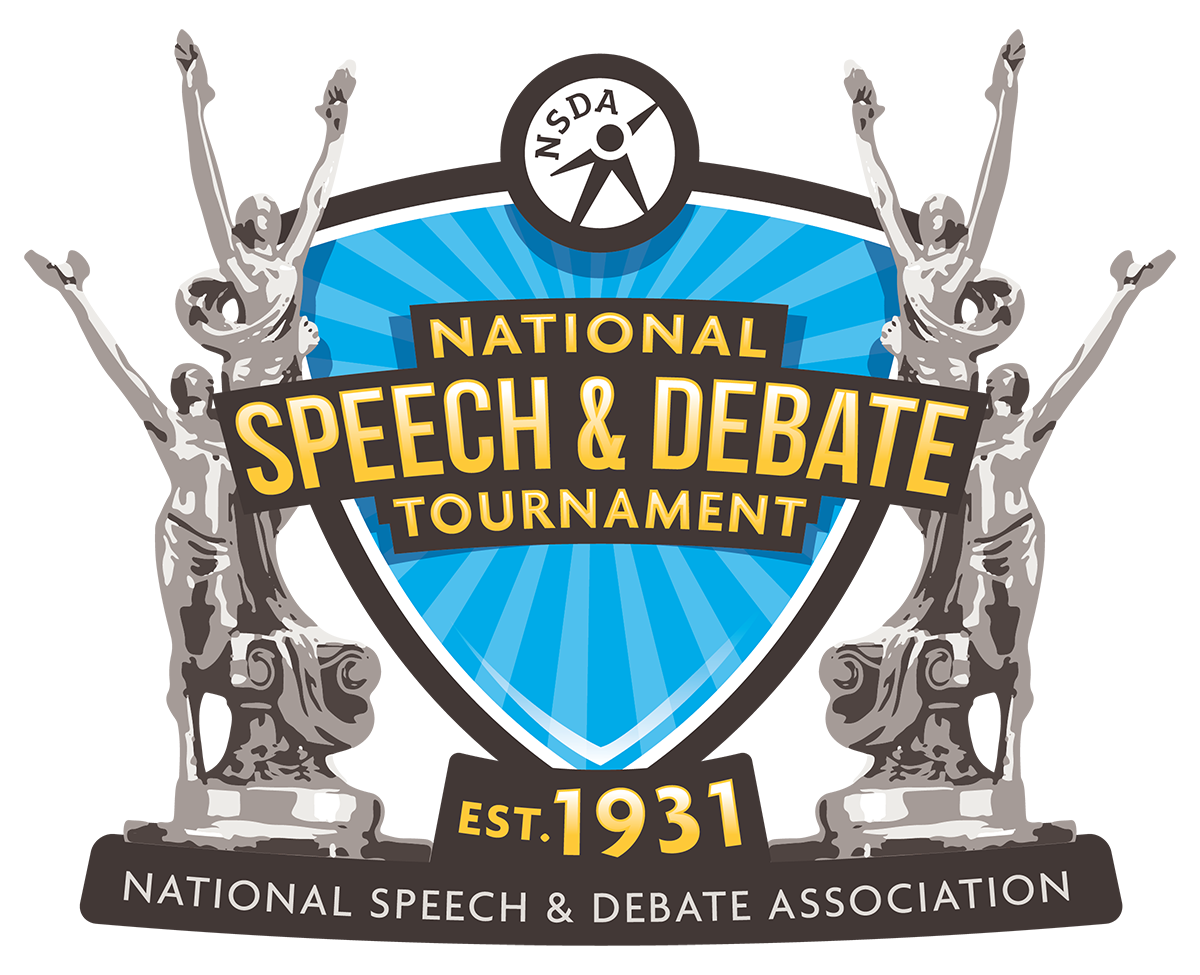 We provide member benefits at three levels—the school, the coach, and the student level.
Annual School Membership
High School: $149                    Middle School: $75
Membership is good through July 31 of the school year for which you are renewing. To renew your membership, visit www.speechanddebate.org/signup. Once you have a school membership, your program receives the following benefits:
Access to online roster management and points tracking (our system receives points automatically from the tournament tabulation systems Tabroom.com and SpeechWire).

Eligibility for school awards based on the team's participation including Leading Chapter, Club Awards, Top 100 schools, etc.

Resources for team management, recruitment, and advocating for your program. 

Opportunity to vote on nationally-determined debate topics for the school year.

A full-color printed copy of our quarterly magazine,

Rostrum

, and our Nationals Chronicle.

A searchable database of speech and debate resources, from online textbooks and lesson plans to full final round videos of outstanding performances in each event at past National Tournaments.

Access to a searchable legal database through our partner HeinOnline.

A free three-month subscription to Foreign Affairs magazine.

Member discounts on tools to make your tournament easier and more affordable, including Extemp questions and trophies!
Once your school has renewed/purchased its NSDA membership (which is renewed annually), the next step is to purchase individual memberships for your students and coaches. With those two tools in hand, your program can access the following benefits: 


ACCESS LEVEL
MEMBER BENEFITS
COST
CYCLE

STUDENT BENEFITS

Gain membership in one of the oldest and most respected honor societies, which includes a membership certificate, with the ability to earn foil embossed seals based on points earned for participation and service.
Ability to compete in districts and qualify for the National Tournament, the pinnacle of public speaking, where 54 national champions are crowned.
Opportunity to earn a portion of the $150,000 in college scholarships we give annually.
Eligibility for national awards including Student of the Year, Academic All American, and more.
Opportunity to vote on nationally-determined debate topics for the school year.
Access to online resources through the school's membership.

It is up to each individual school as to how student membership funds are obtained – some schools pay for student memberships where as others charge the students this fee. To learn how to purchase individual memberships, pay invoices, and many other finance related issues, review our FAQ. This guide provides many step-by-step instructions as well as gifs that demonstrate many common things advisors must do.
MS: $10
HS: $20
One-time
ACCESS LEVEL
MEMBER BENEFITS
COST
CYCLE

COACH MEMBERSHIP

Gain membership in the largest interscholastic speech and debate organization in the world, the opportunity to earn points based on student participation, and eligibility for national coaching and teaching awards.
Unlock practice drills, judging guides, event overviews, and fresh resources every month!
Access to instructional units with lesson plans, handouts, and resources to teach high school Public Speaking and Policy, Lincoln-Douglas, Public Forum Debate, as well as middle school Interp, Public Address, and Public Forum Debate.
Eligibility for more professional development opportunities and credit through our learning management system, NSDA Learn.
Opportunity to demonstrate achievement via our professional coach accreditation program.
Access to best practices with our online textbooks for Public Forum and Congress, World Schools, Policy, Lincoln-Douglas Debate, and Extemporaneous Speaking.

To learn how to purchase individual memberships, pay invoices, and many other finance related issues, review our FAQ. This guide provides many step-by-step instructions as well as gifs that demonstrate many common things advisors must do.

$20
One-time
You can also opt to purchase the membership add-ons below:
RESOURCE PACKAGE

 



Enhance Your Membership

NSDA membership includes access to excellent training tools, competitive resources, and more. The Resource Package is a membership add-on for teams or individuals that offers the best speech and debate resources around all for one low price. The Resource Package provides coaches, educators, and students with valuable resources to improve their speech and debate skills, all curated by experts at the NSDA and successful educators across the country. Highlights include:



Exclusive access to videos of the most recent final round performances. Students can learn from watching successful peers!
Resources for competition and the classroom allow teachers and coaches to be efficient instead of seeking out multiple sources for materials.
Rather than paying hundreds of dollars per textbook for their classroom, teachers can access digital textbooks through the Resource Package to share with their students.

 
$199
ANNUAL


Coach Insurance

 

We've partnered with the National Federation of State High School Associations (NFHS) to bring you the opportunity for reduced-cost NFHS membership (free for advisors of brand new schools), which comes with substantial accident and general liability insurance, along with access to online resources and professional development opportunities. To view details about the insurance coverage visit this site.
 
$14
ANNUAL