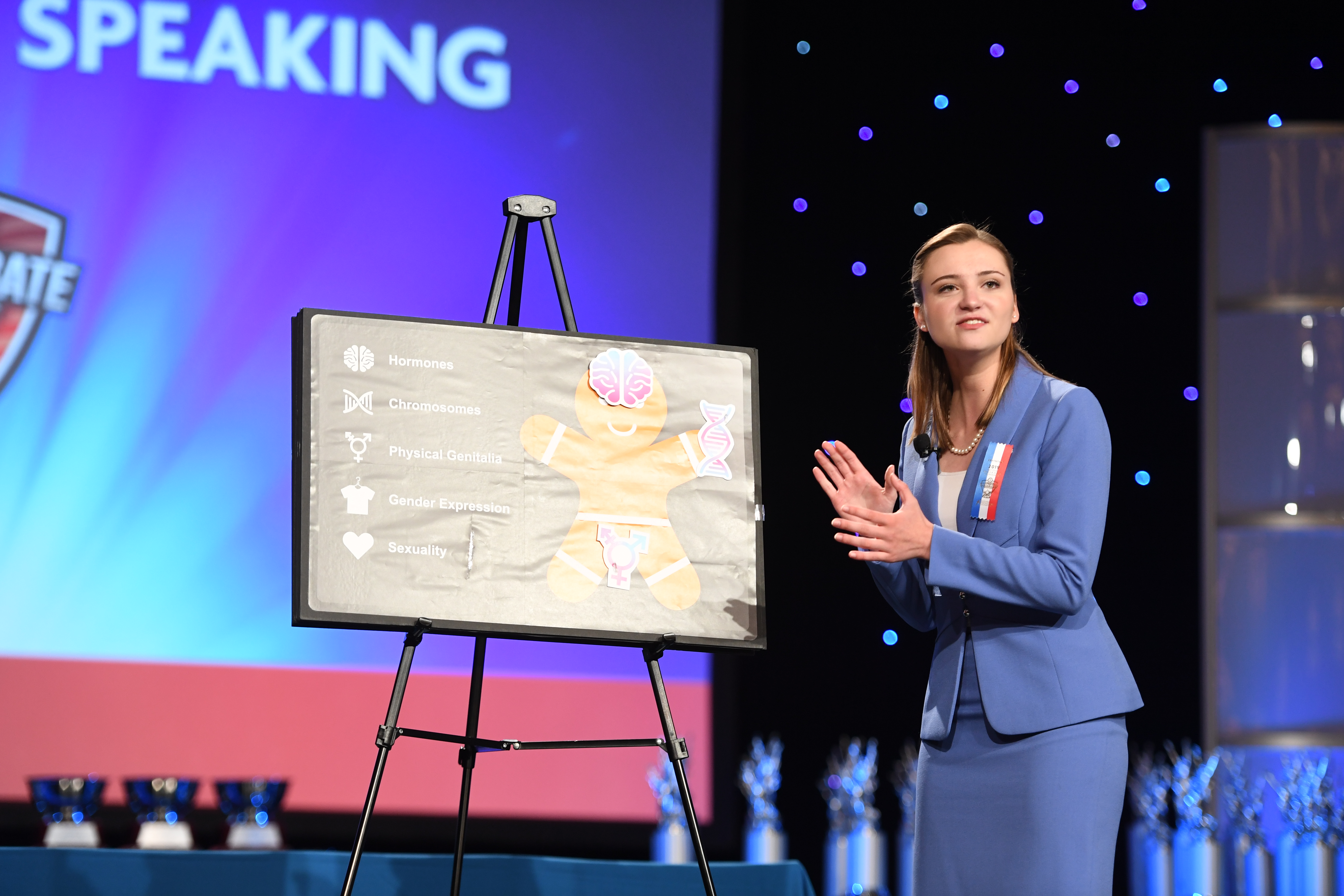 Debate involves an individual or a team of debaters working to effectively convince a judge that their side of a resolution is, as a general principle, more valid. Students in debate come to thoroughly understand both sides of the resolution, having researched each extensively, and learn to think critically about every argument that could be made on each side. The debate events outlined in this section use a resolution/topic (Big Questions Debate, Lincoln-Douglas Debate, Policy Debate, and Public Forum Debate), prepared or impromptu motions (World Schools Debate), or a docket of bills that students debate during the round (Congressional Debate).
Topics set by the NSDA are based on member votes and suggestions. Current topics can be found at www.speechanddebate.org/topics. 
Big Questions Debate
Congressional Debate
Lincoln-Douglas Debate
Policy Debate
Public Forum Debate
World School Debate
Supplemental or Regional Events
Extemporaneous Debate
Parliamentary Debate
Big Questions Debate
In Big Questions Debate, students grapple with complex worldview questions concerning the intersection of science, philosophy, and religion. Topics are designed to address deeply held beliefs that often go unexamined. Students are assigned a side of the topic before each round and present cases, engage in rebuttal and refutation, and participate in a question period. Big Questions topics last all year.
What's unique about Big Questions?
Debaters may choose to debate individually or with a partner. At any given tournament, there may be rounds that are one-on-one, two-on-one, or two-on-two. 
The format is supported by a generous grant from the John Templeton Foundation. Learn more at www.speechanddebate.org/big-questions.
Congressional Debate
Congressional Debate is a simulation of the U.S. legislative process in the Senate and the House. In this event, students generate a series of bills and resolutions for debate in advance and alternate delivering speeches for and against the topic in a group setting. Students are assessed on their research, argumentation, and delivery skills, as well as their knowledge and use of parliamentary procedure.
What's unique about Congressional Debate?
The number of students participating in each round is larger than other events—around 10-25 students compete in a Chamber in a given legislative session. An elected student serves as a presiding officer to ensure debate flows smoothly by selecting speakers to give speeches, selecting questioners, maintaining decorum in the chamber, and facilitating a fast and smooth debate for all.
Lincoln-Douglas Debate
Lincoln-Douglas Debate (LD) is a one-on-one event where debaters argue against one another on a specified resolution. Students prepare cases and then engage in an exchange of cross-examinations and rebuttals in an attempt to convince a judge that they are the better debater in the round. An entire debate is roughly 45 minutes and consists of constructive speeches, rebuttals, and cross-examination.
What's unique about Lincoln-Douglas Debate?
Students who enjoy LD like exploring questions of how society ought to be. Many people refer to LD Debate as a "values" debate, as questions of morality and justice are commonly examined. Topics in LD Debate last for two months.
Policy Debate
Policy Debate is a two-on-two debate where an affirmative team proposes a plan of their own creation and the negative team argues why that plan should not be adopted under the resolution.
What's unique about Policy Debate?
Policy is the oldest debate event and one of the longest, with the typical round running between 90 and 120 minutes, including feedback from judges. It is generally known as the most research-intensive event, as students debate the same topic all year.  Unlike traditional writing where the author may briefly quote or even paraphrase evidence, Policy Debate relies on the use of cards, or pieces of evidence directly quoted word-for word from the source. Depending on local styles, Policy can be a fast-talking event! With strict time limits and the need to present arguments supported by research, students will speak as efficiently as possible. Policy Debate topics last for the duration of the academic year. 
Public Forum Debate
Public Forum Debate involves opposing teams of two, debating a topic concerning a current event. Students present cases, engage in rebuttal and refutation, and also participate in a "crossfire" (similar to a cross examination) with the opportunity to question the opposing team. Often community members are recruited to judge this event.
What's unique about Public Forum?
Sides are determined by a coin toss. The winners choose which side to debate (Pro/Con) or which speaker position they prefer (first/second), and the other team receives the remaining option. In grand cross fire, all four students engage in questioning. Topics last for one or two months, depending on the time of year.
World Schools Debate
World Schools Debate features a dynamic three-on-three format and encourages debaters to focus on specified issues rather than debate theory or procedural arguments. This highly interactive style of debate allows debaters to engage each other, even during speeches. Teams will be assigned one of two sides in each round—either the proposition team proposing the motion or the opposition team advocating the rejection of the motion. Debaters present their position on a motion, refute their opponents, and respond to questions throughout the course of the debate.
What's unique about World Schools Debate?
While a given team may consist of five members, only three students from a team participate in a given debate. Rounds alternate between prepared topics students know in advance and impromptu topics with limited preparation.
For the student perspective on these debate formats, check out the following documents!