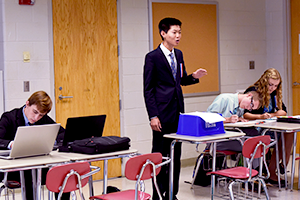 Setting Your Team Up for Success!
Taking on an existing program or building your own is a big undertaking, but you can do it! Just by making it this far in the course, you've demonstrated your commitment to providing this opportunity for students and doing your best, which is the most important thing. Here are few considerations to starting off right with team management. 
Have the Right Mindset: It's fine to not have all the answers! As you begin navigating coaching, it's okay to tell students that you're still figuring it out and that you're trying some new things together. 
Form Key Friendships: It's wise to build a relationship with your Activities Director and janitorial staff. Down the line they will be key in securing funding and supporting any tournaments you host respectively. We also recommend reaching out to other coaches in the area to let them know you're new and looking to learn! High school coaches have local contacts, called district leaders, who are valuable mentors and can provide insight on upcoming tournaments and your local circuit. Middle school coaches can reach out to us for a connection by emailing info@speechanddebate.org!  
Plan to Recruit Students: While speech and debate activities provide an enormous potential benefit for every student who participates, many students do not realize it! For this reason, recruitment is necessary to build a successful program. Get the guide to building your program.
Determine how your team will communicate. This includes: 
How will you communicate with students, be it one-on-one or in a group? How do you want students to communicate with you? Practices are great, and email is an option, but if you want to create a space where a "team dialogue" happens and your school policies allow for it, consider a platform like Group Me, Hangouts, Slack, or Microsoft Teams. These platforms are also great to have individual (by category or by event or even by tournament) chats while keeping the whole team chat for important announcements that apply to everyone. You can also consider a physical or online bulletin board for announcements. 
The best way to communicate with parents is always in writing. Email is an option, but you can also consider creating a Groupme or similar chat so parents can have a "go to place" where they might be able to answer each other's questions. An informational parent meeting is a great way to get acquainted with parents, set expectations, and gauge how they can help support your team.
How will you spread the word about what your team is up to? Team websites and social media are a good way to share information with parents, students, and school officials, but can also be used as a recruiting tool. Create a free website on a platform like Weebly to share tournament results, information about the team, your tournament schedule, and more. Does your school have announcements? Include your team's successes so that your administration and potential members hear about your wins. 
As with any specialized activity, jargon and abbreviations pervade speech and debate activities. This guide covers some of the most essential terms of art that will alleviate your uncertainty as a new coach, as well as the hesitancy any students new to speech and debate may feel.
Attending Your First Speech and Debate Tournament
Tournaments are the best method for getting new students hooked on speech and debate. This guide is designed to help prepare new coaches for what they and their students should expect at their first tournament experience.