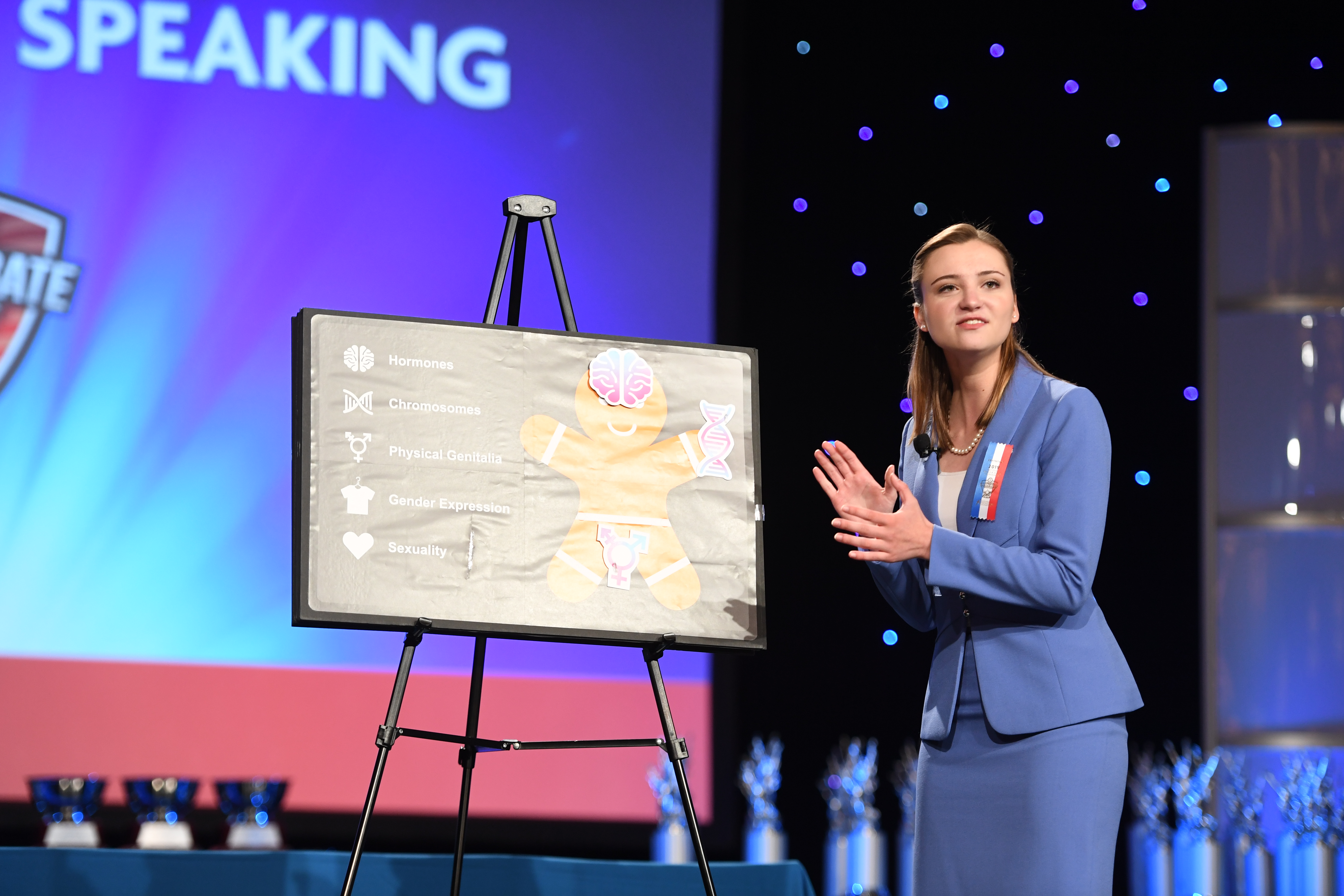 The Interpretation events (Dramatic Interp, Humorous Interp, Duo Interp, and Program Oral Interp) center upon a student selecting and performing published material and appeal to many who enjoy acting and theatre. In Interp events, students perform a cutting (a selection of one or more portions of a piece) of a play, short story, or other published work. Competitors may portray one or multiple characters and may "pop" from one character to another. Each character should be uniquely distinct with vocal, physical, and emotional choices carefully thought out. No props or costumes may be used. Interp events are ten minutes long with a 30 second grace period.
Dramatic Interp
Duo Interp
Humorous Inerp
Program Oral Interp
Supplemental or Regional Events
Drama
Duet
Poetry
Prose
Storytelling
Humorous Interp
Humorous Interpretation is designed to test a student's comedic skills through script analysis, delivery, timing, and character development. Competitors often use multi-character selections to tell relatable stories using humor as a device to connect with the audience. When searching for literature, a student should look for more than one-liner jokes. Humor can be created through strategic choreography, creative characterization, and dynamic non-verbal reactions. In general, HI is fast-paced and involves more "popping" in and out of character than DI. 
Program Oral Interp
With a spotlight on argumentation and performative range, Program Oral Interpretation focuses on a student's ability to combine multiple genres of literature centered around a single theme. Using a combination of Prose, Poetry, and Drama, students construct a program using at least two out of the three genres. Good POIs will include longer narratives for the audience to relate to, short snippets packed with information and literature that lets the audience laugh. Finding a diverse set of literature enables a more dynamic performance. What makes POI unique is the performer's freedom to choose what kinds of stories they want to tell and the way those stories are told.
Dramatic Interp
With a spotlight on character development and depth, Dramatic Interpretation focuses on a student's ability to convey emotion through the use of a dramatic text. Students who choose to compete in Dramatic Interpretation should focus on suspending the disbelief of the audience by portraying a realistic, emotional journey of a character(s).
Duo Interp
Duo is one of the most unique forms of performance. Two competitors team up and use off-stage focus to convey emotion and environment through a variety of performance techniques focusing on the relationships and interactions between the characters. Performances can be dramatic, comedic, or a combination of the two. The main objective is to maintain a sense of balance between performers that focuses on the relationship(s) between the characters they create. Partners should complement one another stylistically and maintain a similar skill set and work ethic.
For the student perspective on these speech events, check out the following documents!